A Redefined Life: Clare's Perspective on Myeloma Survivorship
Editor's Note:
June is National Cancer Survivor Month. Survivorship focuses on the health and well being of individuals with cancer, including the physical, mental, emotional, social and financial effects of cancer. This is the second in a series of articles that will be published throughout the month of June sharing stories and wisdom from myeloma survivors.
Diagnosis
I am a highly experienced nurse executive as well as a practicing attorney. In my past life I was also an orthopedic nurse practitioner as well (so one would think I would have know something about mulitple myeloma.) It seems I was a novice, just like the rest of us.
I was diagnosed in early 2018, when I had chest pain (after walking into a wall in the dark). The emergency room doctor advised that I had three broken, partially healed ribs that weren't concerning. When I checked the x-rays, there were seven partially healed ribs. I knew this was a problem ( I assumed some form of metastatic cancer) and headed to my nurse practitioner. I was diagnosed within a couple of weeks with IgG Kappa with a 1q21 abnormality on bone marrow biopsy and started on Revlimid, Velcade, and Dexamethasone (RVD).
I have had myeloma for four years now. I do have to say, the first 6 months were hell. I'm certain I cried most every day, and was probably "suicidal" (on some level). Certainly 40mg of Dex didn't help the situation. My ever-patient husband was there beside me the whole time. I had pretty severe neuropathy pain from the Velcade, which they finally stopped after 6 months. I tried gabapentin, lyrica, methadone (not for too long), acupuncture and finally, actually getting out and walking again. And gradually the pain disappeared. About the same time I started on low dose amitriptyline for depression - which was a life saver. I'm sorry I didn't start on something earlier on this journey.
I also had some serious debates with my provider from Dartmouth Hitchcock/Norris Cotton Cancer Center regarding my treatment. I was adamant that I wanted "quality over quantity" and based on my fairly extensive research on stem cell vs. drugs, I refused stem cell transplant-frustrating my heme/onc doc (who was graciously driving 2 hours north to see local cancer patients). He sent me to Dr. Paul Richardson at Dana Farber who FINALLY asked me what I wanted and agreed with my choice of treatment.
I got my m-spike to zero on RVD, so we stopped treatment for 6 months to see what would happen. As you might imagine, it came back, so we tried Ninlaro, Rev/Dex, which again got my m-spike to zero, but the Ninlaro exacerbated my neuropathy, so we stopped it and tried just Rev for maintenance, which was not too successful.
My newest doctor at Dana Farber, Dr. Mo, also said "This is 2019, not 2009. We have lots of options for treatment." (this despite the fact that he is the Transplant Coordinator for Dana Farber) and we settled on Dara/Kyprolis and a lower dose of dex. I will admit I cried at the the thought of a "port" because I couldn't be in denial anymore. However, nothing could be further from the truth. As most patients will tell you, the port has made life quite simple and I find my visits to the chemo clinic have become a "social event" where I enjoy time with the nurses, as we discuss their career and education choices. I bring them Starbucks Strawberry Açaí drinks which they love.
Luckily, I have very limited side effects from the Dara and some mild exacerbation of the neuropathy from the Kyprolis. And my friends all love my Dex days when we go shopping and planting. I'm the last one to say "uncle" of course.
I have also developed insulin dependent steroid induced diabetes, which complicates life a bit more. The Libre 2 continuous glucose monitoring system helps considerably, especially on dex days.
Redefining Life
I have lived in the Northern New Hamphsire mountains for almost 40 years, where, as you might imagine, the winters can be quite long and brutal. Since my diagnosis my husband and I have purchase a condo in Whispering Pine, NC and have become "snowbirds." Despite COVID, we have enjoyed our time with a small group of friends there.
We volunteer for the local hospital-currently off site in the Patient Billing office (where we open and stuff envelopes and enter Financial Aid application data in the computer.) My friend Lora and I have gotten into gardening for our realtor, and will be changing out the pansies soon for summer impatients. I also have worked on my own garden in New Hampshire. My pansies survived the winter and the garden centers are open and the frost danger has passed!
We return home to New Hamphsire in the summers, to our mountain lake front home, where we spend time with family and friends.
One of the things that was amazing to me, was the outpouring of support from friends and family. Everyone wants to help in some way or another. As a nurse, I am used to being the caregiver, so it is difficult to accept help from others. One piece of advice I give to others is to learn to accept help and give people suggestions, since they won't know what to do, whether it is meals, or visits, or transportation to appointments. Be prepared to give some direction.
I am so very grateful every single day that I feel as well as I do and that I can do the things I want to do: baking the best desserts, knitting, walking a couple of miles several days a week and spending time with family and friends.
So, how do I live with myeloma, but not be defined by it?
Keep friends and family close and ask for what you need. They won't know.
Use your dex days - my girlfriends love these days for shopping at the greenhouses and working together in the gardens. And any other kind of shopping, including those ubiquitous pop-up adds.
And just general chit chat……
Don't stop walking and doing. Even COVID didn't stop us from spending time with our small circle of friends and now that things are better, the symphony is open!
Be honest with your doctorss about every little thing-it might be significant, you don't know.
Written by Clare Vallee MSN, RN, JD, NEA-BC, Retired
Clare is a retired nurse and attorney, who has lived in northern NH for almost 40 years. She and her husband have become quite comfortable being "snowbirds" over the past few winters and enjoy spending winters in sunny North Carolina.

Although "sleeping-in" is a new favorite hobby, you will find Clare staying active with friends, walking, gardening, knitting and enjoying time with family at the lake in NH or the beaches in NC.

Clare enjoys being able to use her vast nursing and legal knowledge to help and support other myeloma patients find their way through this trying diagnosis.
Clare volunteers her time to share her myeloma experience with others as a Myeloma Coach. If you are living with or caring for someone with myeloma consider becoming a Coach. Your experience can help others!
Editor's note: if you are having suicidal feelings or thoughts of self harm- call the National Suicide Prevention hotline: 800-273-8255
find or become a myeloma coach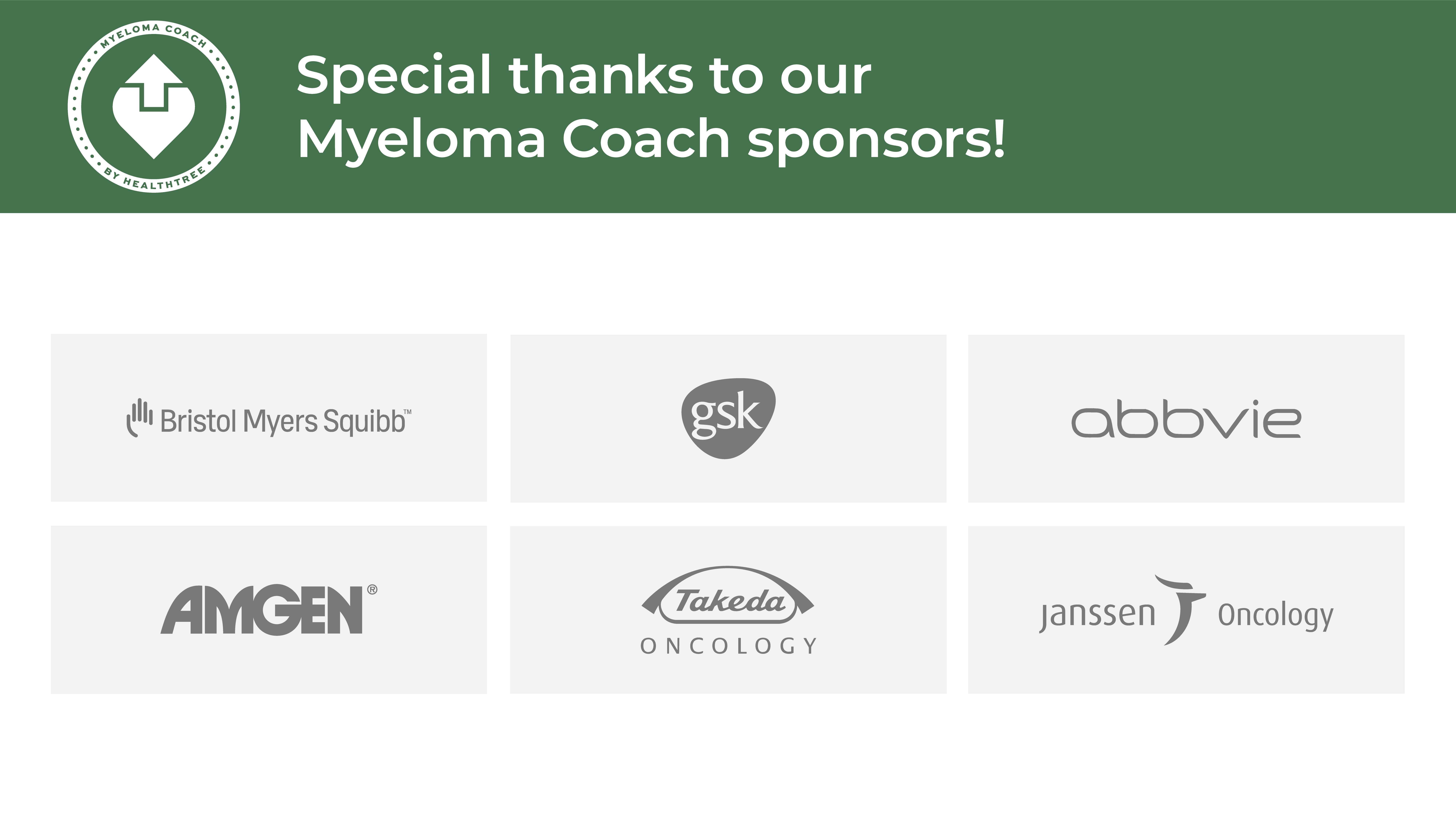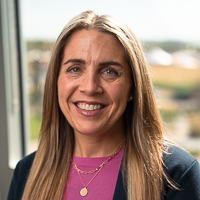 about the author
Rozalynn Hite
Rozalynn Hite is the HealthTree Coach Director and wife of myeloma patient Richard Hite. Rozalynn is an occupational therapist and mother of three beautiful children. She is passionate about providing support, education, and resources to help others live full and active lives.
Thanks to our HealthTree Community for Multiple Myeloma Sponsors: