A Myeloma Coach's Perspective on COVID-19: Social Distancing, Not Social Isolation
The past few weeks have brought about significant changes in each of our lives. We now find ourselves in our homes, with limited physical interaction with others. The "new normal" of social distancing is more complicated for myeloma patients. This major lifestyle shift is compounded with the complexities of myeloma treatment, worries of being immunocompromised and possibly decreased interaction with your healthcare team. Healthcare providers are being overwhelmed with an increased load and may not be as readily available to answer questions. All of these factors can quickly result in individuals feeling alone, anxious, isolated and frightened. It can be a stressful time. However, there is hope and help available.
As you navigate the next few weeks of distancing yourselves from others physically, remember not to isolate yourself socially. You are not alone, and can find social connection with a Myeloma Coach. You can easily talk with someone on the phone, video chat or by email who can relate to what you are experiencing and do it all from the comfort of your favorite recliner.
As a myeloma patient or caregiver themselves, Coaches understand the wide range of emotions and challenges you are experiencing. Coaches are available to answer questions and share resources to help navigate this time of uncertainty. We are all in this together and as a community we can make it through.
Everyone needs social connection, it is essential for our emotional health. The Myeloma Coach program is a free resource available to all myeloma patients and caregivers to help offer meaningful social connection during this challenging time and always. Visit www.myelomacoach.org to find and connect with a Coach today. Our team is available and ready to help. Contact us with any questions at myelomacoach@crowdcare.org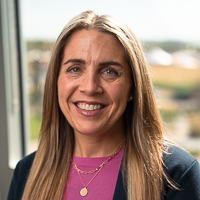 about the author
Rozalynn Hite
Rozalynn Hite is the HealthTree Coach Director and wife of myeloma patient Richard Hite. Rozalynn is an occupational therapist and mother of three beautiful children. She is passionate about providing support, education, and resources to help others live full and active lives.
More on Life With Myeloma
Thanks to our HealthTree Community for Multiple Myeloma Sponsors: