Why I Keep Moving in Spite of Myeloma by Brian Helstien
BY BRIAN HELSTIEN My parents screamed at one another right up until the divorce (when I was 13), So began going for a walk around the block each evening when the yelling started. One night (when I was 12), a classmate came jogging by. "Run with me, Brian," he said. I'll be 69 in January and I've pretty much been running since. Over those years, I've run 5Ks, 10Ks, half marathons, marathons, ultra-marathons and finally triathlons. I had a stress fracture in one leg from running and could only swim. A running buddy suggested that I do the Ironman in Hawaii. That was 1981 and so in February 1982, I did the Ironman. Julie Moss (a famous triathalon athlete) crawled across the finish line that day. When I finally got to put on my running shoes, my feet told me, "piece of cake." My wife and I conceived our second son prior to her taking a prescribed drug which could have caused horrible birth defects. The sports experiences made me tough enough to research the issue, communicate it with her OB/GYN and keep my mouth shut and not say anything to alarm her until long after he was born (and seeing as he read this when originally posted, I'm only going to say, "he mostly came out OK" :-) ). I got laid off a very specialized job with a wife and five kids, mortgage, etc., a couple of weeks after 9/11. And before my severance ran out I found another position in another city and state, which actually paid about the same, and successfully moved my family over a couple of states. I discovered that I was sick because I was getting winded at the very beginning of workouts and returning with a bloody nose. And so in February 2011, I was told I had cancer. I had induction therapy to get it under control and then an autologous stem cell transplant. Here's my wife Mary and my kids during my stem cell transplant.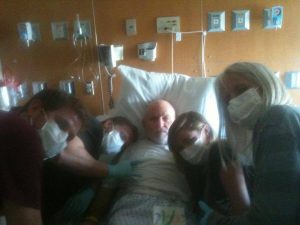 During the transplant I kept moving. Here's my white board in my hospital room during my transplant. Once a marathoner, always a marathoner. If you don't want to total the board, it's 26 1/4 miles (I just couldn't make the sixth floor at Helford Hospital work exactly).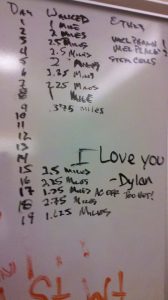 I was in a clinical trial that tested the use of maintenance therapy beginning in October 2011, but relapsed in October 2016 when they again found M-protein in my blood. At first my numbers were undetectable, but as the months went by it gradually climbed. I researched my options for leaving that trial. I was still working full time. By September of that year, my M-spike was 1.03g/Dl, so I demanded that treatment be changed. In 2011 I had initially responded well to Velcade, but due to work/infusion center hours and the approval of Ninlaro, I wanted ixaxomib, Revlimic and dex (IRd) instead, so began that on October 13, 2016. At three weeks in, test results showed my IgG back in normal range, my kappa/lambda numbers were moving into normal range and my M-protein was already down over 11%. Earlier in 2016 I ran the 2016 LA Marathon.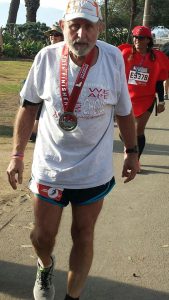 During all this time, I've made a number of myeloma friends lost too many to this disease. I first "met" Liz Conley via Facebook when I posted that after transplant, I'd run 1,000 consecutive days. She contacted me to write a piece for the Myeloma Crowd and so we talked via phone for her article. And we talked more later, about other things. We lost Liz in October of 2016. I was going to post something when I reached consecutive day 2,000 but that was Mother's Day this year and I just couldn't. Day 2,100 came/went without me noticing it. Thursday, November 30, 2017 was consecutive running day 2,200! Later that evening I went in for updated blood work. Lab results from that are that my IgG is lower still, my kappa/lambda ratio is slightly better and my M-protein is now down about 40% from the 1.03g/Dl.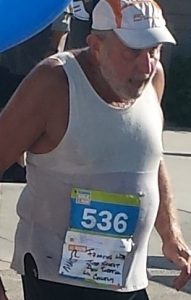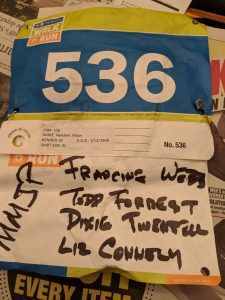 This photo is me at the November 18, 2017 BeTheMatch 5K & my bib. I ran for Liz and other friends with myeloma. My advice to all myeloma patients is don't give up, just go on. Going out now for my run. To get moving and keep moving in 2018, join Muscles for Myeloma. Pick a local walk, run, bike race, or other event in your area, create a fundraising page and invite your friends and family to support your efforts while they fund myeloma research. It's the easiest way to keep moving while you move myeloma research forward for us all. Join Muscles for Myeloma here.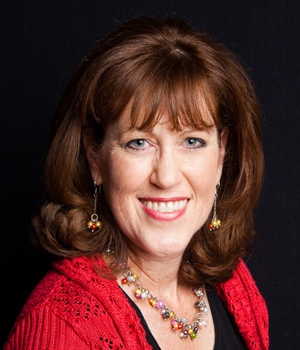 about the author
Jennifer Ahlstrom
Myeloma survivor, patient advocate, wife, mom of 6. Believer that patients can help accelerate a cure by weighing in and participating in clinical research. Founder of HealthTree Foundation (formerly Myeloma Crowd).
More on Life With Myeloma
Thanks to our HealthTree Community for Multiple Myeloma Sponsors: