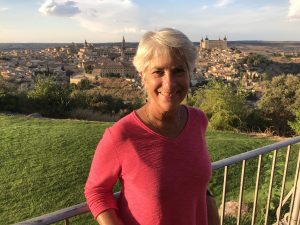 By Maddie Hunter
- What skills or beliefs do I have to bring to this current challenge I am experiencing? - What are my best options to consider? - How do I know the best decision to make?
As a long-time leadership coach in many types of corporate and non-profit organizations, I discovered that these questions were at the root of most of the discussions I had with my clients. What these discussions inevitably led to was answering the big question of "Who am I now?"
When I was diagnosed with myeloma in 2001, I started asking the same questions to myself. Knowing that I learn best in the company of others, I joined the Philadelphia Myeloma Networking Group. Acknowledging my own learning style, I delved into all the resources I could find to understand myeloma. Over these 18 years, I have received a lot of tangible help, encouragement and companionship on this uncertain journey. Through this support, I figured out my best treatment options along with how to reinvent my professional life so I could continue to raise my son on my own. I had many people telling me "You are not alone". I thrived with these partners.
When Myeloma Crowd launched the Myeloma Coach program, I immediately wanted to be a part of it. I was drawn to the opportunity to provide to others what has been generously given to me. I was quickly paired with someone who, like me, is eager to know, explore and reflect on what joining the myeloma community really means for her. Unlike me, she lives in a part of the country where access to support groups and other myeloma patients is limited. I am thrilled to be with her as she sorts out all that she needs to know to take the next steps. Sometimes I am a guide, other times I have been a resource for understanding, but always I am honored to be a fellow patient with her, listening, sharing and learning together.
Who am I now? I am a Myeloma Coach.
The Myeloma Coach program provides individualized help for patients to navigate their disease. Myeloma Coaches are trained to help share important information with patients such as: what to expect during stem cell transplant, how to find financial resources, how to use online resources, and other sources of help. If you need help, you can find a Myeloma Coach near you or with the expertise you need. Coaches can help you in person, by phone or by computer. If you have 8 hours a month to volunteer and you have experience as a myeloma patient and want to give back, become a Myeloma Coach today.
To find or become a Myeloma Coach, click here:
Myeloma Coach
Special thanks to our Myeloma Coach sponsors: Takeda Oncology, Celgene, Amgen and Adaptive Biotechnologies