I remember this day like it was yesterday. This picture was taken in early spring 2012, and almost became the cover of my book "A Pilgrimage without End, How Cancer Healed my Broken Heart." A friend and I decided to climb to the top of Red Mountain. Red Mountain is a prominent summit near the small town of Patagonia, Arizona, about 25 miles northeast of the border town Nogales. The summit has an elevation of 6,373 feet, and the actual hiking route is a climb with a 2,000 feet gain.
It was going to be an approximately three-hour challenging, but beautiful climb to the top. I had a broken rib due to coughing from the flu I had just gotten over. I was also anemic from the cancer that I was unaware I had at that time. I just knew I hurt like hell and was unusually tired most of the time. But, I was stubborn and determined, and when I set my mind to do something, I do it! It is in that same manner that I have taken on multiple myeloma.
The climb was not easy, there were lots of exposed rock and cliff bands, some very slippery. There were many tight spots with thick woody shrubs and spiky branches that were hard to avoid. When we were near the top there was one super steep and scary part to climb. With my heart pounding in my chest, from both fear and exhaustion, I took it on. The pride I felt when we got to the top made it all worth it. And, like childbirth, the pain I felt was temporarily replaced by exhilaration and joy.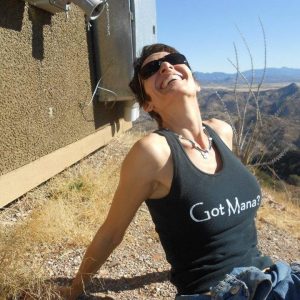 I have given natural childbirth to two beautiful children; my son who came in at a healthy 8.8 pounds (ouch) one week after the due date, and my daughter, who was born a week early, weighed 7.1 pounds. In both cases I opted not to take anything for pain. I do not say this to brag, but merely to let the reader know that if I can do without pain meds in any way, I will. Unfortunately, at times they are necessary. Constipation is one of the drawbacks of taking opioids, and things can get out of hand quick when I used them. So much so, that I often trade days for relief from pain to days for relief in the bathroom.
At the time of the climb, and unknown to my doctor and I, there were three tumors growing on my spine and the myeloma was eating holes in my ribs. The pain from all this could become unbearable, but my doctor was very reluctant to give me anything for the pain. I had to sleep sitting up in bed as the pressure on my ribcage was too much and rolling over was pretty much an impossible task. It wasn't until right before my actual diagnosis that he finally broke down and granted me one hydrocodone pill per day. The few hours of comfort and relief after taking them were so desperately appreciated and needed. Once I was diagnosed, things got better and I no longer encountered resistance to getting pain medication. As most patients know, not all pain medications are created equal. What works for some, does nothing for others.
Thankfully, as I made some progress in my fight with myeloma, the pain began to subside and I could stop taking opioids. I was eager to be done with them, to go back to a medicine free life. Unfortunately, my medication vacation was short lived, as were the occasional periods of stability of my disease. I relapsed many times, never reaching complete remission. Every time I relapsed, the pain would return as the cancer began destroying my bones again. Reluctantly, I would go back on pain meds which not only bothered my digestive system, but also interfered with my ability to be one hundred percent "there" for my daughter.
Over time, through both my experience and the experience of others, has led me realize that the response to the opioid crisis is doing cancer and chronic pain patients a huge disservice. How does a doctor go from overprescribing to not prescribing or under prescribing? From my perspective, I don't think that the blame should be put on the pharmaceuticals who created a drug that has been incredibly necessary for cancer patients and people with other types of severe pain. The problem does not lie with the responsible doctor who merely wants to help out the patient who is suffering. The responsibility lies with the doctors who overprescribe these medications because they want to make a profit, it also lies with the patient who abuses the medicine, the family member who steal them and the ones who sell them illegally on the street. The solution has got to be better than merely cutting everybody off. I asked my fellow myeloma patients if they had similar experiences. The responses came quick and ranged from being openly embarrassed by doctors and pharmacies in front of other customers, to blatant denial of pharmacists who refused to fill legitimate prescriptions. It is not my job to find the solution to this problem, but I have made it my business to stand up for the patients whose voices go unheard and suffer in silence. I am choosing to write this article and hope to make the public, the doctors who refuse to write necessary prescriptions, and lawmakers aware of this new problem that is quickly turning into its own epidemic; the suffering of under-treated cancer and chronic pain patients.
Last year, I relapsed one final time. It is amazing how aggressively my myeloma came back. I held a fundraiser in early December, dressed in a gown and wearing high heels. Within a month, as a tumor the size of an orange was growing on my spine at T12, and another tumor had fractured my sternum. The pain quickly became unbearable. Of course, until the CAT scan revealed the damage being done, the doctors were unaware of this, and all they had to go by was me telling them about the severity of my pain.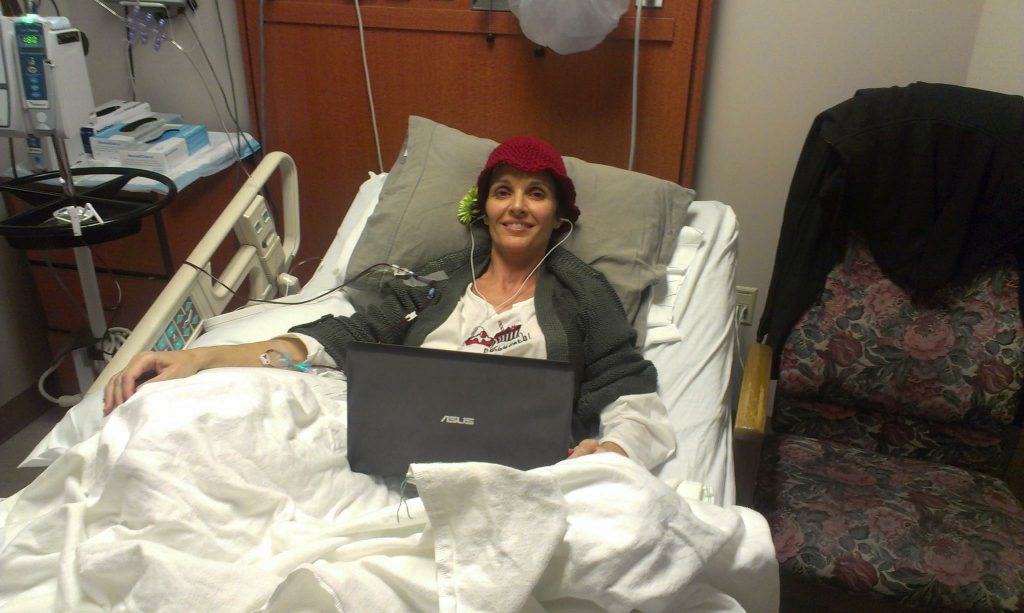 I went to the palliative department at my local cancer center. The man did not know me, but it was in the same hospital where I was being treated so he had access to my medical records. He was a fairly young man, and looked like he was in great physical shape, the kind of shape I was in prior to my diagnosis. I was laying on the examination table as sitting up was hard to do and described the pain I felt in my back. I told him the hydrocodone I was using really wasn't doing much anymore. He looked at me and prescribed Lyrica and physical therapy. Physical therapy? I was having a hard time sitting up and walking was becoming an issue again. I had been in a wheelchair a couple of times, and I felt I was heading that way again. A couple of days later we came back. This time I was crying because the pain was exhausting and never left me for a moment. The Lyrica had not done a thing and he put me on a very low dose of Dilaudid. Dilaudid, also known as hydromorphone, unfortunately is one of those drugs that doesn't do much for me. Within days we were back, this time I was in a wheelchair as the cancer was progressing. I was admitted to the hospital as a patient that needed to be treated for pain.
Over the span of 12 days I received radiation and IV pain medication together with high dose steroids. I must admit that those were the most miserable days of my life. Had I not had my hopes set on a trial myeloma treatment called CAR-T, I would have asked for hospice. Thankfully though, the CAR-T, my last ray of hope became our miracle, and now almost a year later I am still cancer free.
So why this article? You see, my immune system never fully recovered, which makes me extremely vulnerable to catch anything and everything that is out there. I stopped going to the cancer center for everything, and instead chose to visit our local urgent care or ER. Why not go to your oncologist, some might suggest? Sadly, once a myeloma patient, always a myeloma patient. A regular cold can turn into a pneumonia really easy, and pneumonias are the number one cause of death among myeloma patients.
A couple of weeks ago my husband got sick, followed by our daughter. I did everything I could to keep myself and the house clean and free from the bug, but despite my efforts I ended up with it as well. Both my husband and my daughter got better in a few days; I went from bad to worse to the ER. My cough was so bad, that after seven days of coughing and no appetite, my abdominal muscles looked like those of an athlete. It may look nice, but just like the chemo diet (my way of explaining to people why I am so thin), it is not something I recommend.
A friend ended up taking me to the ER to rule out pneumonia. Thankfully, it was ruled out. The ER doctor told me to keep taking the antibiotics I had started a couple of days earlier and prescribed an inhaler. Since it included a steroid I was not able to take it. I told him I could not take it due to the trial I was in and then suggested a cough syrup with Vicodin that had helped me previously through the RSV (Respiratory Syncytial Virus) I had gotten twice since my stem cell transplants. He told me he did not usually like to prescribe that medication and he didn't despite my request and favorable results. So, I went home and had another sleepless night.
The next morning, I decided to call the hospital and ask if the doctor that helped me could please reconsider and give me the cough syrup. The answer came back as no, and he recommended that if I got worse, it would be best I go instead to the ER at the cancer center. I could not believe that he denied me the care I needed and rather brushed me off and sent me to a center an hour away from home, back into an Emergency Room where God knows what floats around. I felt misjudged and memories of my pre-diagnosis experiences flooded back. Did I look like an addict? Had I acted like one? Sure I am thin; did he mistake that as me being an addict? I had made sure to tell him I was a cancer patient. The blood work had shown that I was neutropenic. He told me it would take me longer to feel better due to that condition. Yet, when I asked him for help, he refused, and essentially sent me elsewhere.
For me, the story has a happy ending. I have a very good relationship with my oncologist. I was able to send him the paperwork from the hospital and with the diagnosis in hand he ordered me the cough syrup. I was finally able to sleep soundly for the first time in a week.
Antibiotics don't work so well for me anymore. I have had to be on them too many times during this long fight and journey with myeloma. This hasn't stopped doctors from prescribing them. If we were to compare the overuse of antibiotics to the overuse of opioids, we would probably ask doctors to stop prescribing them as well. It is funny really, because here I am, a once self-described health nut, a woman who would never take any medicine, and certainly not chemo. Yet, it is because of all these medicines that I am still here today, trying to raise my daughter to adulthood, God willing. All these meds have helped me. They all come with side effects and should be used with caution, but that does not mean they shouldn't be used. Without opioids I would have thrown in the towel several times and my daughter would not have a mother today. Let us work on solving the opioid crisis, but let us also allow patients with significant pain to be given the dignity and trust they deserve to get the medicine they need.
© 2019, Cherie Rineker