It's easy to stress-snack or turn to foods with little nutrients when we're constantly hungry throughout the day. This can be true regardless of whether you are a patient or a caregiver facing myeloma. The stress of making and keeping appointments, remembering medications, perhaps working, or even taking care of children or grandchildren can be daunting. So how do we find easy ways to keep our bodies properly fueled? How can we stay healthy and snack in a way that nourishes our bodies? Learn with us from Katie Braswell, RDN and team member of Myeloma Crowd by HealthTree.
Watch the video below or read the detailed summary in order to learn more.
Why do we snack?
What are the main reasons that you are currently snacking?
Snacking in the United States is now reported at an all-time high. Due to the pandemic, many people worked from home in the last 18 months with easy access to food. This has brought many people, even members of the myeloma community, to find the root of their snacking habits.
True Hunger
Unbalanced Meals
Boredom
Emotion (anxiety, sadness, stress)
Habit (bowl of ice cream or cereal before bed each night)
Location (movie theatre, work, sporting event)
Peer pressure
Cravings
Rewarding or treating yourself
Snacking due to these reasons periodically is fine. However, when it becomes a regular occurrence and keeps you from achieving your health goals, it's time to dive deeper.
Smart Snacking Can Be Beneficial
If done smartly, snacking can promote a healthy lifestyle. Here are some of the ways smart snacking can improve your health and wellbeing:
Keep your energy levels up
Balance your blood sugar
Improve your ability to concentrate
Remove brain fog, improve concentration
Can be a way to nourish your body quickly, especially on the go, something you can prepare ahead of time and take with you
Boost your vitamin and mineral intake
Keep you from overeating at mealtime
Lower cholesterol and blood pressure
Help you achieve weight goals
Why Do I Snack So Much?
It is easy to get carried away with snacking. Here's an important note: overeating is not due to a lack of willpower. There's often an underlying reason.
Here are some reasons why you may be overdoing it.
You are not eating balanced meals (enough nutrients and protein)
You are not eating frequently enough, perhaps skipping meals
You are using food to cope with emotions or for comfort
You are engaged in distracted eating, such as eating while working or watching TV
You are not practicing mindful eating, thinking about the food- taste, texture, smell of what you're consuming, be fully present
You are being influenced by external factors, such as commercials, advertisements, other people)
It's okay to snack if you are truly hungry! Listen to your body. If you realize that you are snacking because you are trying to cope with a certain emotion such as stress or loneliness, be gentle with yourself and search for alternative coping actions for yourself. Healthier options include going for a walk, calling a friend, etc.
Smart Snacking Formula
The formula for smark snacking isn't complicated but it does require effort.
Look beyond the calories. Many snacks hide behind catchy calorie phrases such as "only 100 calories!" That does not make them healthy.
Check the Food Labels for the categories that matter: Protein (5-20 g, varies per person), Fiber (>3g), Added sugar (<5g), Color (from fruit or vegetables). Combinations of food groups are key.
Your snack should be filling and keep you satisfied for at least 2 hours.
Smart Snacking Ideas
Below are photos and instructions for creating smart snacks to add to your diet.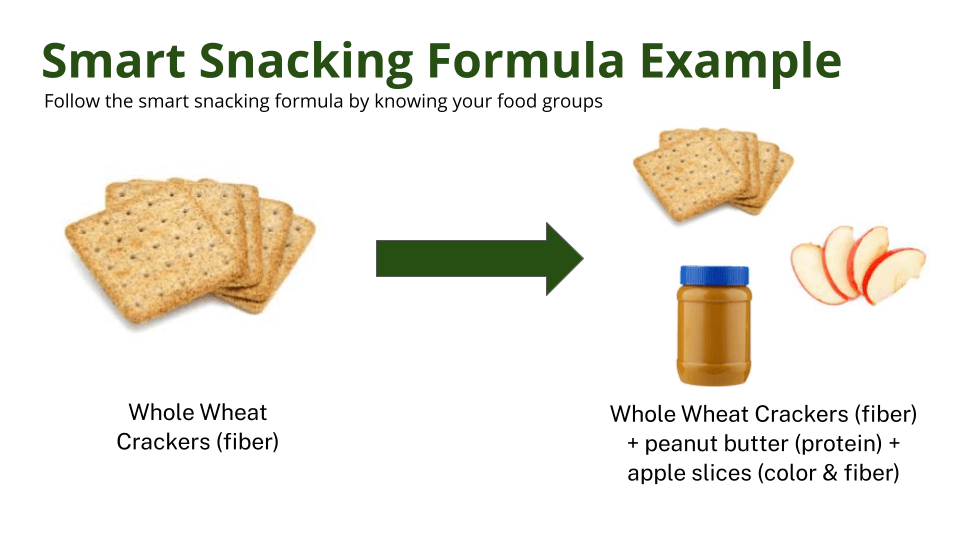 By combining different foods, you can meet the smart snacking requirements and provide your body with the energy and nutrients that it needs. A good example of smart snacking is shown in the image above. By combining whole wheat crackers (that provide fiber) with peanut or almond butter (protein) and apple slices (for color and fiber), you are setting yourself up for success!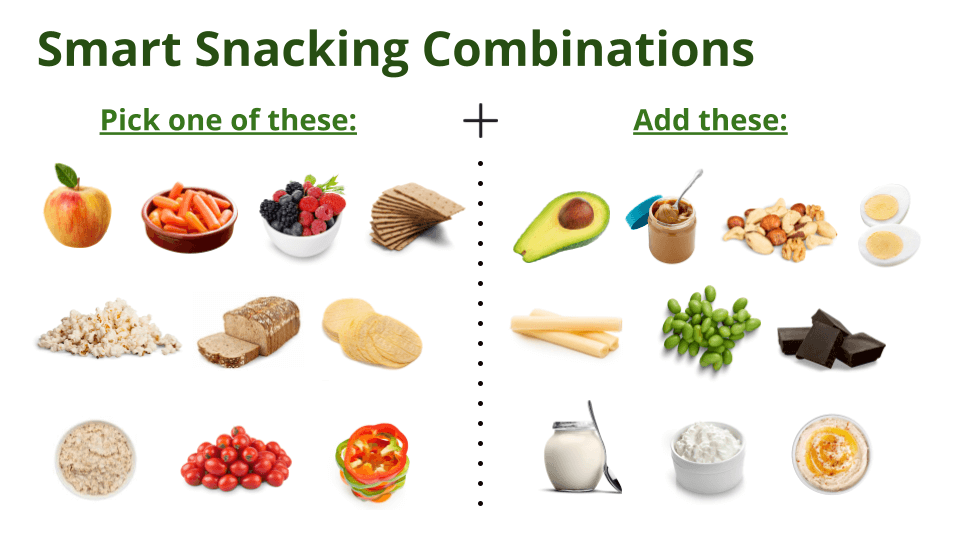 Other smart snacking combinations can be seen above.
By picking one of the following:
Apple
Carrot
Berries
Crackers
Popcorn (natural)
Bread (whole wheat)
Tortillas
Quinoa
Oatmeal
Cherry Tomatoes
Bell Peppers
And combining it with one of the following:
Avocado
Peanut or Almond Butter
Nuts
Eggs
String Cheese
Edamame
Dark Chocolate
Yogurt (plain, low sugar)
Cottage cheese
Hummus
You can provide a nutritious, smart, filling snack to satiate your hunger.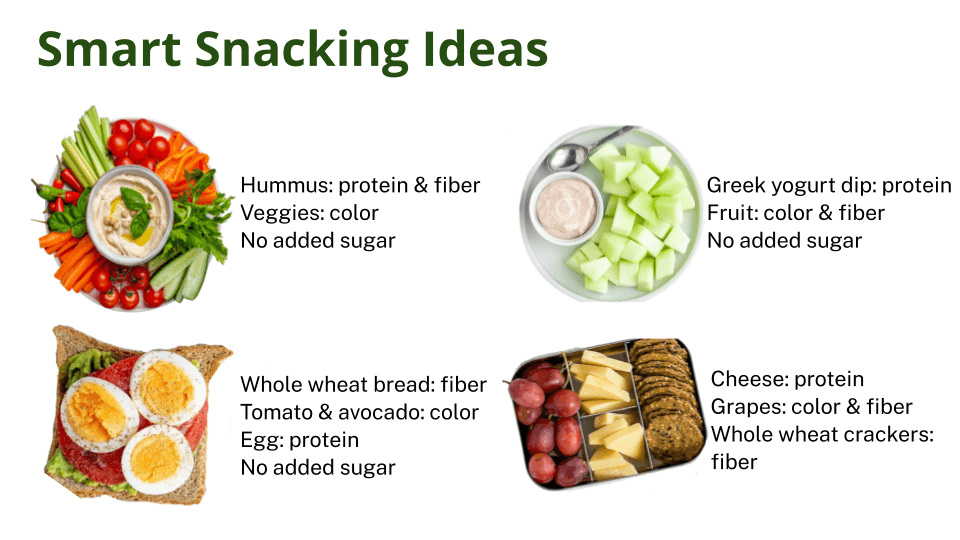 Other smart snacking ideas include:
Hummus (protein, fiber) and Veggies (color)
Greek Yogurt Dip (protein), Fruit (color and fiber)
Whole wheat bread (fiber), Tomato + Avocado (color), Egg (protein)
Cheese (protein), Grapes (color and fiber), Whole wheat crackers (fiber)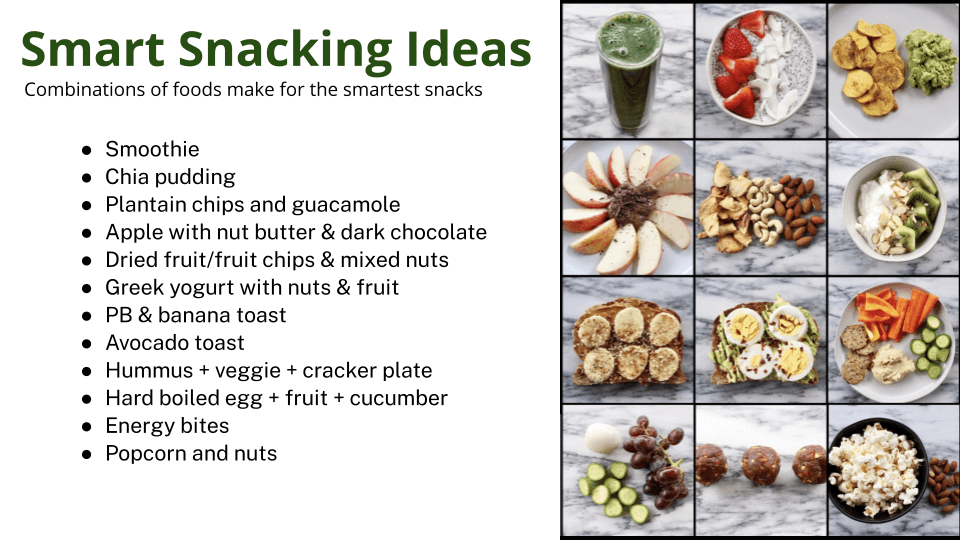 Looking for other smart snacking ideas?
Smoothie (my favorite: 1 cup spinach, 1 banana, 1-2 tbsp almond or peanut butter, 1 cup or more almond milk, 1 tbsp chia seeds or hemp hearts, optional: ice cubes)
Chia pudding
Plantain chips and guacamole
Apple with nut butter and dark chocolate
Dried fruit/fruit chips (limit due to high levels of sugar) and mixed nuts
Greek yogurt with nuts and fruit
Peanut butter and banana toast
Avocado toast
Hummus + veggie + cracker plate
Hard-boiled egg + fruit + cucumber
Energy bites (click for a fun early fall treat!)
Additional Tips for Smart Snacking
Learning when to snack is key to smart snacking. Use the scale below to determine what your level of hunger is to avoid over-consuming.
A good rule of thumb is to start snacking when you are between a 3-4 on the hunger scale (pretty hungry, stomach growling). You should stop snacking when you are at a 5-6 (satisfied, pleasantly full).
Again, watch out for health claims. Just because a snack has enticing "healthy" labels does not make the snack itself healthy. There are currently no regulations for snack branding, so companies can brand their snacks any way they would like to keep them healthy. Examples of "healthy" food labels are natural, organic, whole grain, made with real fruit, reduced-fat or fat-free, gluten-free, grain-free, 100 calories, or plant-based. This doesn't mean those snacks are automatically bad but they are probably not as healthy as they are promoting themselves to be. Remember, reading the actual food label is key.
Practice Mindful Snacking
Snacking is so much more than what you eat. To eat with intention and attention, ask yourself these 3 questions before snacking:
Why do I want to snack?
What do I want for a snack?
How can I savor my snack?
Choose to snack when you need energy or are hungry. Determining why you want to snack can help you choose what to eat to meet your needs at the moment.
Determine whether you want sweet or savory, creamy or crunch, hot or cold. Once you decide what you want to eat, portion out your snack and reduce distractions to help you enjoy your snacking experience. Also, slow down the pace of eating and check in with yourself to see if you are satisfied with your snack.
Remember to snack mindfully. Use all of your senses to savor your snack. Focus on the smells, tastes, textures, shapes, and colors of your food to fully enjoy your snacking experience. And remember to check in with yourself to see if you are satisfied.
Make Smart Snacking Easy
Remember, one of the reasons you might be stress eating in the first place is because you have too much going on. Make smart snacking as easy for you and your household as possible. Always include protein and nutrient-rich ingredients in your choice of snack.
Include snacks for the week on your grocery list
Make snacks easy and convenient
Leave fresh fruit and vegetables on the countertop
Pre-package snacks so you can grab and go
Let's do this together! By snacking smartly we can energize our bodies and stay motivated to keep moving during Blood Cancer Awareness Month.
Haven't joined the Muscles for Myeloma Challenge yet? Use the code "muscles" to join us!
Join the Muscles for Myeloma Movement Challenge today!
A thank you to our Muscles for Myeloma Sponsors who make this possible: