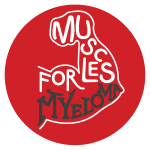 Join us for Muscles for Myeloma in April by registering here.
BY DANNY PARKER In previous columns, we discussed various studies of how exercise might influence quality of life—and even prognosis—for cancer patients. But what about such studies dealing with myeloma specifically? In a German study of 16 hospitalized patients undergoing high dose chemotherapy, followed by stem cell transplant, daily treadmill exercise was shown to improve endurance, reduce fatigue and improve sense of well-being for patients at the time of discharge. In fact, the study concluded that the conventional wisdom to yield to fatigue and "rest up" after chemotherapy was completely backward.
"To reduce fatigue, this group of patients should be counseled to increase physical activity rather than rest after treatment."
An Australian study of myeloma patients in April 2013 found that the primary barriers to exercise were injuries, fatigue and pain. No surprise there. On the matter of fatigue, however, it appears that if many patients can get over the hump of beginning activity, they can actually reduce the magnitude of that problem. Moreover, while some therapists were worried that exercise would lead to greater fatigue for cancer patients, both the National Cancer Institute study and another in the Netherlands found the opposite: the more patients exercised, the less fatigued they felt! Another study in Britain of myeloma patients concluded that fatigue was reduced as well as overall assessed quality of life (QOL) for a carefully executed exercise program:
Dr. Ballard-Barbash's conclusion alluded to the advantage of simple walking: "I appears that any activity," she said, "is beneficial for those who have had cancer."
What about myeloma itself? We do know that exercise appears to modulate inflammation pathways that are important in cancer progression. And there is suggestion that exercise can help with myeloma even during aggressive treatment sequences. And finally, there is an interesting case study showing that exercise in an Australian woman suffering from smoldering multiple myeloma (SMM) resulted in measurable drops in myeloma related IgG marker as well as a 50% drop in bone marrow plasma cell percentage over the four years which she was tracked. While this is a case study, all of these data, taken together suggests that activity level may be very important.
Thanks to our Muscles for Myeloma sponsors: