In a program designed to update physicians on the latest advancements in the clinical management of relapsed refractory multiple myeloma, four myeloma experts from around the world shared their knowledge. Following are some highlights about relapsed/refractory myeloma.
COVID-19 and Myeloma
Dr. Maria-Victoria Mateos, University Hospital Salamanca Spain, shared these insights on treating myeloma during the COVID-19 pandemic.
Try to maintain control of the patients myeloma. Active disease is one of the most relevant prognostic factors predicting severity and mortality rate in COVID-19
How to control the disease:

Anti-MM therapies do not influence the outcome of patients infected with COVID-19
Age, together with active disease vs disease under control are relevant predictors of mortality
Renal impairment is also very relevant
Young and elderly patients with active disease should remain under active treatment
Young patients could go to the hospital to receive systemic therapy
Elderly patients should be protected from COVID. Therapies avoiding visits would be preferable
You can learn more about COVID and myeloma patients here.
Relapsed/Refractory Myeloma
Dr. Ajai Chari, Mt. Sinai, New York discussed the fast-growing list of options available now and coming soon, to treat relapsed/refractory myeloma patients. The following table lists most of them. Often these drugs are used in combination. Some of the newest drugs such as melflufen, have yet to be tested in combination with others. In the future their efficacy will probably be improved by doing so.
You can learn more about Myeloma therapies on the horizon here.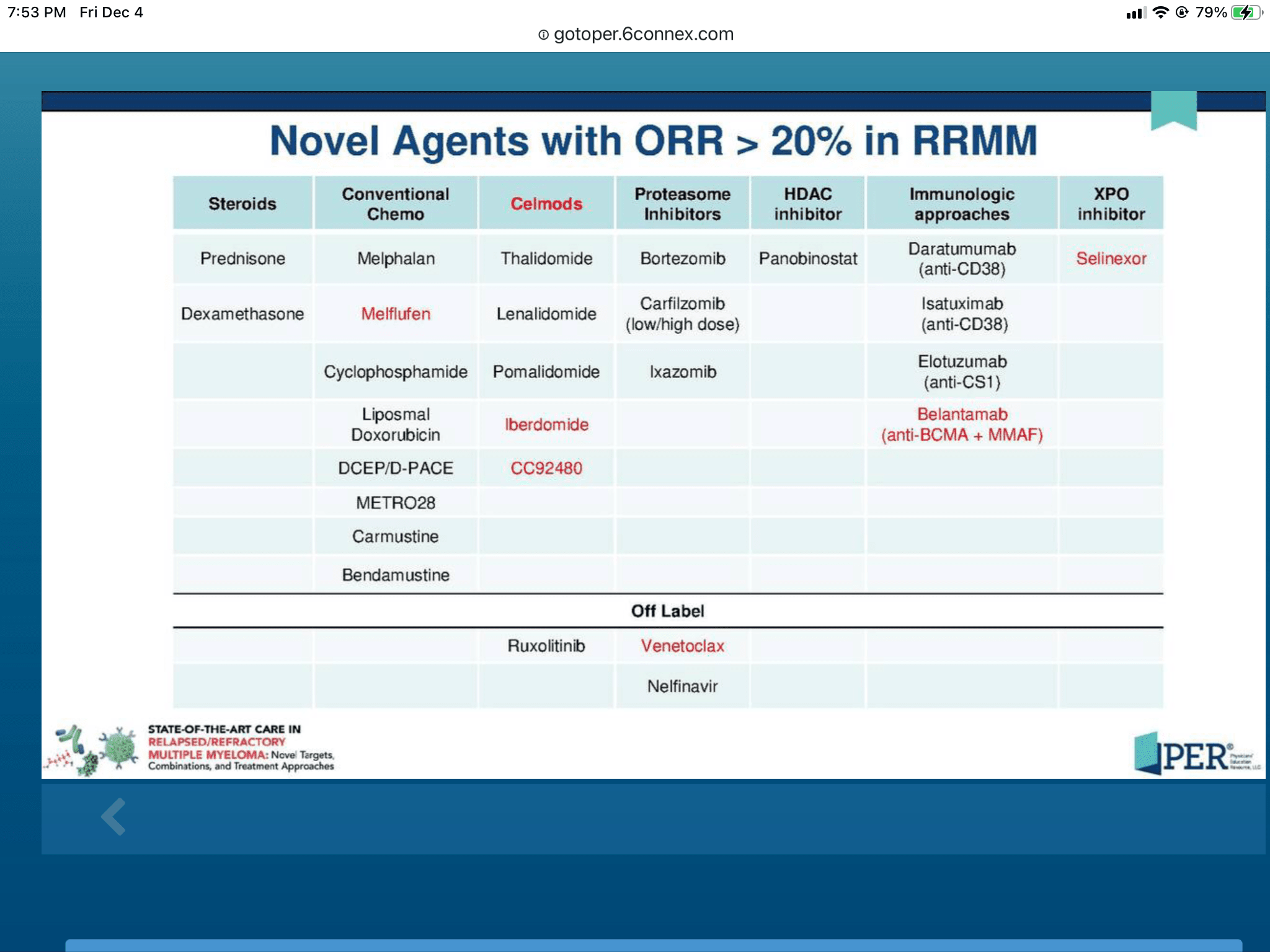 CAR T and Bi-Specific Antibodies
Dr. Irene Ghobrial of Dana Farber discussed BCMA targeted CAR-T cell studies. BCMA is found on most myeloma cells and has become a popular target for many new CAR-T studies. The studies discussed by Dr. Ghobrial showed response rates from 43% to 100%. High response rates for CAR-T's are very impressive. The problem, explained Dr. Ghobrial, is sustainability. Patients relapse at an average of 12 to 13 months. Extending the durability of the response is the focus of many new studies. Some patients, after receiving CAR-T therapy and then relapsing can go on to be treated successfully with other myeloma drugs. The following table shows four BCMA CAR-T studies and their efficacy.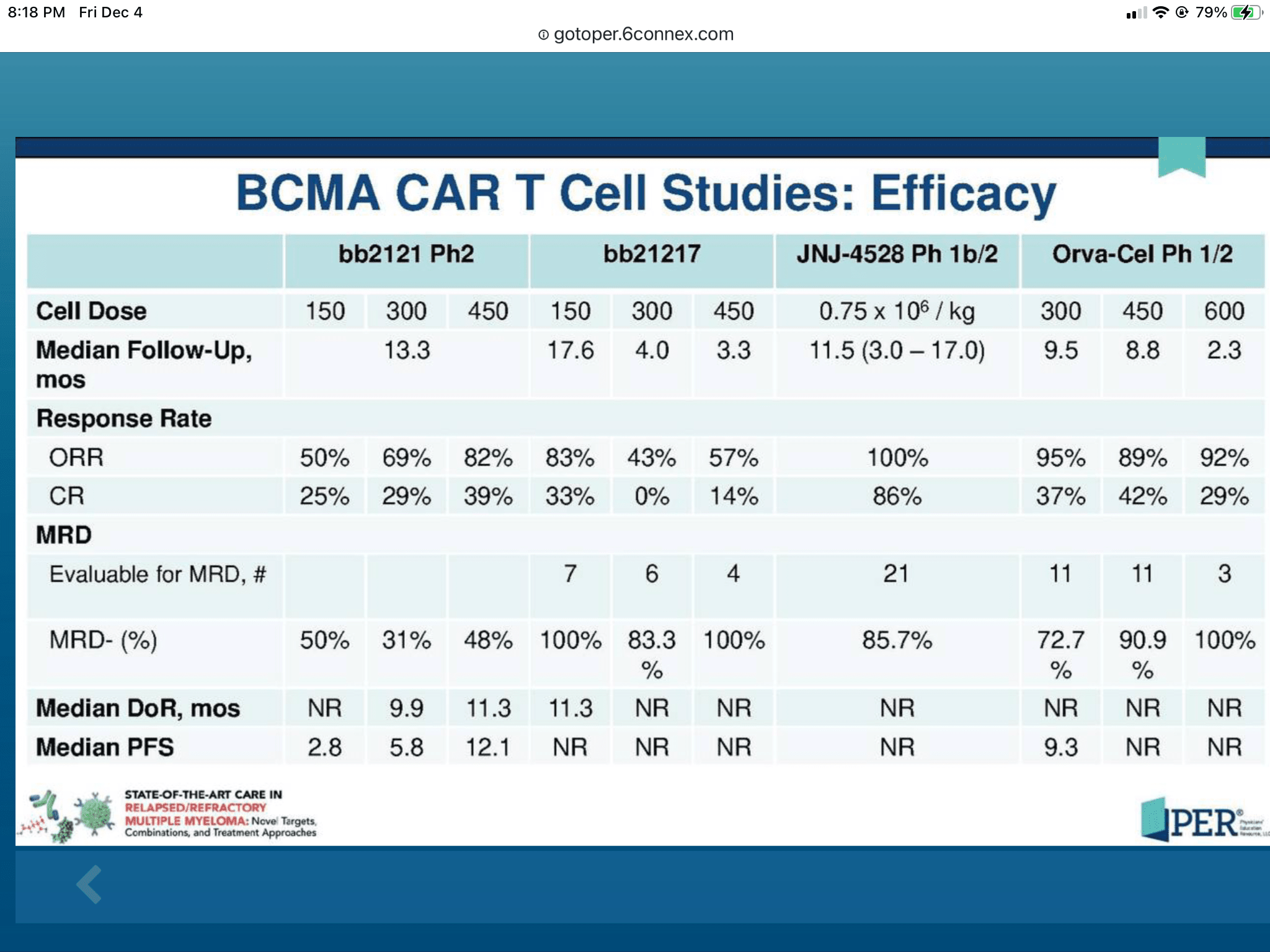 Dr. Ghobrial went on to discuss some bi-specific BCMA studies and their efficacy. Bi-specifics are a very promising alternative to CAR-T. Rather than collecting T cells from the patient and re-training them to find BCMA as is done with CAR-T, bi-specifics use a molecule that binds both to a T cell and to cells with BCMA causing cell death. Bi-specific studies are not as far along as some of the CAR-T's, however they too show very promising results. The following table shows three bi-specifics which target BCMA and their impressive response rates from 67 to 88.9%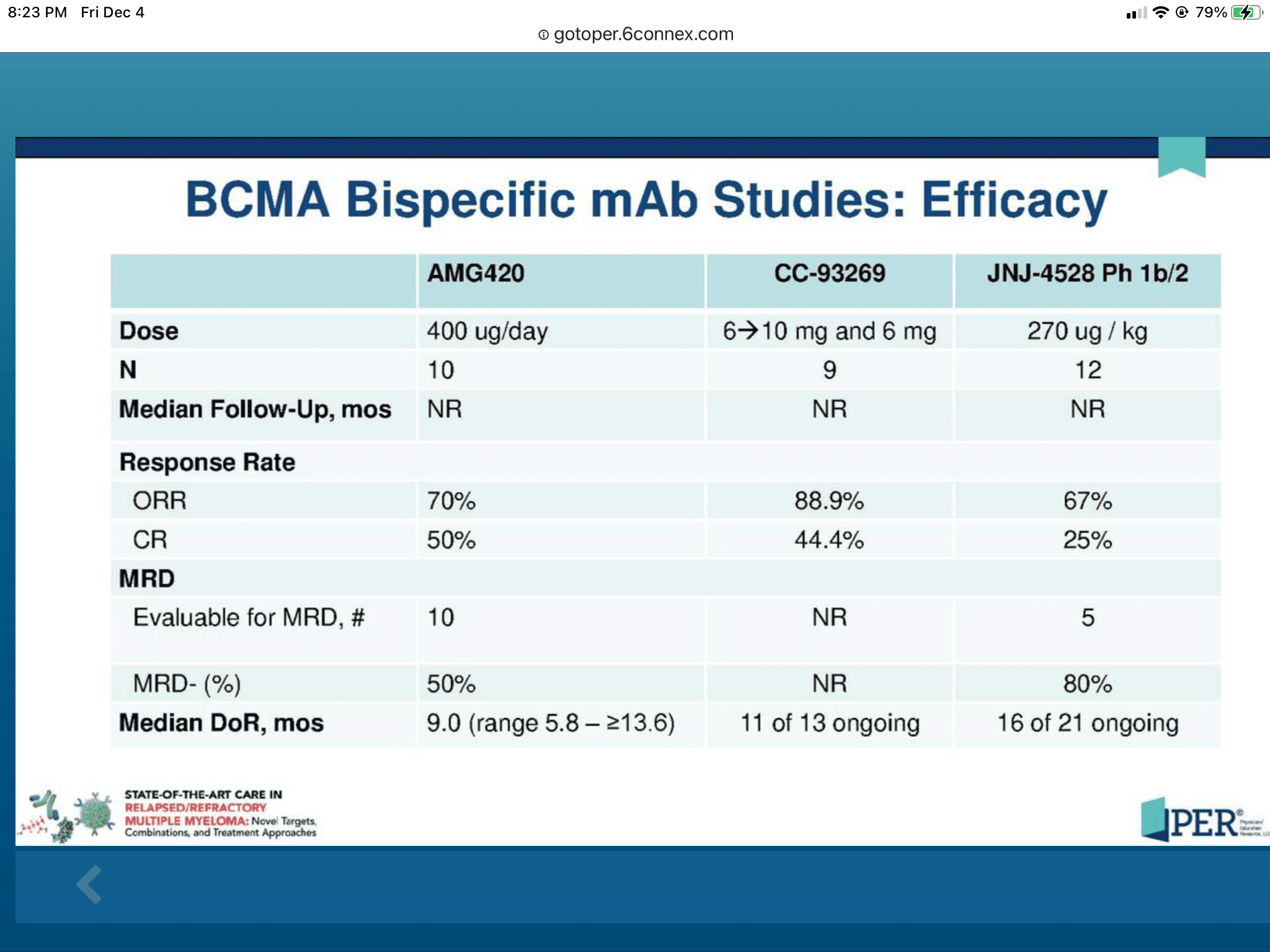 The doctors then discussed several case studies and debated how each particular patient should be treated. The multitude of drugs now available for myeloma make it difficult to reach a consensus. What continues to amaze and impress me as a patient observer, is the energy with which the doctors approach every case. It is clear that their intentions are to treat every patient individually and to find the solution for each one that will lead to his or her longest and best survival.
Related ASH 2020 Articles
Coach Vicki Jones is a 16 year myeloma survivor and Myeloma Coach. She offers support, encouragement and resources to others living with myeloma. You can learn more about the Myeloma Coach program and find or become a coach at www.myelomacoach.org.