While there are 7,000 orphan diseases globally, there are only 500 drugs available to treat all 7,000 diseases. In September of last year I wrote a blog post outlining how all new myeloma drugs classes in the last 16 years have had two FDA designations for each approved drug: one being an Orphan Drug Designation and the other being Fast Track, Priority Review, Breakthrough, etc. Having the Orphan Drug Designation truly matters in myeloma. On average, the time for FDA approval as an Orphan Drug is 5.3 years as compared to an 8-year average without the FDA Orphan Drug Designation!
Myeloma patients are blessed to have had 10 new drugs approved in the last 16 years. In addition, myeloma (considered an orphan disease) has seven new drugs which all have dual FDA designations, four of which are CAR T. Last year I called the American Society of Hematology (ASH) meeting a CAR show, and it continues at this year's 2020 ASH meeting.
These four include Jannsen's JNJ-4528, CARsgen's CT053, Bluebird's bb2121, and Poseida's P-BCMS-101. I attended a session which presented the last three and I will focus on two specifically: CT053 and P-BCMS-101.
Dr. Shaji Kumar - Results from Lummicar-2: A Phase 1b/2 Study of Fully Human B-Cell Maturation Antigen-Specific CAR T Cells (CT053) in Patients with Relapsed and/or Refractory Multiple Myeloma
Why was I impressed with this drug? In the phase I trial, the overall response rate (ORR) was very high at 79.2% and even higher at 100% in the Phase 1b. The duration of response was twice as long as other trials (21.8 months) and a new manufacturing process allows manufacting of 8 to 10 to reduce the need for bridging therapy. Many current methods take one to two months. It was also important to see that there was no Grade 3 or higher cytokine release syndrome (CRS).
There were 24 patients in the phase 1 studies which included all relapsed/refractory multiple myeloma (RRMM) patients who had received a proteasome inhibitor (PI), an immunomodulatory drug (IMiD), and an anti-CD38 antibody
Study participants had an 87.5% overall response rate (ORR), 79.2% complete response (CR), and a median duration of response of 21.8 months
At the data cutoff, 10 patients could be evaluated for at least two months of efficacy assessment with a median follow-up of 4.5 months (range 2-8). A 100% ORR was observed, with 2 stringent complete responses and
CT053 at a target dose of 1.5-3.0×108 CAR+ T cells delivered early and deep responses, including MRD negativity, with an acceptable safety profile in subjects with heavily pretreated relapsed or refractory MM
Over 80% of patients experienced Cytokine Release Syndrome (CRS) but none had Grade 3 or higher
The faster manufacturing process is 8 to 10 days
Caitlin L. Costello MD - Phase 1/2 Study of the Safety and Response of P-BCMA-101 CAR-T Cells in Patients with Relapsed/Refractory Multiple Myeloma (PRIME) with Novel Therapeutic Strategies
Why do I like this drug? This is a VERY heavily pretreated patient population with an average of seven prior therapies, twice that of some other studies yet has a similar overall response rate of 67%. Cytokine Release Syndrome (CRS) was very low at 17% with an excellent safety profile. They have a new non-viral manufacturing process called piggyBack which provides a higher level of Stem Cell Memory T Cells which are felt to provide the best clinical response, better safety profile, and the potential for a response if reapplied.
P-BCMA-101 targets BCMA and has a high percentage of desirable stem cell memory T cells
There were 43 patients in the study who were heavily pre-treated (median of 7 prior regimens) with 100% having received proteasome inhibitors and IMiD, 93% daratumumab and 58% stem cell transplant
The Overall Response Rare(ORR) was 67%
The safety profile across the entire group was excellent for a CAR-T cell product which was attributed the gradual expansion of the Tscm cells (2-3 weeks to peak versus 3-7 days for most CAR-T cells)
Cytokine release syndrome (CRS) was only seen in 17% of patients, with only one being Grade 3 and one case of possible neurotoxicity
Low level of toxicity and adverse side effects was observed.
Patients in the study were outpatient!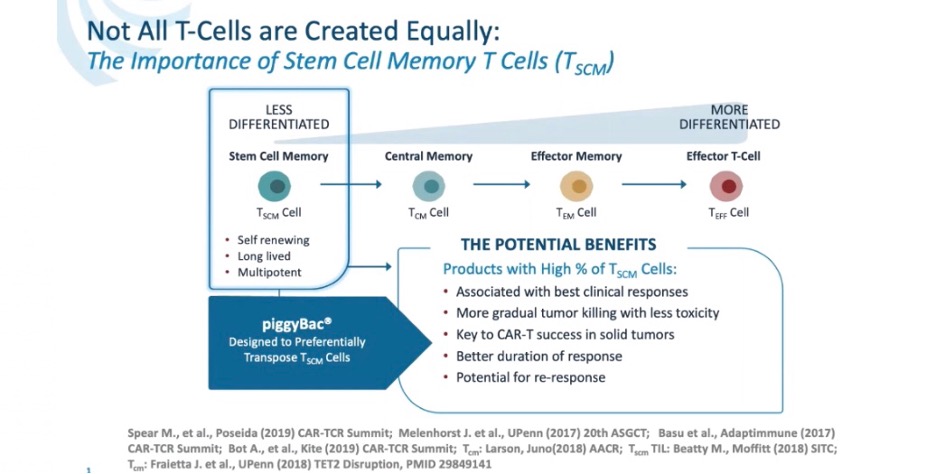 The future looks very bright!