And it Begins! Day 1 of Daratumumab Infusion. Lizzy's Story of Trying the (Hopefully) New Myeloma Wonder Drug
BY LIZZY SMITH Last summer, I heard of Daratumumab (Darzalex), a potential ground-breaking new wonder drug in treating myeloma. What is Daratumuab? According to the latest results presented at ASCO 2016, the treatment is very promising. You can read it here. Here's a description on how it works:
This is a human CD38-directed monoclonal antibody indicated for the treatment of patients with myeloma who have received at least three prior lines of therapy, including a proteasome inhibitor ( like bortezemib), an immunomodulatory agent (like lenalidomide) or who are double refractory these agents. (www.darzalex.com)
That was me. So when I was told "no", it wasn't approved yet, I begged and demanded. To no avail. And with my myeloma numbers growing, we could wait no longer and I had that dang transplant, but first, I started it off in the grandest way I could think of: I went skydiving.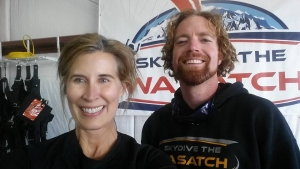 I went skydiving the day before I checked into the hospital to start induction therapy for my third stem cell transplant. Life is too short not to jump out of a plane. And the next day, I checked myself into the hospital for a really tough process during November and December. Flash forward to today. I am doing well. I went to Nicaragua and Costa Rica for Spring Break. I took a couple trips to Florida and Las Vegas. I'm running/walking again. I bought a bike yesterday. My daughters are out of the school and we're going to have some amazing times together. And then...it was time to confront myeloma again. Last week, I had my three-month check-up with Dr. A. We ran the Minimal Residual Disease test and it was positive-- 10 myeloma cells per million (just 10! While I wish it were 0, this is still a terrific response, says my doctor). Still in remission, but with those detectable numbers, he was able to convince my insurance company to get me on Daratumumab, which he says is not typically used as a maintenance therapy. Well color me happy, I want it! Anything to give my body the arsenal it needs to FIGHT. Yesterday, I left the house at 7am for the 45-minute drive up to Huntsman Cancer Institute (plus 15 minutes for a coffee-run) for a 12+ hour day. The first infusion is a very long one. I had to check myself into a hospital room so I could be monitored closely for any reactions. We accessed my port, drew some labs, and briefly met up with my PA and Dr A. Nearly two hours later, the Daratumumab began. Finally! Fighting cancer is so time consuming! Was it eventless? No. About 30-minutes into the infusion, I felt a very slight tightening in my throat. We had to suspend the infusion until that went away. The nurse gave me an Ativan because I felt anxious, and more Benadryl via IV. That made me sleep, though not for long! I woke up completely congested. I had never felt anything that intense in my sinuses-- total blockage. I felt like my cheeks were going to explode. I also lost my voice, barely able to whisper. They rushed me in some nasal spray. I used up almost half the bottle within maybe 10 minutes. Finally, relief. I fell back asleep for a few hours. That was the end of the drama. They sped up the rate of infusion and I ate lunch. Then dinner. I watched TV. I wrote a few articles. I did a little shopping on-line. And then I was ready to start climbing the walls. When was the day ever going to end? Turns out, 8pm, almost on the dot. I popped five steroid pills (as part of my regiment, I take five after infusion, and five more the following day). And then my mom and I drove home. A long, grueling, boring day. But worth it! This regiment will include weekly infusions for three months. After that, it's bi-weekly infusions, followed by monthly infusions. I am praying hard that this is effective and keeps me in remission for a long time. At least long enough so that Car T Cell Therapy trials are easier to get into. Because that is really what I ultimately want. So now what? How can we patients and our supporters make this happen? By contributing to the Myeloma Crowd Research Initiative, which is funding two of those clinical trials. I started a fundraising page (and you can, too, by simply clicking here to get started) and have over $2,500 raised. And I'm not done yet, I'm still working on adding to that amount. Look, I'm not a rich person. I have loads of medical bills and co-pays. I'm on disability through Social Security and my employer's long term disability insurance plan. But by asking our friends, co-workers, family or whoever to contribute via an email or Facebook post is easy. One evening, I held a dinner party at my house and invited fellow myeloma warriors that I know and neighbors over. They contributed some money for the dinner (I donated food so all funds went straight to MCRI) and everyone got cool door prizes that I gathered up from local businesses (I just asked the restaurants and carwashes that I frequent for a donation and almost no one turned me down). The next day, a team of us ran/walked in the Muscles for Myeloma 5k Thanksgiving Point Tulip Festival. It was so pretty and inspiring and I ran a good chunk of it (yay!).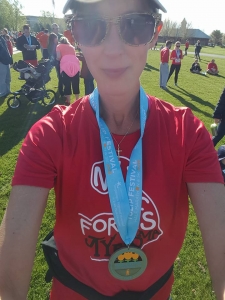 It might have only been a few miles (5k) but completing it just a few months post transplant was a huge accomplishment for me. Last summer, my daughters held a lemonade stand sale. So get creative. Every dollar helps us find what we all want and need: a cure! (Or at least better treatments.) Daratumumab (Darzalex) Clinical Trials To find a clinical trial using Daratumumab (Darzalex), click SparkCures link here: SparkCures Clinical Trial Finder: Daratumumab (Darzalex)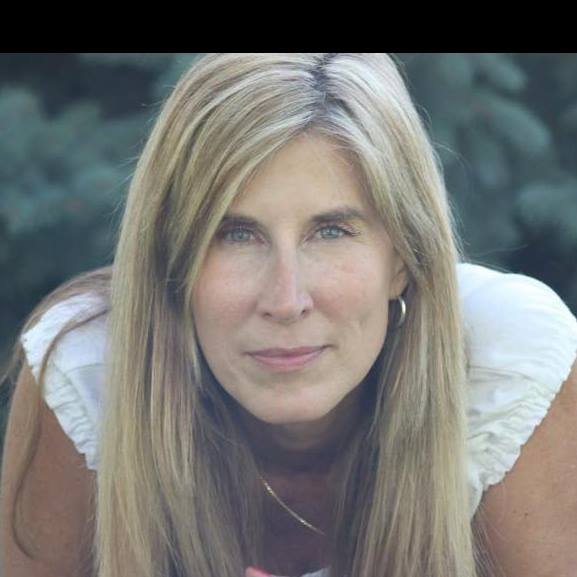 about the author
Lizzy Smith
Lizzy Smith was diagnosed with myeloma in 2012 at age 44. Within days, she left her job, ended her marriage, moved, and entered treatment. "To the extent I'm able, I want to prove that despite life's biggest challenges, it is possible to survive and come out stronger than ever," she says.
More on Life With Myeloma
Thanks to our HealthTree Community for Multiple Myeloma Sponsors: