ASCO 2023: The New T-Charged CAR on the Block: PHE885
Chimeric Antigen Receptor (CAR)-T cell therapy has been on my radar as a possible way to treat my myeloma since I first heard the news break on this innovative immunotherapy. Being a Jersey girl who lives close to Philadelphia, the news of Emily Whitehead's miraculous recovery from an aggressive relapse of her acute lymphoblastic leukemia (ALL) was being broadcasted on the local news.
How was her cancer eradicated? Through the innovative approach to treating cancer called CAR T-cell therapy. Emily was the first child in the world to have her immune cells activated to fight cancer. Today, Emily is more than ten years cancer-free!
The first clinical application of CAR-T cells was done in 2011 at the University of Pennsylvania and Children's Hospital in Philadelphia by Dr. Carl June and Dr. David Porter to patients with chronic lymphocytic leukemia (CLL). Together with the pediatrician Dr. Stephan Grupp, they also treated patients with acute lymphoblastic leukemia (ALL) in 2012.
As a myeloma patient treated at the University of Pennsylvania, I hoped a successful CAR-T cell therapy would be brought to myeloma. My hopes were realized, and CAR-T cell therapy trials in myeloma started in 2017.
Since that trial, CAR-T cell therapy has proved to be a game changer in myeloma. Currently, there are 2 FDA-approved CAR-T products in myeloma- ABECMA and CARVYKTI. Both CAR-T cell products target B-cell Maturation Antigen (BCMA) on the surface of myeloma cells.
Individuals who are triple-class refractory (no longer responding to IMiDS, proteasome inhibitors, and CD38 monoclonal antibodies) have seen promising responses to CAR-T cell products.
However, while the majority of patients are seeing success with CAR-T cell therapy, it still does not have the curative outcome in myeloma seen in other B-cell malignancies. Researchers are diligently researching ways to improve the efficacy of the myeloma CAR-T cell product.
Additionally, since the CAR-T cell products available for myeloma are personalized, they need to be manufactured. CAR T-cell manufacturing is a laborious process which takes weeks for completion in a Good Manufacturing Practice (GMP) setting. Because the products are currently only FDA-approved for patients on their fourth line of therapy, a potential candidate for CAR-T cell therapy often cannot wait weeks for their personalized CAR-T product to be made.
There may not be an effective bridging therapy to keep their aggressive myeloma under control during the time their harvested T-cells are engineered into the myeloma-fighting CAR-T cell product, thus making the reality of waiting so long for CAR T cells improbable for those who need urgent therapy.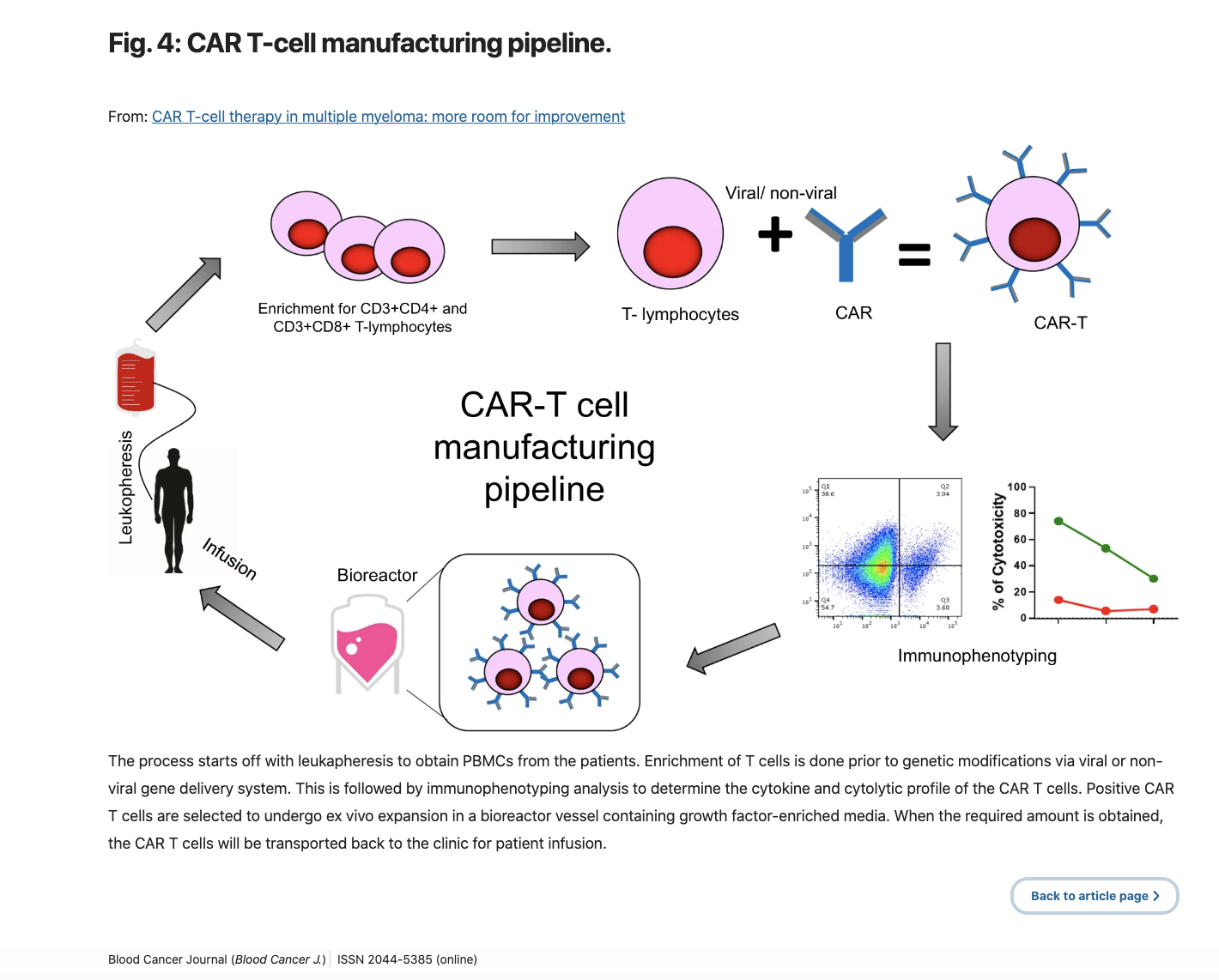 Enter PHE885.
PHE855 is a BCMA-directed CAR-T cell therapy for relapsed/refractory multiple myeloma, currently in clinical trials.
Presented by Dr. Adam Sperling at the 2023 ASCO Conference, the PHE885 oral abstract caught my interest: this CAR-T product is manufactured in under 2 days using a new technology called T-charge. He said the "vein to vein" time (meaning the time from T-cell collection to administration) currently is 16 days, but, he is confident that it can eventually be delivered within 10 days.
Additionally, it seems that by using the T-charge technology, more of the T-Cell is preserved, maintaining more stem and central memory T-cells. Could having more stem and central memory t-cells in the manufactured product increase efficacy? Time will tell.
Watch the video below from presenter Dr. Adam Sperling and/or read the summary of the trial:
Let's learn more about this ground-breaking trial:
What question was this clinical trial trying to answer? What phase was this trial in?
Is the treatment with PHE885 safe and effective for patients with relapsed or refractory multiple myeloma? This oral abstract focused on updated results from a Phase I (1) clinical trial, which means that this trial's primary outcome is to determine, as mentioned in the investigative question, whether or not this treatment is safe for myeloma patients. Of note: this specific trial is also investigating the role of this treatment in newly diagnosed myeloma, but that was not mentioned in this particular abstract.
How many people participated? What were the qualifications?
46 patients have participated in this trial as of December 22, 2022.
The inclusion criteria for the relapsed and refractory arm are the following:
Subjects with multiple myeloma who are relapsed and/or refractory to at least two (2) prior treatment regimens, including an IMiD, a proteasome inhibitor, and an approved anti-CD38 antibody
ECOG performance status that is either 0 or 1 at screening (evaluating patient's physical wellbeing)
Measurable disease as defined by the protocol
Adequate hematological values
Must have a leukapheresis material of non-mobilized cells accepted for manufacturing.
How long did the study last and when was it completed?
The study started on March 23, 2020 and is still ongoing and recruiting patients.
What were the final results?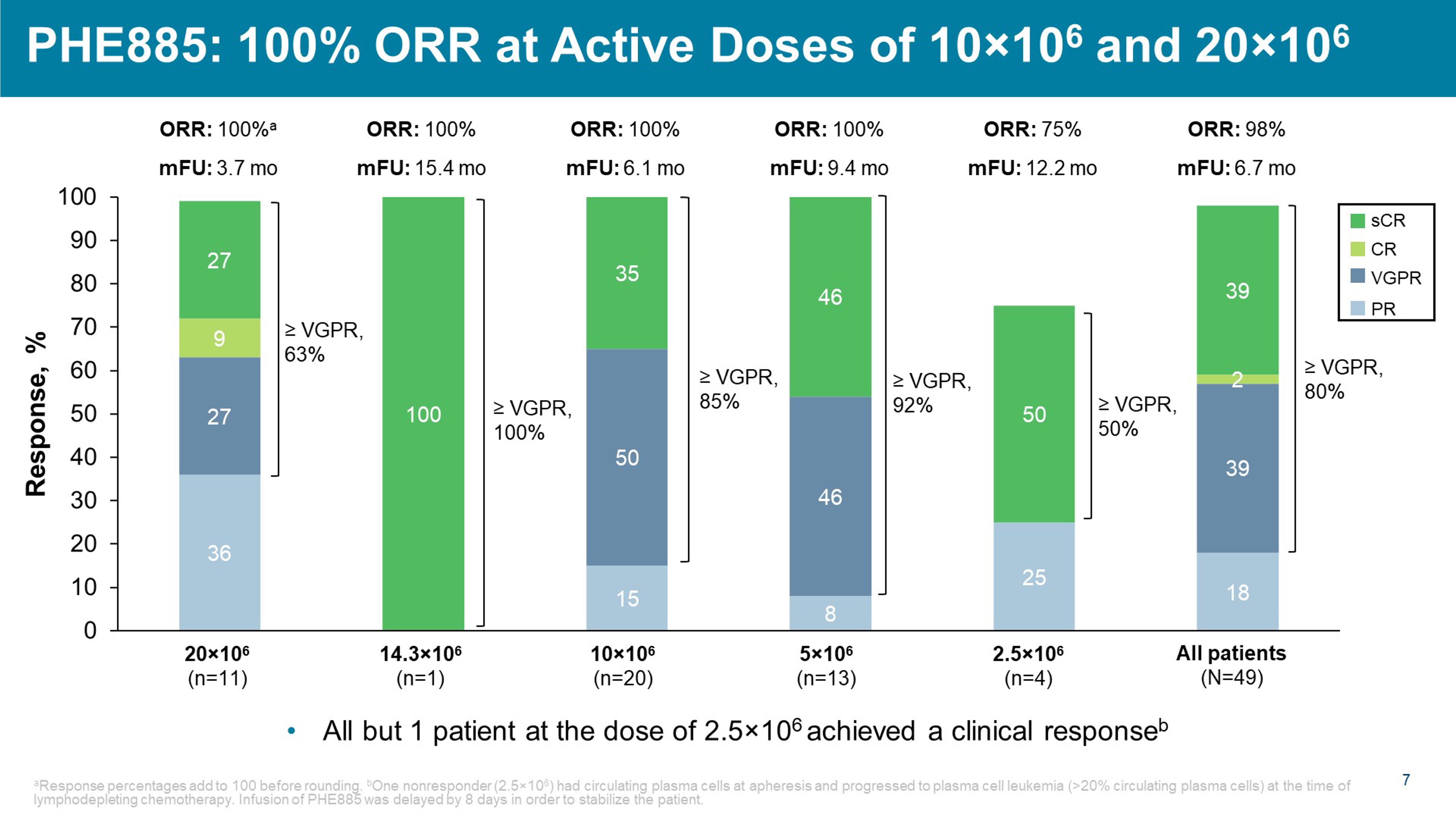 98% of patients showed an overall response rate

This means that these patients at least achieved a partial response or higher
100% of patients responded to the original dose

As of December 2022, 10 patients were tested for MRD negativity, and 60% showed negative results at 10-5 by NGS. Six months after PHE885 was infused, 74% of the trial participants remained MRD negative.
Responses continued to deepen over time, encouraging longer follow-up to identify a recommended dose for future development
No unexpected adverse side effects were experienced. Cytokine Release Syndrome (CRS) rates were high, but mostly low grade. CRS was effectively managed with tocilizumab. There were no reports of delayed neurotoxicity or parkinsonism.
In conclusion, patients with relapsed or refractory multiple myeloma have found a new opportunity with these CAR T-cell therapies, and every day, new techniques are developed to make this therapy more available for patients.
I am excited to hear more about PHE885 in upcoming meetings.
---
We thank the following physicians and researchers for making this trial and its results possible. We also thank the patients who participated and their supportive caregivers.
Adam Samuel Sperling, Benjamin Avi Derman, Sarah Nikiforow, Soo-Yeon Im, Shuntaro Ikegawa, Rao H. Prabhala, Diego Hernandez Rodriguez, Yifang Li, David S. Quinn, David Pearson, Dexiu Bu, Jennifer Mataraza, Jessica Liegel, Anita D'Souza, Lawrence Rispoli, Marc Credi, Jerome Ritz, Andrzej J. Jakubowiak, Serena De Vita, Nikhil C. Munshi
HealthTree also recognizes Felipe Flores, a medical professional on the Patient Navigator Team at HealthTree for his contribution to this article.

about the author
Cynthia Chmielewski
Cynthia (Cindy) Chmielewski is a professional educator and myeloma advocate. As a former teacher, she now teaches myeloma patients how to advocate for themselves as the Director of HealthTree University. You can follow her on Twitter @myelomateacher
Thanks to our HealthTree Community for Multiple Myeloma Sponsors: