Navigating Additional Stressors During the Holidays
The Holiday Season is meant to be a time of joy, celebration, sharing experiences with loved ones. However, often this season is met with additional stresses and can distract from the purpose of the season. Feeling stressed because of family expectations, many parties on the schedule, lack of fitness due to weather or less daylight hours as well as change in nutrition because of convenient snacking can cause us to feel guilt. When we feel guilt over these things we often beat ourselves up and go extreme in trying to make up for it.
I'm here to say stress is absolutely normal especially when there are so many expectations. Let's do what we can to minimize that stress through some simple fixes.
First, our schedules get overloaded with events- holiday parties with family, friends, kids/grandkids programs, work parties, doctor appointments, plus our normal daily lives. None of those are bad things to have on your schedule- however, it's not setting boundaries and feeling the need to be everywhere at the same time that can alter how we feel. My recommendation to combat this stress and guilt of feeling overwhelmed is to establish boundaries with those around you. Decide what events are most important to you and go to those, the ones that are just adding it's ok to say no, or be vocal about not being able to bring extras, cook or whatever it is that's causing too much stress.
Second, gift-giving can be overwhelming. The cost of toys, items, and gadgets it can add financial stress when we are already feeling stressed over treatments, dr's appointments, and increases in everyday costs. It's not the end of the world if you don't get them the latest trinkets. The most important and valuable gift these days is time. Give the gift of spending time with loved ones. Whether that's taking your spouse on a date, having a playdate with grandkids or visiting friends and taking them a treat. Being with those who are important to you is the most special gift you can give.
Third, a reduced immune system can be stressed when it's cold/flu/covid season. Personally, this is one I struggled with for years. I would get the flu shot every year, and every Christmas I would end up with the flu- the kind that knocks you down for weeks. It was miserable and made me not excited for the holidays. I've since broken the streak and have been able to stay healthy. I am vocal with my family about my concern of getting sick, if anyone in their family has been sick they know I will stay far away. It's important to communicate with those you will be with what your needs are. No one enjoys getting sick, so expressing that it's a concern of yours is not selfish, they should be able to understand.
Fourth, a reduction in fitness can cause much guilt of not doing enough. In winter there are many barriers to getting regular exercise in. Cold temperatures, achy bones, short daylight hours, jam-packed schedules and just plain feeling blah during this time. I want to stress that it's ok to have rest days. There is a lot going on this time of year and when you feel fatigued and down it's ok to take a nap, enjoy some extra rest or do a little yoga.
We can also get creative with our fitness- doing some circuit workouts that are short and sweet at home are just as great as a long gym session, it reduces our strain on time, gets our blood pumping, and can help clear our head. Icy, snowy and cold conditions can keep us indoors for our exercise, either try the treadmill, elliptical or spin bike at the gym if you have access, however, if you don't, you can walk in your home, do laps through the house, walk up and down the stairs or just walk in place. It sounds really boring to just walk in the place, but if you have a hard time getting in your cardio and struggle with balance you can hold on to a chair and work on walking in place. Exercise doesn't have to look the same way all the time. Get creative with what you try, turn on your favorite music and dance through the house, grab a partner and dance together. You can have fun with it!
Finally, the biggest cause of guilt during the holidays is food. There is an abundance of sweets and treats everywhere we go. I'm here to say it's ok to eat it. My tips for enjoying my desserts is:
Treat a treat as a treat- enjoy your dessert, but don't make it your meal. Eat your normal meals throughout the day to help maintain your blood sugar, it can help you make smart decisions with your snacking and treats. Drinking water- staying hydrated can help reduce excess weight gain from high sugar consumption, keep headaches at bay, avoid fatigue and reduce the amount of mindless snacking.
Food is for enjoyment, it's not a punishment! We require food to function, and it's essential for us to eat regular meals- fruits, veggies, whole grains and meat. However, find ones you enjoy, don't suffer for the sake of weight loss. By being overly restrictive it can harm your relationship with food you enjoy and cause unnecessary guilt. Eat the food, enjoy your treats. Portion them, sample desserts and don't overdo it.
Check out our Muscles for Myeloma Facebook page and join us for our 12 days of Fitmas. Each day we will add new exercises to try. It's a great way to get a start on your fitness journey before the New Year, or maintain what you've been doing this year.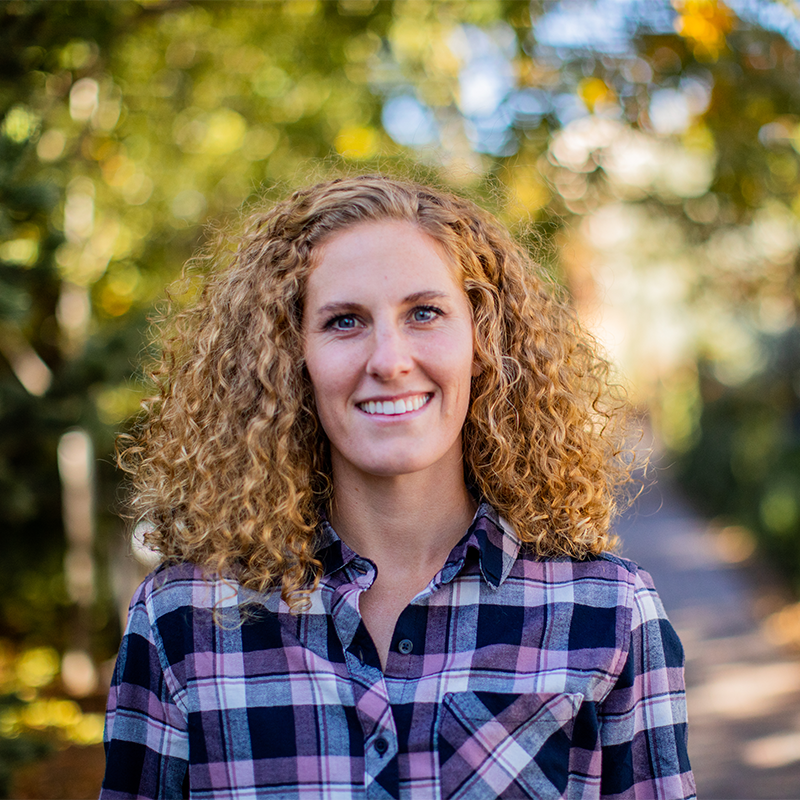 about the author
Linnley Sweeney
Linnley joined HealthTree in January 2020 as the Fitness Events Manager. Her husband is a childhood cancer survivor as well as a cancer biologist. Finding a cure, better treatments, and balance through treatments is what drives their family. Linnley is an Advanced Cancer Exercise Specialist and focuses on finding what you can do rather than can't.
More on Life With Myeloma
Thanks to our HealthTree Community for Multiple Myeloma Sponsors: