Myeloma Treatment Then and Now with Parameswaran Hari, MD, MRCP Multiple Myeloma Symposium in Wisconsin
Dr. Parameswaran Hari spoke today at the Multiple Myeloma Symposium in Wisconsin. This is the 14th year that the Medical College of Wisconsin has hosted this event for 400 patients who come from surrounding states for excellent education.
Dr. Hari described myeloma as an ancient disease, with skeletons showing bone lesions found in Egyptian mummies as early as 200-500 AD. Native American skulls from a similar time period were also found in the United States.
He shares that there are approximately 20% of patients who may be getting cured today, but we don't know who or why.
His approach is to kill as much myeloma as possible at the beginning of treatment, because it is your best chance at the longest remission.
"If you have an attacking elephant coming toward you and you have access to a machine gun or a dagger, you don't want to use the dagger first and keep the gun in reserve, hoping that the dagger will do the job when your life is at risk."
Combining minimal residual disease testing (MRD) post-treatment is giving experts a better idea of how patients are getting and staying in remission. The new MRD test by Adaptive technology is helping identify levels of disease and the detection levels are getting deeper. Here he shows MRD levels with early and late stem cell transplant.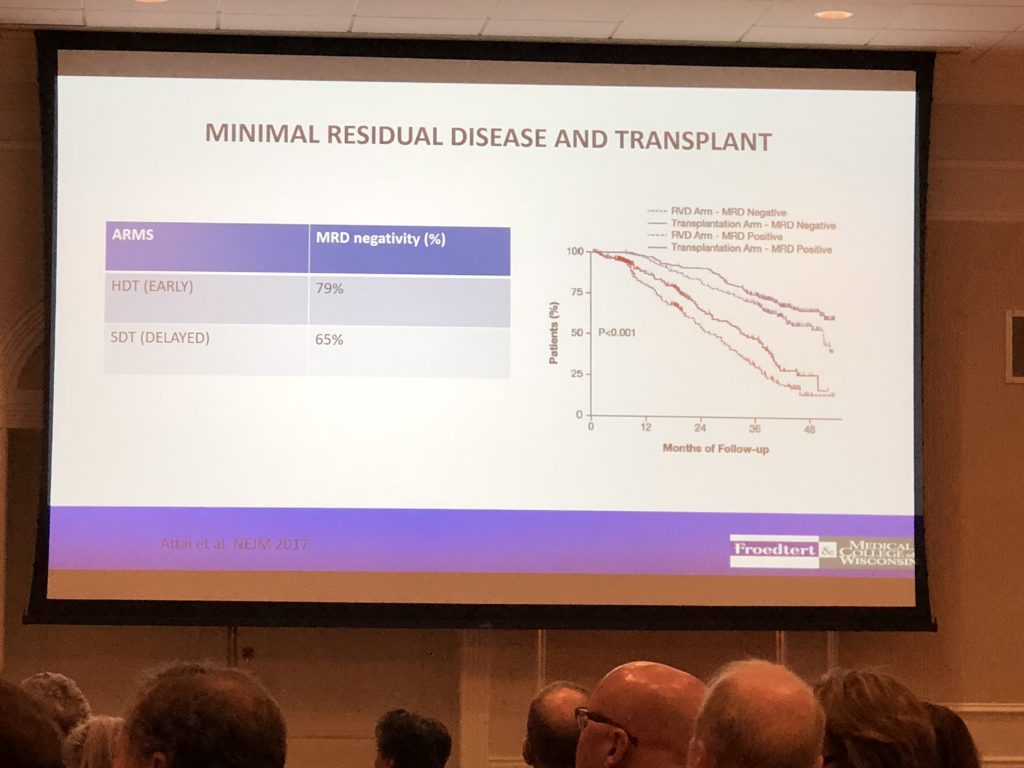 He shares new research questions that are being asked and answered:
Can we use a vaccine post-transplant with lenalidomide maintenance to improve outcomes?
What will the impact be in moving daratumumab up front in quad therapies? In a European study comparing Velcade/Melphalan/Predisone for 9 cyles vs. Velcade/Melphalan/Prednisone/Daratumuab, there was a 50% reduction in risk of progression or death.
Selinexor is an XP01 inhibitor that is close to FDA approval that is especially helpful for patients with del 17p disease.
Venetoclax is a drug already approved for CLL patients and is found to be helpful for 11;14 multiple myeloma patients.
BCMA is becoming the "new" target with both CAR T trials from the NCI, Legend/Janssen, UPENN/Novartis and the new GSK2857916 drug.
Much work is being done on the BCMA - APRIL - TACI axis, so watch for more projects on that.
Other targets for relapsed patients like CD74 are generating new Anti-CD74 research like a new drug called STRO-001.
A new study called the MM profiler will be using the new Skyline DX Gene Expression Profiling test in newly diagnosed myeloma as a risk assessment tool.
The symposium was an extremely valuable event for patients and caregivers, so invite your friends and attend next year!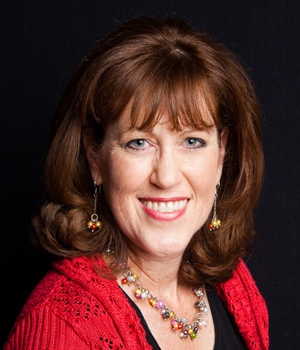 about the author
Jennifer Ahlstrom
Myeloma survivor, patient advocate, wife, mom of 6. Believer that patients can help accelerate a cure by weighing in and participating in clinical research. Founder of HealthTree Foundation (formerly Myeloma Crowd).
Thanks to our HealthTree Community for Multiple Myeloma Sponsors: