Myeloma Patient Advocates In Action. Advocating For You!
BY GARY PETERSEN The Multiple Myeloma Community has always had a unique synergistic combination of myeloma specialists, researchers, patient advocates, myeloma institutions (IMF, MMRF, MCRI, LLS and MMORE), and pharmaceutical companies. Now more than ever, patient and patient advocates have been asked to contribute their ideas, concerns, and recommendations to improve the myeloma patient experience and outcomes. I, Gary Petersen, the editor of myelomasurvival.com am honored to be considered part of this amazing group. Some of the most recent efforts follow.
CONQUER Magazine - The Patient Voice
Opportunities For Improving The Care Of Patients With Multiple Myeloma
By Jack Aiello, Cheryl Boyce, Yelak Biru, Cynthia Chmielewski, and Gary Petersen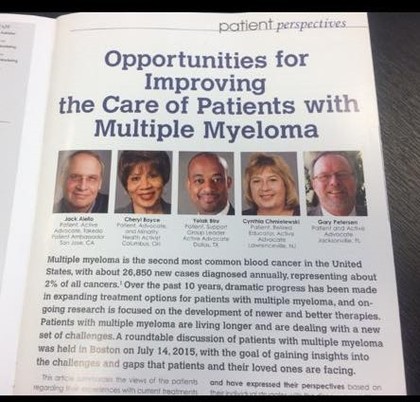 A roundtable discussion of patients with multiple myeloma was held in Boston on July 14, 2015, with the goal of gaining insights into the challenges and gaps that patients and their loved ones are facing. This article summarizes the views of the patients regarding their experiences with current treatments and other issues related to cancer care. The participating patients were Jack Aiello, Cheryl Boyce, Yelak Biru, Cynthia Chmielewski, and Gary Petersen. They have all had multiple myeloma for many years and have expressed their perspectives based on their individual struggles with the disease. In addition, as leaders of their communities of patients with multiple myeloma, they have gained insights into critical issues that patients with multiple myeloma face from diagnosis and throughout their survivorship. You can read the article if you
CLICK HERE
!
The Myeloma Crowd Research Initiative
The MCRI was started by Jennifer Ahlstrom, a myeloma patient and advocate, just as the IMF and the MMRF were started by a patient advocate. The premise for this proposal is that high-risk myeloma is undeserved and most myeloma in the end stage is by definition high-risk. It is felt that if you can find the cure for high-risk myeloma you have found the cure for all myeloma. Unfortunately, the most likely cure for myeloma will be through the use of your own immune system to fight and kill the cancer cells. This is not a drug but a process, and as a result may not have the resources devoted to it like a drug would, therefore alternate forms of financing are required. As part of this program, patient advocates Jenny Ahlstrom, Lizzy Smith, Pat Killingsworth, Cynthia Chmielewski, Jack Aiello, Jim Omel and Gary Petersen are members of the MCRI Patient Advisory Board. You can find out more about this outstanding initiative if you
CLICK HERE
.
Getting a Myeloma Specialist and Being Your Own Best Advocate
I have often said the two most important elements of a successful myeloma prognosis is to have a myeloma specialist on your team and to become your own best advocate. Recently, I was interviewed by Andrew Schorr of Patient Power and he gave me the opportunity to explain how very important it is to have a myeloma specialist on your treatment team. With the speed of new drug development and approval, and the breakneck pace of new treatment approaches, a specialist has become an absolute necessity. A listing of over 200 specialists can be found if you CLICK HERE. You can view the interview below.
Gary Petersen: Helping Patients Keep Up With the Pace of Myeloma Research
from
Patient Power
on
Vimeo
. On the second point of being your own best advocate Cynthia Chmielewski recently gave an excellent summary of the reasons and importance of being your own best advocate in a MCRI video and you can view it below. And heartfelt thank you to all of the myeloma advocates and all they do for the myeloma patient community. You know who you are. You are the Jim's, Lori's, Nick's, Matt's, Kimberly's, Dana's, and Danny's of the world. For more information on multiple myeloma
CLICK HERE
and you can follow me on twitter at:
https://twitter.com/grpetersen1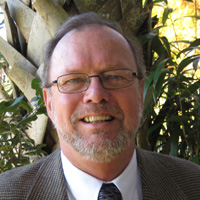 about the author
Gary Petersen
Gary is a myeloma survivor and patient advocate. His work centers around helping patients live longer by helping them to find facilities who are beating the average survival statistics. You can find Gary's site at www.myelomasurvival.com and follow him on Twitter at @grpetersen1
More on Life With Myeloma
Thanks to our HealthTree Community for Multiple Myeloma Sponsors: