Experts have called daratumumab a game-changer in the treatment of multiple myeloma. For me, it was a life-changer. When I was diagnosed four years ago at age 52, the first two lines of treatment didn't work. So my hematology team put me in touch with myeloma specialists, who in turn put me on a regimen of daratumumab, pomalidomide, and dexamethasone, a combination that had just been approved by the FDA. Miraculously, that did work. Suddenly, my future opened up again, and I began to believe I would in fact get to see my teenage son grow up. I was able to get an autologous stem cell transplant, which put me into remission. I have been on Dara/Pom/Dex maintenance ever since.
While I was deeply thankful for Dara, I still dreaded my monthly trips to the outpatient clinic for my infusion. They were a monthly reminder that I had cancer, that I was a patient, even though I had all my hair and was back to running every morning on the track near my house and living a pretty normal life. We traveled; I did the grocery shopping again; I attended my son's school and sporting events. But still, there was the dread, not only of cancer returning but of the monthly infusions. It wasn't just having to go to the clinic: I also had to get an IV-line set, something that was becoming increasingly difficult. I was a "hard stick," I was told, my "veins rolled" and were "tough." I would get stabbed sometimes three or four times, and the poor nurse would often have to call another nurse to see what could be done about me. I had become accustomed to requesting IV therapy the minute I arrived. Needless to say, my anxiety began to rise the night before my infusion, and I would feel nauseated for no physical reason but stress. My doctor said I could get a port in my chest, but I declined because that would be a constant reminder of my status as a cancer patient - and an infection risk I didn't want to worry about.
So when I heard that Dara was going to a sub-Q version, with the medicine injected in just a few minutes under the skin, I was elated. It took my hospital six months to approve the new delivery method, and fortunately, my insurance agreed to the switch. I have been getting FasPro for the past eight months, and again, it is a game- and life-changer. I can drive myself to my appointments. And though I still get bloodwork done and have to wait for the results, I am home in just a few hours. It feels like a typical visit to the doctor, rather than dreaded cancer treatment. The injection itself takes less than five minutes. I know this is a small thing in the world of fighting cancer when what really matters is that the treatment works, but the ease of treatment is hugely important to me psychologically. I had been told when I was first diagnosed that myeloma was more like a chronic condition that could be managed. My initial experience, while not typical, turned that description on its head. I am almost back to thinking of myself not as a cancer patient, but as a healthy person who lives with a controlled and carefully monitored disease. The pandemic has challenged that notion, but I am fighting back.
Courtenay Thompson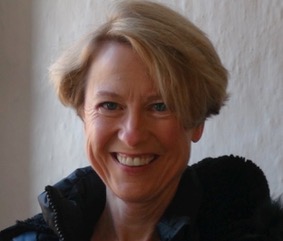 Courtenay generously shares her time and experience with myeloma helping others as a Myeloma Coach. If you are a myeloma patient or caregiver willing to share what you have learned living with myeloma consider volunteering as a Myeloma Coach. Initial and ongoing training is provided with monthly support and resources. Coaches are asked to volunteer a minimum of 8 hours a month. The knowledge and experience you have with myeloma can give others hope. Join our team and become a Coach today!
Become or find a myeloma coach