September was Blood Cancer Awareness month and time to focus on how some myeloma patients are developing Muscles for Myeloma. Staying fit is critical for your best myeloma outcomes. Every patient will be different in what they can do, so talk with your doctor, listen to your body and stay as active as you possible can based on your unique situation.
By Hilary Rucroft
At age 65, Hilary felt fine and recently had retired from work. She visited her doctor August 2018 for an annual checkup. Blood tests revealed a dramatic drop in kidney function, as well as problems with liver function and anemia.

This was a complete shock to Hilary. On reflection, she remembered have a cracked rib, slipped disc and sciatica attacks in the few months prior to the test, but these were first time incidents and corrected themselves without treatment--so she didn't think much of these occurrences until her diagnosis.
Following diagnosis, Hilary didn't feel a difference in her physical activity and continued her daily walks. However, from poor liver function, neuropathy, and a secure reaction to Velcade, she ended up in a wheelchair and, subsequently, very dependent on help from others for three months.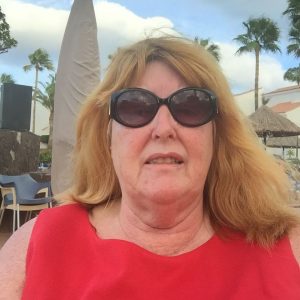 Hilary now focuses on walking, taking stairs with handrails, and housework when she can. "I have no control over the MM [multiple myeloma] but have control in keeping my body healthy which in turn helps with MM," she says.
When it comes to diet, Nicole is careful with what she eats. "By that I mean careful, not obsessive. I am diabetic type 2. I try to live life as normal i.e. no specific exercise, but do what I used to in normal activities like walking, housework, shopping."
Initially, Hilary started with her diagnosis with immense positivity. But after an SCT cancelation and illness, she started to feel despair.
"I had a few sessions with a psychologist which helped. My consultant says I should think of MM as a chronic illness rather than a death sentence and this has happened after time. My current treatment is working at the moment with no side effects and so long as this can go on I take each day at a time. I have booked to go away for Christmas and have made hotel arrangements for my nephew's wedding next June. Doing this gives me something to look forward to and helps me stay positive."
Hilary says the most important thing that has helped her is to stay positive, and do not try to do too much.
"Do try to do some form of exercise/movement every day but build it up by doing a bit more at a time. Get out and socialize. I go to the hairdressers every week. This means I have to get up, get ready, and get to the salon. I also get social contact. It is easy to sit in but make the effort, I go out to pub quizzes, out for lunch or for coffee. This may not like sound much, but it gets me moving."
Thanks to our Muscles for Myeloma sponsors: