Why I'm a Myeloma Advocate, by Jenny Ahlstrom
Our family moved to Mexico in 2009 with the vision of helping Mexican entrepreneurs create technology companies and the goal of launching Mexico's first technology focused venture fund to support the growth of Mexico's venture capital industry. At the time, Mexican entrepreneurs had no where to turn for startup funding. Banks wouldn't lend after the Mexican financial crisis of the mid-1990s and funding new startups was called "capital de riesgo" or "risk capital," not exactly a comforting label for investors. Entrepreneurs had to be well connected or born into a wealthy family that was willing to fund the venture. Our research showed that Mexico was well positioned to succeed if we could unlock capital sources for Mexican entrepreneurs.
In July of 2009, we embarked on our exciting journey, selling our home in Utah and moving our family of six kids (ages 2-13) to Monterrey, Mexico. The first year in Mexico was fun, exciting and overwhelming. I loved the food, our kids learned to adapt to a new culture, new language and felt for the first time what it was like to be a minority. We moved to San Pedro Garza Garcia, which had the reputation for being the safest in Latin America, but within six months, inter-gang clashes between drug cartels turned our little piece of heaven into a war zone. We made adjustments to the security situation and my husband made living there a fun adventure. Life was busy and chaotic with so many new distractions that I ignored my health, even though there were signs that something unusual was going on.
My last pregnancy at age 40 was different than the rest. During the pregnancy, I had caught "fifth's disease" or the Parovirus 19 from my 3-year-old. I became exhaustingly tired. My doctor said she wanted to hospitalize me because I was so anemic, dropping weight and only ended up gaining 13 pounds during the pregnancy. In another incident, I injured a rib reaching over the back seat and no matter how many times I was adjusted by the chiropractor, it never seemed to help.
By the time we moved to Mexico, I was so tired that I would fall asleep during my morning Spanish tutoring sessions, but thought it was because I was working so hard to create our new life in a foreign country.
A year into our adventure, I started noticing kidney issues that persisted for over six weeks. Not knowing much Spanish and unsure how to use our insurance in Mexico, I was hesitant to go to the doctor.
During our family summer vacation I visited a doctor in Montana and got a PET-CT scan to check out my kidneys. Two weeks later, the hospital called and said "Your kidneys are fine but your pelvis and spine are full of holes. It's likely you have cancer and you'd better get checked."
Each cancer patient experiences this moment when everything in their world just changed. I was referred to a general oncologist who ran some blood tests, but no bone marrow biopsy. He said "We think you have myeloma. So we'll start you on Velcade this Friday and then see how it goes. We'll consider a transplant in a few months." We sought a second opinion at the Huntsman Cancer Institute with Dr. Guido Tricot and compared their myeloma expertise. Dr. Tricot was seeing 500 patients annually vs five patients a year for the general oncologist. After speaking with Dr. Tricot by phone, my husband commented "That was the difference between a high school basketball coach and an NBA coach." The data showed better outcomes for patients who were treated by a myeloma expert. We have come to appreciate that the power of a myeloma specialist is real.
My bone marrow biopsy and the testing at Huntsman showed that I had a high risk myeloma genetic feature. Based on our family experience with a young brother-in-law who died of AML, we decided to hit it hard with a tandem bone marrow transplant, as I was young and in good physical shape.
We decided that it would be difficult for me to be around my young children and their germs and occasional illness while being immunocompromised during tandem transplants, so my husband and children returned to Mexico and I stayed in Utah for the treatment. Although it wasn't an obvious path, a great deal of thought and prayer went into the decision. In retrospect, it was the best solution for everyone. I stayed with my sister-in-law Karen and one of my best friends, Sharon, became my caregiver. My other sister-in-law Tamara amazingly moved down to Mexico to take care of the children while my husband Paul traveled back and forth.
After my transplants I returned to my family in Mexico. As myeloma treatment wasn't available in Mexico, I initially commuted every other week to Houston, Texas to see Dr. Orlowski at MD Anderson for my maintenance therapy. After commuting to Texas for healthcare, it became clear that we needed to return to the US. We soon moved back to Utah and my husband then commuted back to Mexico for his work.
We learned that myeloma often comes back after treatment. We discussed joining a clinical trial if I were to relapse, but soon became discouraged at the thought as we researched myeloma trials on www.clinicaltrials.gov and found 1,200 clinical trials for myeloma and 450 open myeloma studies. This overwhelming realization led us down a path to become as prepared as we possibly could for the eventuality that I would need to pursue additional medical options.
As my husband and I have started many companies, we treated myeloma as a startup company and worked everyday to win this battle. We laid out a strategy so we could be well prepared, and decided to create a platform so I could share everything I was learning with other myeloma patients, caregivers, doctors and researchers. This platform became the CrowdCare Foundation and the Myeloma Crowd Website.
The first program we created was a weekly radio show called the Myeloma Crowd Radio program. Each week I interviewed top myeloma specialists to share information on their current medical trials and answer patients questions. I recorded and transcribed each program and posted the content on the website. To date, I have have recorded more than 110 Myeloma Crowd Radio Shows which has now seen over a million views and listens. We built the website so we could share news, information and clinical trials with patients. Our readership is extensive and patients and caregivers have current and accurate information about the latest in research. The questions we were asking were very relevant to other patients and the success of MyelomaCrowd.org led us to us ask "what else can we do to speed up the pace of medical trials and further myeloma research?"
The next year we initiated an ambitious project called Myeloma Crowd Research Initiative (MCRI) to fund research that focused on high-risk myeloma. We assembled a world-class medical advisory board and myeloma patient advocates and generated 36 responses from around the world to our global call for proposals. Eventually two proposals were selected: a CAR T cell immunotherapy out of Würzburg, Germany and a T Cell immunotherapy out of Johns Hopkins University. We launched a crowdfunding campaign to provide funding to these two projects and reached our goal of raising $500,000. We are very excited that our CAR T cell project is now in clinical trials in the European Union.
Our next effort was to expand our ground game and increase the contact between researchers and patients throughout the United States and other parts of the world. We started hosting live patient meetings throughout the US and Europe, connecting top researchers and patients in a program called Myeloma Crowd Round Tables.
Through our research we learned that patients live years longer if they are treated by a myeloma specialist but fewer than 80% of patients are seen by myeloma experts. To solve this gap we have developed several programs including a myeloma specialist directory, a mentoring program called Myeloma Coach, chapters and events called Myeloma Crowd Community and a new software program called HealthTree. The HealthTree software will help myeloma patients understand personally relevant treatment options while helping researchers understand more about myeloma.
My driving motivation is that of a mother that wants to see her children grow up. Our family goal has been to buy me enough time so my husband and I can raise the children and we are encouraged at the very real prospect of finding a cure. As the project has been a volunteer effort, I am very grateful to the dozens of myeloma patients and caregivers that have joined me in the effort to increase the quality of information and treatment options available to myeloma patients. I am proud that all money donated to the foundation goes directly to myeloma research. Along with volunteer labor, my husband and other sponsors kindly cover the costs of running the foundation. We very much look forward to the day that we find a cure for myeloma and can shut down the foundation so I can focus 100% of my time on my favorite job of being a mom.
When I was diagnosed, I was determined to look for the good in having cancer. As hard as having myeloma is, I made a list of the Ten Blessings of Cancer. Here are just a few of those lessons and my take-aways.

Blessing #6. I Can Do Hard Things.
At some point in everyone's life, challenges will happen. This is not an experience to be cursed, it is an opportunity to grow. It's easy to have an unrealistic expectation about what this life is supposed to provide - our health should always be good, our relationships harmonious, our jobs fulfilling and well-paying, our children obedient and good looking and our retirement a Hawaiian paradise. When it doesn't turn out like that it's easy to claim that we've been robbed. But life is not meant to be a walk in the park. If it were, we would never change, grow or question our premise. As an example, the time to practice charity isn't when everyone loves you, it's when someone is being a jerk. Or the time to practice patience isn't when you're home alone enjoying a pint of Ben and Jerry's with a movie, it's when your kids are wreaking havoc and the bathrooms are a mess. The times of growth come when we are stretched beyond our normal capacity.
My faith has given me the perspective, attitude and strength to persevere. I know where I came from, why I'm here and where I'm going, and I understand that this life is a time to learn, grow and prove what I will do in difficult situations. Could I be kind even on dexamethasone? (maybe didn't do so well on that one). Would I become more sensitive to a friend who was just diagnosed with cancer? Could I help advance a cure for myeloma? Would I look for Shakespeare's "sermon in the stones?" According to John Wayne, "Courage is being scared to death but saddling up anyway." Perhaps there were blessings to be had in doing hard things.

Blessing #9: Contribute Your Talents and Be Willing to Learn Something New
We each have talents and experiences to share. What are yours? We had startup and tech experience, so launching a website didn't seem out of the realm of possibility. I didn't know what I didn't know about starting a radio program, but figured it out and spent the first few shows so nervous I couldn't even respond to the doctor's comments. On my second show, Dr. Tricot said "Patients say it's inconvenient to travel to receive myeloma care, but there's nothing more inconvenient than dying too soon because you've received sub-optimal care," I should have responded with some sort of chuckle or comment, but I was too nervous and went on quickly to the next question (don't listen to that show.) I've now acquired skills I never would have developed otherwise and have found others who are willing to share their talents in the search for a myeloma cure. You don't have to enter a lab to help cure myeloma, you just have to lift where you stand.

Blessing #2: You have Personal Agency. Use It.
The greatest gift we have next to life itself is our agency, or our ability to choose. Although myeloma can make you feel like you've lost your freedom (you have to be in the clinic on Thursday – ALL DAY, someone has to drive you to your SCT appointments, etc.) you haven't. There are still so many choices you can make. My friend who is struggling with ALS is my mentor. He is funny, kind and looks for the good in others. And he can no longer feed himself and is losing the ability to speak. Everything is a choice. What will you choose?
One choice that will affect you the most is who you choose to direct your care. Data shows that seeing a specialist can help you live 38% longer. To Dr. Tricot's point, is it worth the drive? Or the flight? We cannot control what happens to us but our power lies on how we respond and react.

Blessing #3: Giving Back Makes Us Happy
Beyond caring for my family, my happiest moments have been helping my myeloma friends by hosting education, having one-on-one conversations and meeting people who have enriched my life. My myeloma work is my therapy. It helps me avoid obsessing about my latest lab results and helps me focus on the positive – solutions, help and a cure. No matter how badly we are feeling, giving back is always an option. It could be as simple as a phone call you feel impressed to make or a kind word or deed. Getting outside ourselves is always healing.

If you'd like to get give back by getting involved with the Myeloma Crowd, you can become a Myeloma Coach or donate to the HealthTree Foundation. To learn more, contact us at info@healthtree.org.
Jenny's Myeloma Story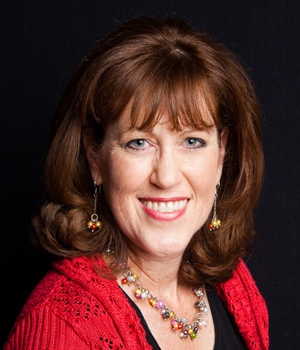 about the author
Jennifer Ahlstrom
Myeloma survivor, patient advocate, wife, mom of 6. Believer that patients can help accelerate a cure by weighing in and participating in clinical research. Founder of HealthTree Foundation (formerly Myeloma Crowd).
More on Life With Myeloma
Thanks to our HealthTree Community for Multiple Myeloma Sponsors: