As we head into cold and flu season many may be wondering what we can do to stay healthy, and keep our immune system up to the fight.
Some simple tips for keeping your immune system strong:
Don't smoke
Eat a diet high in fruits and vegetables
Exercise regularly
Maintain a healthy weight
If you drink alcohol, drink only in moderation
Get adequate sleep
Take steps to avoid infection, such as washing your hands frequently and cooking meats thoroughly
Try to minimize stress
I often wonder, does exercise boost my immune system? The answer is unclear. In the COVID era, exercise appears to strengthen immunity while providing additional benefits. Adding regular exercise into your routine also improves cardiovascular health, lowers blood pressure, and helps maintain regular weight. A Harvard study says that regular exercise helps prompt an overall healthy lifestyle, good mood, and therefore leads to a health immune system. Research has shown that people who regularly exercise do tend to get sick less frequently, (those who exercise 20-30 min per day 5 times per week) and tend to have not as severe symptoms. Exercise doesn't automatically make you immune to anything, but it can improve your odds of fighting colds or upper respiratory infections.
This year has been an anomaly of sorts and what does this mean for our immune systems as we've been sleeping less restfully and had more emotional and psychological stress? Right now is not a time to go out and over train with exercise in hopes it will boost our ability to stay healthy if we aren't taking care of our emotional health and getting adequate sleep. Your workouts, walks, exercises should be a bonus in addition to other healthy habits to keep you fighting strong this fall.
Finish fall on the right foot by setting some healthful goals, such as:
Plan an hour of screen-free time before bedtime
Get adequate sleep (7-8 hours)
Drink plenty of water
Spend quality time with loved ones
Get out for a walk (safely) for some fresh air and endorphins
Opt to cook with some great fall produce: apples, squash, pumpkins, and sweet potatoes
Take time for meditation or yoga
It's always a good time to think about your health and what you can work on to feel stronger, more energized and build up your capacity.
Fall is a great time for delicious soups.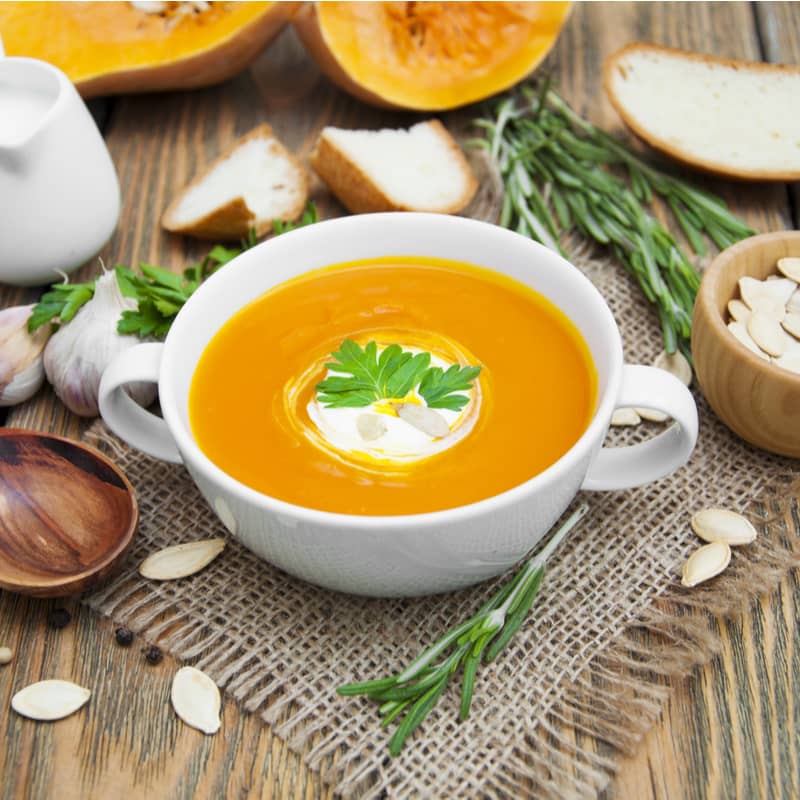 Spiced Carrot and Pumpkin Soup Recipe
Ingredients
2 Tbsp olive oil
1 large brown onion peeled and chopped
1 kg (35 oz) pumpkin or butternut squash (about 1.2 kg unprepared weight) peeled, deseeded and diced
600 g (21 oz) carrots (about 6 medium) peeled and diced
3 cloves garlic peeled and crushed
1 inch piece fresh ginger peeled and grated
1/2 tsp ground coriander
1/2 tsp cumin
1/2 tsp paprika
1/4 tsp turmeric
1/4 tsp ground nutmeg
1/4 tsp chilli powder
a pinch ground cardamom
3 sprigs fresh thyme
1 litre (4 cups) vegetable stock
salt and pepper
Milk (optional)
Instructions
Heat the olive oil in a large pan and gently fry the chopped onion for 5-10 minutes until it is soft and translucent.
Add the diced pumpkin/butternut squash and carrots and the crushed garlic and grated ginger. Cook for a couple more minutes, stirring often.
Add the coriander, cumin, paprika, turmeric, nutmeg, chili powder, cardamom and thyme and cook for another minute while stirring.
Add the vegetable stock and some salt and pepper. Bring up to a simmer and cook for 20-30 minutes, stirring every now and again, until the vegetables are soft.
Remove the thyme sprigs and blend the soup until it is totally smooth. Add a little milk as needed until the soup is the desired consistency. Taste and add more salt and pepper as needed.
Store any leftovers in the fridge for up to 4 days.
Recipe Notes
You can use either a variety of eating pumpkin or squash (such as butternut squash) to make this soup. If you use pumpkin then make sure that it is an eating one, not one for carving as they are watery and lacking in flavour.
If you want a creamier, richer soup then you can add a splash of (non-dairy) cream or milk when you blend the soup.