Today many newly diagnosed myeloma patients will receive induction therapy and then go to stem cell transplant. At the European Hematology Association conference, Michele Cavo, MD, professor, Seràgnoli Institute of Hematology, Bologna University School of Medicine and and Noopur Raje, MD of Massachusetts General Hospital presented information about up-and-coming treatments for newly diagnosed patients.
Goals
According to Dr. Raje, major goals for newly diagnosed patients should be to:
Obtain a high response rate and a rapid response
Get the deepest response possible
Maintain or improve fitness levels and quality of life
Help patients Improve performance status and QoL
Mobilize stem cells for collection in preparation for transplant
Overall, the strategy will use induction therapy, transplant if possible, consolidation and maintenance.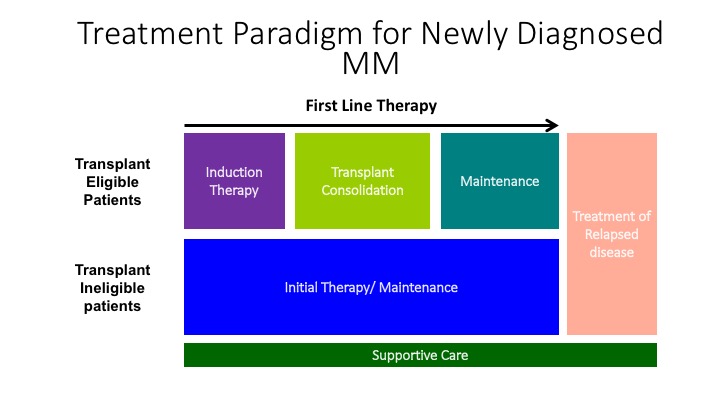 Induction Therapies
Induction therapy, or the drugs given prior to transplant are key to making stem cell transplant effective. Responses to this first therapy has improved with the addition of newer drugs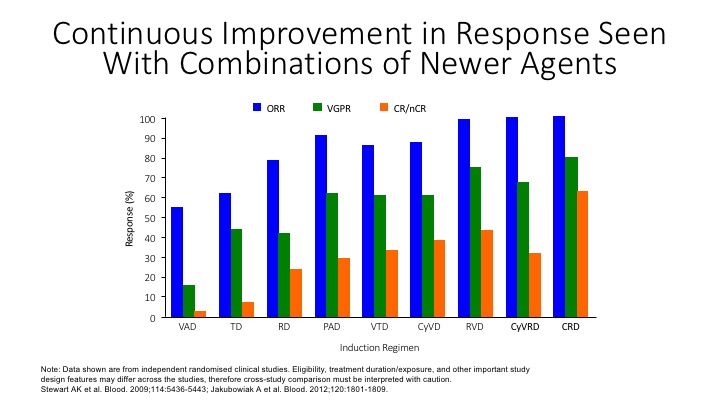 Stem Cell Transplant
In many of the sessions, investigators described the importance of patients receiving stem cell transplant after induction therapy if possible. The data from many studies shows considerable improvements in outcome with transplant vs. without.
Consolidation and Maintenance Therapy
Following a transplant, myeloma experts suggest doing 2-4 cycles of consolidation therapy. This is again using triplet combination therapies similar to those used during the induction phase to further improve the depth of responses. Maintenance therapy is long-term therapy. For high risk patients this may be a drug like ixazomib and for most patients lenalidomide will be used.
Tailoring Treatment
Myeloma specialists are increasingly tailoring treatment for patients in the following ways:
By genetic risk category: Proteasome inhibitors improve and partially overcome poor prognosis of high-risk genetics
By age with comorbidities: Doses can be modified or changed
For severe renal impairment: Choose Bortezomib, Thalidomide, Pomalidomide, Cyclophosphamide, Dexamethasone
The Future
Myeloma researchers are now testing other triple induction combinations to see which are most effective and for whom. One study in progress is comparing KRd (carfilzomib-Revlimid-dex) vs. VRd (Velcade-Revlmid-dex). KRd vs. VRd Clinical Trial Another Phase III study is looking at weekly ixazomib-lenalidomide-dex for newly diagnosed patients. This would be an all-oral option. Dr. Shaji Kumar presented the study results at EHA to discuss patients who did not continue to transplant and were on the therapy for 56 months (65%). ILd Clinical Trial Another Phase II study is testing ixazomib-lenalidomide-dex before and after stem cell transplant followed by ixazomib maintenance which has had promising results. ILd Before/After Transplant Clinical Trial The future for newly diagnosed patients could include the use of a fourth drug to the induction treatment. When investigators tried adding Cytoxan as a fourth drug, it didn't have an impact. But the addition of daratumumab could be an effective option. In a Phase 1b study adding daratumumab to carfilzomib-Revlimid-dex, the depth of the response improved as the duration of treatment was given. For example, after 4 cycles, 10% of patients were in complete response (CR) or stringent complete response (sCR) and after 8 cycles, 57% of patients were in CR or sCR.