Just a few years ago we'd think of Immunotherapies and speak about treatments such as IMIDs (thalidomide, lenalidomide, pomalidomide) and anti-CD38 monoclonal antibodies (daratumumab or isatuximab). Then CAR-T cell therapies, ADCs (Antibody-Drug Conjugates e.g. BlenRep) and bispecific antibodies took center stage and were described as anti-BCMA (B Cell maturation antigen) directed therapies.
Now, in July 2021, given the expansion of targets on myeloma cells (e.g. GPRC5D and FcRH5) we are now talking about the broad new class of treatment called "T Cell engagers", the two leading types being CAR T cells and bispecific antibodies.
If you're reading this and wondering why these immunotherapies are generating so much buzz, the answer lies in the ORR (Overall Response Rate) and DOR (Depth of Response) as compared to what we were seeing before their arrival.
As Dr. Noa Biran stated at a recent Myeloma Crowd RoundTable Webcast: "After three relapses of standard therapies (IMIDs/PIs/Anti-CD38 antibodies), efficacy of new therapies are about 30%." By this she means new drugs like selinexor, melflufen, targeted inhibitors and others. (watch her comment at 41:53 in Dr. Biran's video).
T cell engager therapies are producing an overall response rate anywhere from 55% - 100%, and minimal residual disease (MRD) negative results are being seen in patients who are even refractory to 5 lines of therapy (i.e. resistant to two types of IMIDs, two types of proteasome inhibitors and one anti-CD38 monoclonal antibody). This has never been seen before. While the duration of response for CARs is not all we'd want and we have less data on the duration of response with the bispecific antibodies, these therapies are being improved as you read this.
We are witnessing the reinvention of myeloma treatment.
Comparing your Options
Most fundamentally "bispecific antibodies, offer a treatment alternative that may be better suited for myeloma patients who either can't wait for expansion of their T cells or for less fit patients, as there is an overall lower incidence of Cytokine Release Syndrome (CRS) and Immune effector cell-associated neurotoxicity syndrome (ICANS) than seen with CAR T therapies."
Dr. Surbhi Sidana used this slide from ASH 2020 in her ASCO 2021 summary discussion of CAR T and bispecific antibodies to offer a basic comparison of these options.
Note: Some of the statistics will have changed. It is also important to remember when you compare efficacy of a CAR T product to a bispecific to request the overall response rate for the dosage that has been determined to be the most effective for Phase 2 trials (RP2D) for that bispecific. Some of the percentages you'll see include lower doses in dose escalation studies.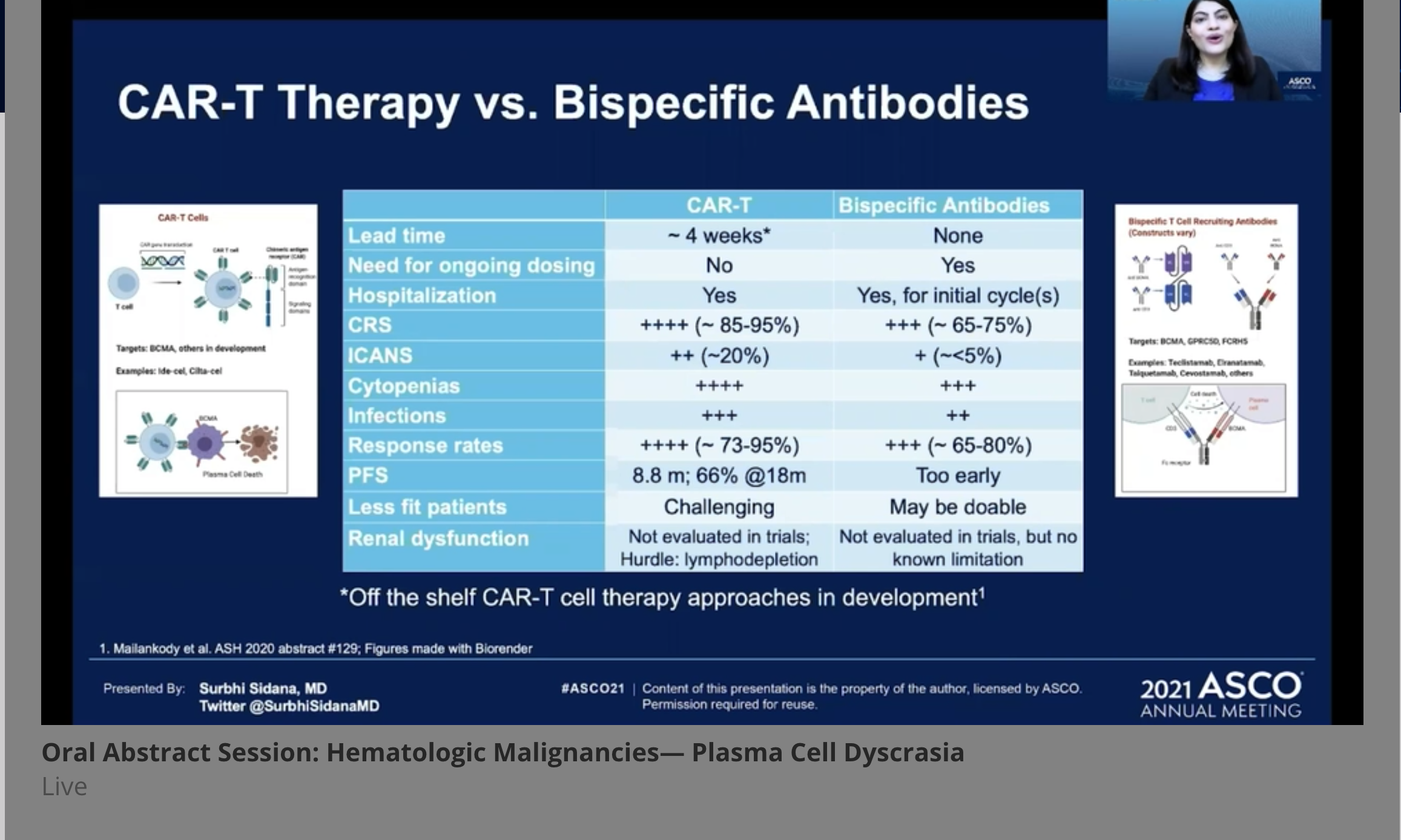 For more detailed data out of ASCO 2021 on Cilta-Cel CAR T therapy and leading BITE therapies teclistimab, elranatamab and talquetemab see the links below:
Here is another chart I find very helpful in thinking about advantages and disadvantages of CAR Ts and bispecifics.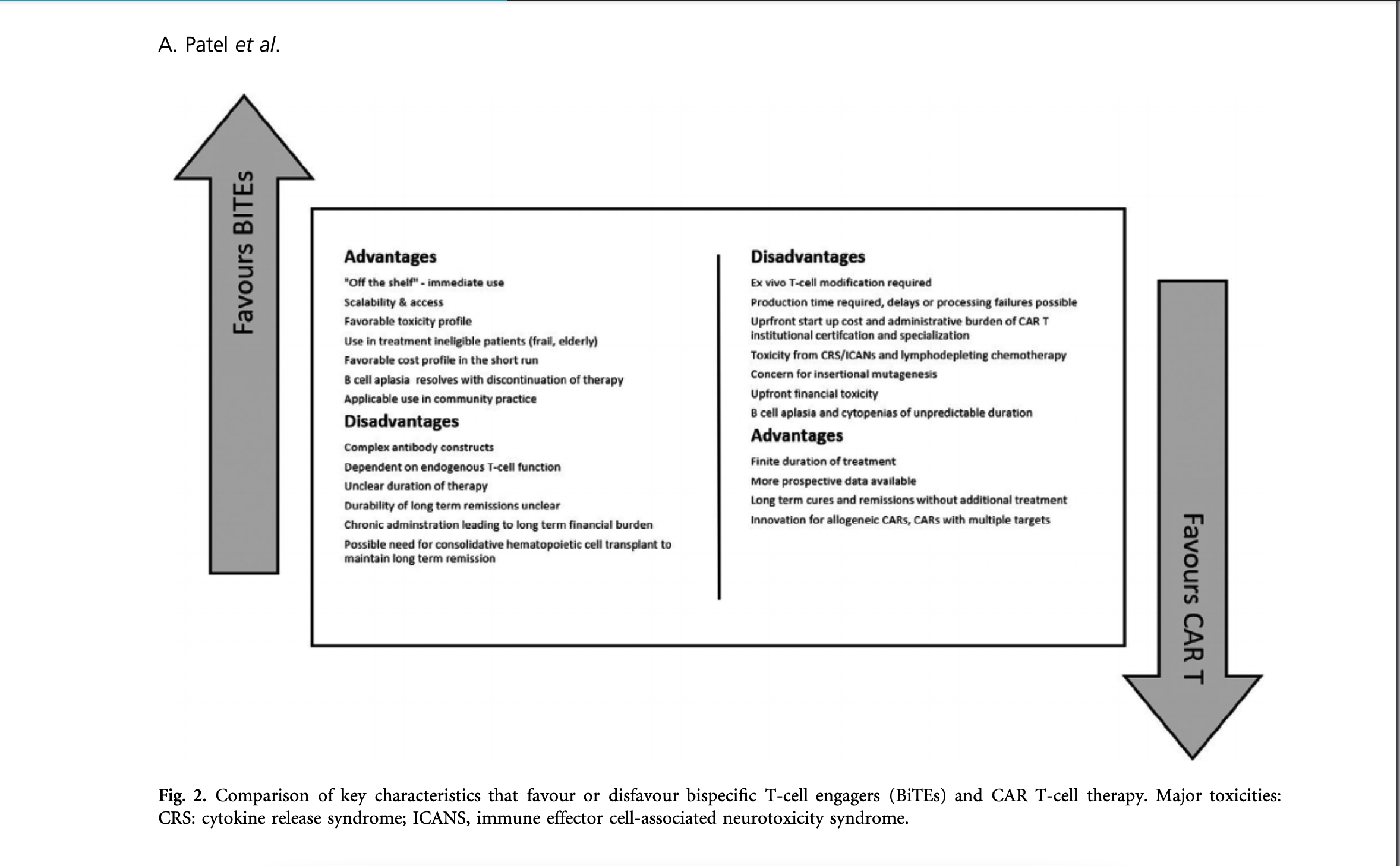 It's important to recognize that all but one CAR T (Abecma by Bristol Myers Squibb) and all bispecific antibody options are only available in a clinical trial and they are not easy to get into. For this reason, in the most recent Myeloma Crowd Round Table Dr. Morie Gertz, and Dr. Noopur Raje agree that if you get offered a spot in a trial, "Take It!"
Lastly, in my experience as a Myeloma Coach I've learned that people find it helpful to have a checklist to discuss with their Myeloma Specialist. Here's one to get you started. Please add your own questions.
Disease Characteristics
Rate of Growth of Myeloma - Do I have time to wait approximately 4-6 weeks it takes to collect and engineer my CARS before they're returned to me?
Tumor Burden = % Plasma Cells. A higher tumor burden is associated with a higher risk of CRS (Cytokine Release Syndrome) and ICANS (Immune Effector Cell-Mediated Neurotoxicity Syndrome. What is my % and what strategies can be used to reduce that burden?
Extramedullary Disease - Do I have this and do we know if one therapy is better for me than another?
Patient Characteristics
Performance/Frailty Status - Can I tolerate the chemotherapy used for lymphodepletion and/or the potential side effects of CRS and ICANS?
Age - is my age a factor?
Comorbidities - Do I have any health issues that are likely to make it hard to enter a clinical trial? Do I have any conditions that make it riskier for me to select one therapy over another (renal, neurologic, low blood counts or other health issues that increase my risk of CRS and ICANS?
Lifestyle Factors - What do I need to consider?
My Risk Tolerance and Need for Data
Home/Life Variables

Family needs
Work requirements
Caregiver resources
Ability to travel
Duration of time away from home
Recovery time
Financial resources
Treatment/Trial Factors
Are there any particular trials you recommend for me and why?
Trial/Treatment Info

Responses - Overall response rate, Depth of response, duration of response
What phase trial data do we have?
How many participants?
Did it include people with my health issues?
What is the data about the severity of CRS seen?
What % of patients?
What grade? (1 -4)
Usual time of onset and duration of symptoms after delivering therapy?
CAR T is usually "one treatment and done". Are there circumstances where I could receive a 2nd round or maintenance therapy?
How frequently is this bispecific given and is it IV or SubQ? How long is it given for?
Side Effects
How long after I'm given my initial therapy does CRS/ ICANS usually occur?
What grade of reaction is usually seen?
What treatments will I be given to minimize/ prevent or treat these events?
How long will I need to stay near the center where treatment is given?
What do we know about the long-term effects of either?
Have there been any treatment related deaths in this or earlier studies with this therapy?
Alternatives
Are there any other treatments or trial that you think are a better fit for me and why?
We will continue to learn more as additional data comes out and as myeloma investigators gain more experience with both CAR T and bispecifics, but the treatment world in myeloma is changing and we look forward to the promise and hope of these new therapies.