ASH, Myeloma, and What It Means to You: A Commentary
Confidence, impatience, and resolve were the unmistakable myeloma themes at the recently concluded American Society of Hematology (ASH) meeting.
Confidence in the efficacy of treatments is growing. Under a specialist's guidance, it is likely the majority of diagnosed patients have the realistic hope of replacing fear of myeloma mortality with treatable, manageable chronic conditions…on the way to cures.
Impatience to move innovative therapies further up the treatment cycle chain is greater than it has ever been. Specialists know they are getting unprecedented results in clinical trials and wonder aloud why new approval methods aren't being implemented to allow more flexibility to do what they believe is best for their patients.
Resolve about doing something for 25-30% of patients who have high-risk disease as well as for the 8-10% of newly diagnosed patients who never make it to their first therapy dominates the thinking of most experts despite their confidence and impatience. Myeloma is still deadly serious.
Session Question Sums Up Themes
In the question-and-answer session following Prof. Katia Weisel's (Hamburg) presentation on the German study showing the efficacy of adding isatuximab to a three-drug regimen in high-risk patients, Dr. Keith Stewart (Toronto) pointed out the trial, as with many others, used carfilzomib as the proteasome inhibitor in the three-drug combination being studied.
Noting that carfilzomib was not approved for how it was being used in the clinical trial, despite its effectiveness in the patient population being studied, Dr. Stewart voiced all the themes of the ASH meeting, explicitly and implicitly. They have a good idea which therapy works for most of their patients and are ready to be unleashed to administer them.
"We would all like to have these in front-line," agreed Dr. Weisel, in essence speaking for all her myeloma colleagues.
Cumulative experience with existing therapies is better than it's ever been. Consensus is emerging about the obstacles and opportunities ahead. New drugs with new targets are being studied and most experts are optimistic about their eventual use in clinical practice. Federal support for basic research is being funded at unprecedented levels and the pharmaceutical industry continues to invest in new drugs.
ASH 2022: Built on Solid Foundations
And as good as the future looks for those involved in finding the best treatments, this year's ASH was a confirmation of sorts of the legacies of Drs. Robert Kyle and Bart Barlogie. Their fundamental ideas still dominate thinking about myeloma throughout the world.
Dr. Kyle created and systematized much of the vocabulary of myeloma from the 1950s through today as he continues to work on his long-term studies at his Mayo lab. A large number of this year's ASH myeloma presentations and posters were built on the foundation of his vision and hard work, which created—and still create—much of what we take for granted in myeloma knowledge.
And the overriding approach to treating myeloma is a confirmation of the philosophy of Dr. Barlogie. His intellectual origins were in the aggressive treatment of childhood leukemia and when he started to lead his clinic in Little Rock, Arkansas, he brought that experience with him, one that was quite different from the prevailing paradigm of myeloma treatment known as "watch and wait."
Dr. Barlogie believed that the best treatment for myeloma was to hit it as hard as possible with the most effective therapies available. This was controversial at the time, but less so with each passing year to the point that outpatient procedures are now common.
He also led the way to give shape to definitions of standard- and high-risk myeloma. The definition of the latter is constantly changing with more knowledge about the role of genetics and how differing treatments affect outcomes.
Progress, Diversity of Ideas, Sure of Direction
ASH presentations, like that presented by Dr. Martin Kaiser (London) updating a study seeking both to refine how patients with ultra high-risk disease are diagnosed and treated quickly with the greatest benefit. Stratifying patients—quickly diagnosing complex factors—is essential in order to determine the best possible treatment and continues to be high research priority. The earlier it can be done, the better the outlook for patients.
A decade ago, a myeloma expert confided to me that "twenty years ago a lot of people were laughing at Bart, now they're all doing what he did." ASH 2023 was in many ways an homage to Dr. Barlogie's approach, which is now standard procedure and no longer disputed.
Myeloma experts know more about what they know and don't know than ever. Which is why they are confident, impatient, and have the educated resolve to tackle the most difficult questions in myeloma aggressively.
Note: Greg attended his first ASH in 1998 and has only missed one since.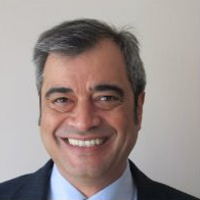 about the author
Greg Brozeit
Greg Brozeit has been with the HealthTree Foundation since 2015 when he began volunteering for the Myeloma Crowd. Prior to that he worked with Dr. Bart Barlogie and the International Myeloma Foundation, inaugurating many myeloma patient advocacy and education programs.
More on Life With Myeloma
Thanks to our HealthTree Community for Multiple Myeloma Sponsors: