ASH 2022: The MRD2STOP Study Could Change the Face of Maintenance
A group out of the University of Chicago is studying the utilization of minimal residual disease (MRD) status to discontinue lenalidomide maintenance therapy. They have data to support the discontinuation of lenalidomide maintenance in patients who have achieved MRD-negative status using a multimodality MRD assessment (various methods of testing for remaining disease). Their study is affectionately referred to as MRD2STOP and could change the face of maintenance therapy and potentially serve as a marker for a cure.
MRD testing is everywhere in the myeloma world but one of the challenges is the paucity of studies utilizing MRD to directly make clinical decisions. MRD negativity is strongly associated with improved prognostics in myeloma, and sensitivity at 10-6 carries a superior prognostic correlation to lesser sensitivity methods. Many patients can convert from MRD positive to MRD negative with maintenance therapy. However, lenalidomide maintenance currently has no established endpoint, certainly affects patients' quality of life, is associated with secondary cancers, and carries a significant financial burden on patients and the health care system.
Early discontinuation of maintenance therapy would have a great impact on all of these challenging areas, and that is exactly what MRD2STOP looks to establish.
Inclusion into the study required patients to be MRD negative at testing of 10-5 or have a complete response (CR) or better for two years. Each participant must also be PET negative have been on lenalidomide maintenance for at least one year.
Each participant then received a multimodal MRD assessment which included a PET, next generation flow (NGF) at 10-5, next generation sequencing (NGS) at 10-6, and CD-138 NGS at 10-7. Patients who were MRD negative at 10-6 and PET negative discontinued maintenance therapy and were followed with routine blood work and annual multimodal MRD assessment described above.
The 10-7 sensitivity may lead to a bit of head scratching and requires some explaination, since it may very well be a hinge point to this study's relevancy. The researchers are subjecting the bone marrow aspirate to an elegant CD-138 enrichment process and then utilizing NGS on this plasma cell concentrate to achieve what they conservatively estimate as having a sensitivity of 10-7.
(What is plasma cell enrichment?)
Thus far, 70 patients have met the criteria for entering the study with 38 patients qualifying for and discontinuing maintenance therapy. At a median follow-up of 15 months, 5 of the 38 patients have become MRD positive at 10-6. Of those patients, four were MRD positive at 10-7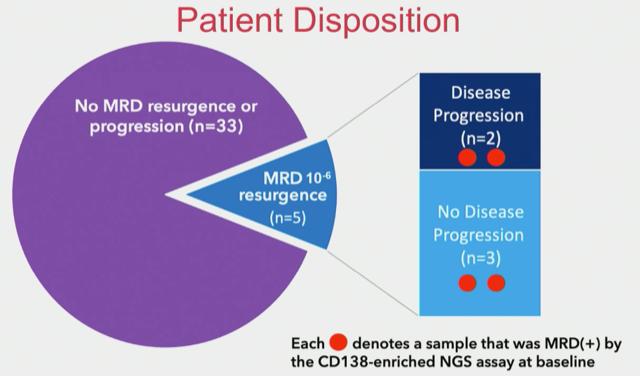 At baseline, 4 of the 38 patients were MRD positive at 10-7 while being MRD - at 10-6. All of these patients converted to MRD + at 10-6 and/or had progressive disease at the 12 month landmark. One patient who was MRD- at 10-7 at baseline converted to MRD+ at 10-7 at 12 months and later converted to MRD+ at 10-6 at 24 months. 84% of those MRD- at 10-6 and 95% of those MRD- at 10-7 at baseline remained MRD- at the 12 month mark.
One of the big concerns with this study was whether or not CD-138 enriched MRD testing would be feasible, and they found that 97% of their bone marrow samples met quality control measures. Skeptics may point to the cost incurred by CD-138 enriched NGS testing. The investigators took an interesting angle on this issue by calculating the cost savings by discontinuing lenalidomide at $9,260,000 in just the 15-months follow-up thus far. Even if one factors in the cost of more advanced testing and re-initiating therapy in relapsed patients, the cost savings is still more than $6 million.
Future directions of this study include assessment of the quality of life for patients, cost savings analysis, and utilization of mass spectrometry and cell-free DNA profiles from peripheral blood. It's pretty easy to make the supposition a significantly increased quality of life without having maintenance therapy, but this needs to be supported and quantitated with real data.
In conclusion, MRD- at 10-6 and 10-7 is sustained at a high rate following discontinuation of maintenance lenalidomide in patients with multimodal MRD negativity.
Part of the beauty of MRD2STOP is that the investigators introduced utilization of CD-138 enriched MRD testing with results at 10-7 sensitivity but certainly did not put all their eggs in this basket by also using NGS at 10-6. They showed that not only is CD-138 enriched NGS feasible, but it may also identify patients who are at higher risk for MRD resurgence or clinical progression if maintenance is discontinued.
MRD-guided discontinuation of maintenance may also carry significant cost savings and result in improved quality of life. This elegant and important study certainly bears keeping an eye on as the impact on a significant sector of the myeloma patient population could be impacted, particularly as treatment regimens continue to improve and more patients reach MRD negative status.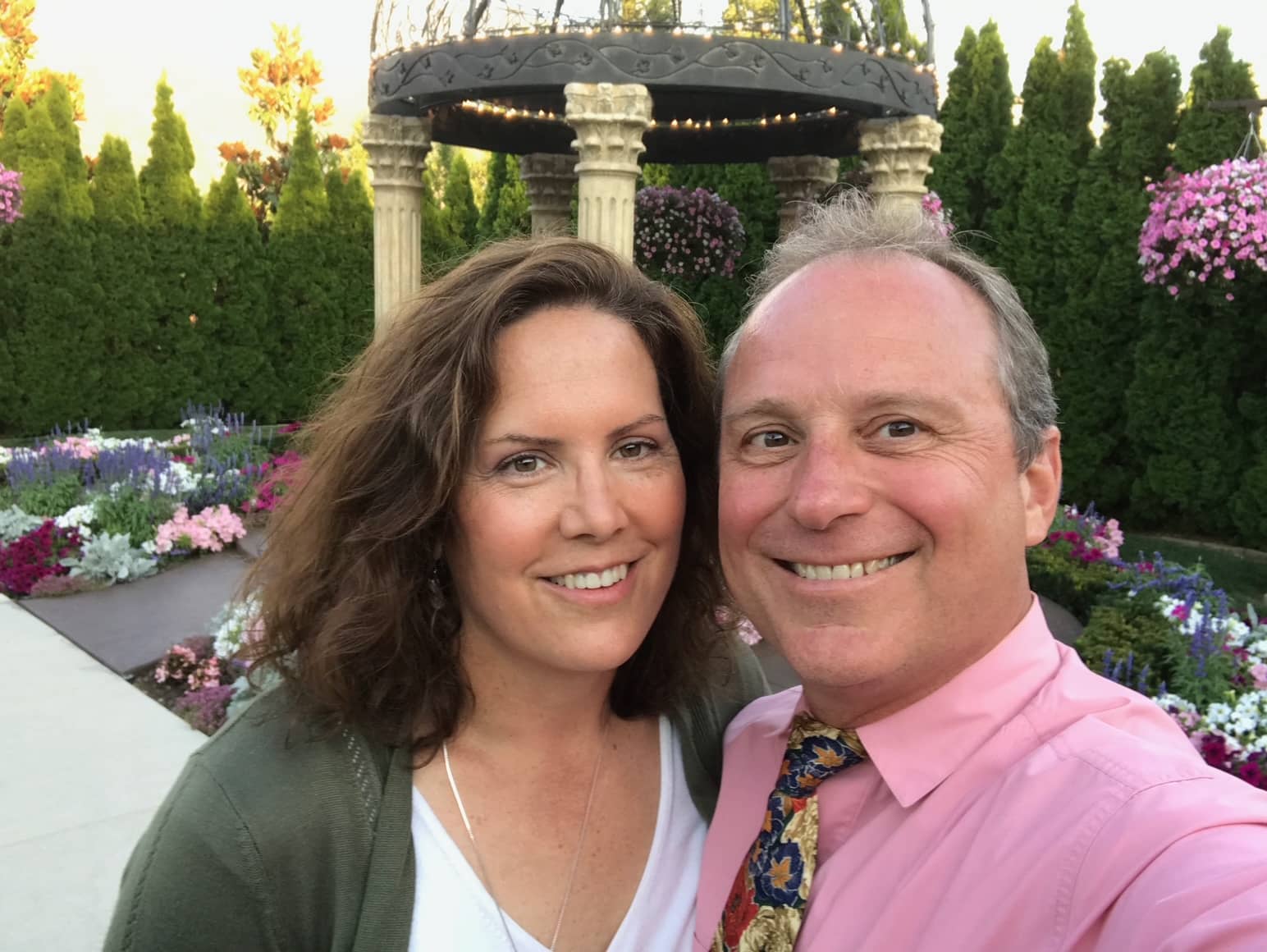 about the author
Kyle Colvin, MD
"As a physician, I figured I may have a unique perspective on the disease, as well as a knowledge base and the time to help patients understand the disease course and treatment options. I figure that I should give back to those in need since my life has been incredibly fortunate, even with this disease."
Thanks to our HealthTree Community for Multiple Myeloma Sponsors: