CAR T therapy side effects are potentially consequential for multiple myeloma patients, but myeloma experts are now more experienced at managing them well, according to Noopur Raje, MD, of Massachusetts General Hospital.

Dr. Raje also stressed caregivers are essential to help identify early symptoms and help care teams determine if patients are acting normally or seem out of sorts. Responding quickly to any abnormal behavior is key.

Dr. Raje shared the safety profile of three separate CAR T clinical trials at annual American Society of Hematology (ASH) meeting.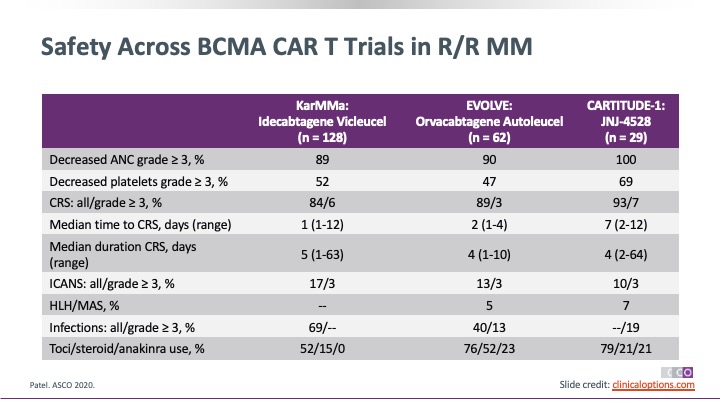 Side effects (also called adverse events) are measured in grades 1-4 with 4 being the most severe. When reviewing clinical trial data, experts will focus on grade 3 or higher side effects. Here are the most common side effects of CAR T therapy and strategies to overcome them.
Immunosuppression
CAR T therapy can can lower immunoglobulin levels. These lowered counts typically recover after one month but patients may be prescribed antibiotics, growth factors or IVIG or other transfusions to boost levels.
Cytokine Release Syndrome (CRS)
One of the most common side effects of CAR T therapy across multiple blood cancers (lymphoma, leukemia and myeloma) is cytokine release syndrome, an inflammatory response that happens as CAR T cells activate and expand. CRS in myeloma is found less frequently when compared to the other blood cancers.
CRS typically begins 2-3 days after administration and can last 7-8 days. It exhibits as flu-like symptoms with a fever and can progress to life threatening hypotension (low blood pressure), hypoxia (low oxygen) and even death. The higher the level of myeloma tumor burden, the more severe CRS can be.
When patients have high levels of C-reactive protein, high ferritin levels or high inflammatory markers including IL-6 or IL-10, they are more likely to experience CRS.
Neutropenic fevers can occur after the CAR T cells are administered, which is why patients are either admitted to the hospital for one to two weeks when the T cells are administered, or patients will be required to stay close to the facility so they can come in quickly if needed.
If CRS is caught early, tociluzumab can be administered which helps resolve the side effects quickly. The use of a steroid like dexamethasone can also be used with or without tociluzumab. Dr. Raje suggests that patients need not wait to experience grade 3 symptoms before using tociluzumab - it can be used immediately upon any signs of CRS symptoms.
Immune Effector Cell-Associated Neurotoxicity Syndrome (ICANS)
Neurological issues are also possible with CAR T treatment. These include symptoms like delirium, confusion, agitation, lethargy, seizures, tremors, difficulty concentrating and cerebral swelling. The typical onset of these symptoms are between days 4-6 and they can last 14-17 days. They can occur with or without CRS and usually occur after CRS. Most neurological issues are reversible.
New guidelines have been simplified to help healthcare professionals more quickly identify neurological issues using visual checks at the bedside.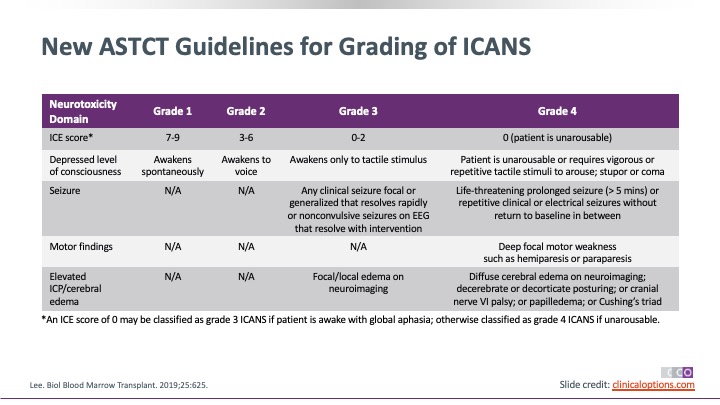 Macrophage Activation-Like Syndrome
Dr. Raje mentioned that a macrophage activation-like syndrome can occur and that it is harder to treat. Measurements of ferritin, IL2R and natural killer cell activation are important and a drug called Anakinra can be considered.
Side Effect Management
Dr. Raje shared suggested methods of managing the potential side effects:
Take baseline labs including C-reactive protein, ferritin, tumor lysis syndrome and blood clotting/thinning values
Use appropriate bacterial/fungal/viral medications
Monitor using complete blood counts (CBC), a comprehensive metabolic panel (CMP), tumor lysis syndrome, C-reactive protein and ferritin counts
If any neurological issues appear, treat with anti-epileptic drugs proactively
Perform daily assessments for at least 7 days to watch for fevers, low blood pressure, low oxygen levels and mental status
Use tociluzumab and/or steroids for CRS but avoid tociluzumab if neurological symptoms occur alone, as it can make things worse. If both CRS and neurological issues occur together, use both tociluzumab and steroids.
Cytoxan can be used as a last resort, but can negate the effects of the CAR T therapy