ASH 2019: The Debate Heats Up Over Treating High Risk Smoldering Multiple Myeloma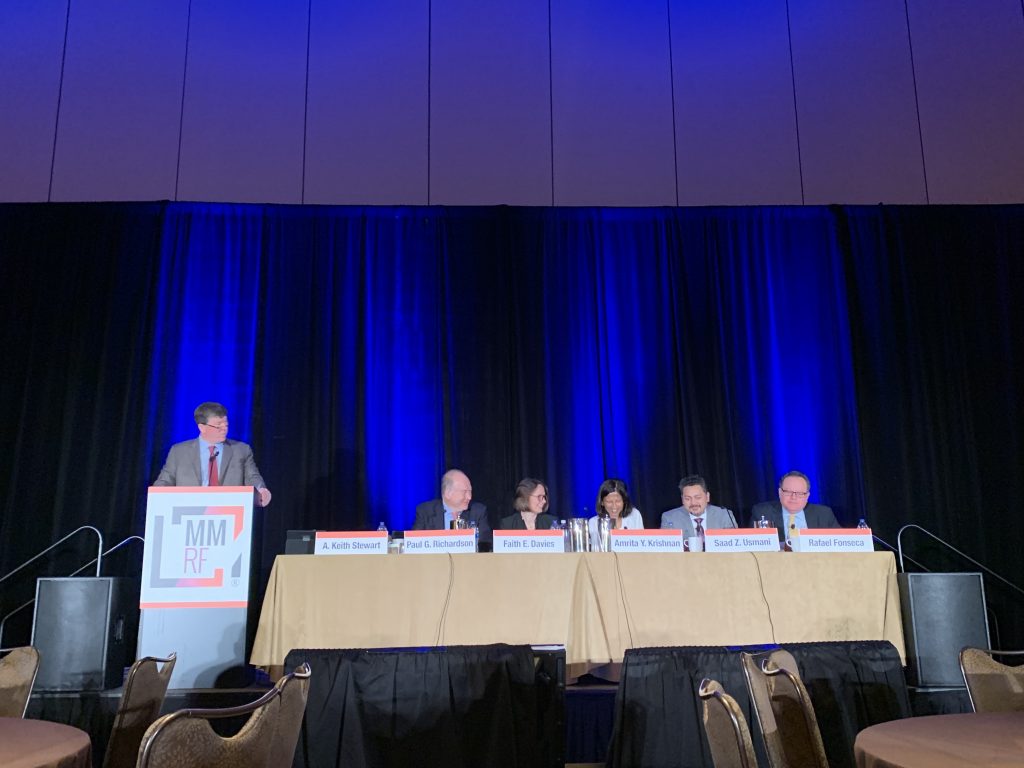 Today at the American Society of Hematology 2019 conference in an MMRF session "Current Obstacles in Myeloma Management: Debating the Evidence, Dr. Saad Usmani and Dr. Rafael Fonseca faced off on the question "Should Smoldering Myeloma be Treated"?
Answer: At this time there is not enough agreement among Myeloma specialists to answer this question. Therefore the standard of care remains "watch and wait" or participate in a clinical trial, of which there are many, ranging from 1 drug to 4 drugs.
What reignited the debate is the closing summary of a randomized phase III Eastern Cooperative Oncology Group study, EA306, comparing Lenalidomide to Observation in Intermediate and High Risk Smoldering Myeloma patients. (High Risk Smoldering refers to the risk of progressing to active Myeloma, not to be confused with High Risk Myeloma. It is defined as High Risk because patients in this group have a 50% chance of progressing to Active Myeloma in 2 years.)
The results showed there was a significant increase in the time to progression to symptomatic myeloma in the group treated with Lenalidomide. At 3 years the Progression Free Survival was 91% in the Lenalidomide group and 66% in the Observation group. The greatest benefit was seen in High Risk Smoldering patients. In the closing summary, it was concluded that for only this group, early treatment with Lenalidomide should be available to patients as Standard of Care.
In today's debate Dr. Usmani who was defending the "yes" position, emphasized:
The goal of early treatment is the prevention of end organ damage particularly kidney damage and kidney and bone disease
There is no evidence that treatment with Lenalidomide causes more resistant disease at relapse

The benefit of decreased risk of progression shown in the EAC306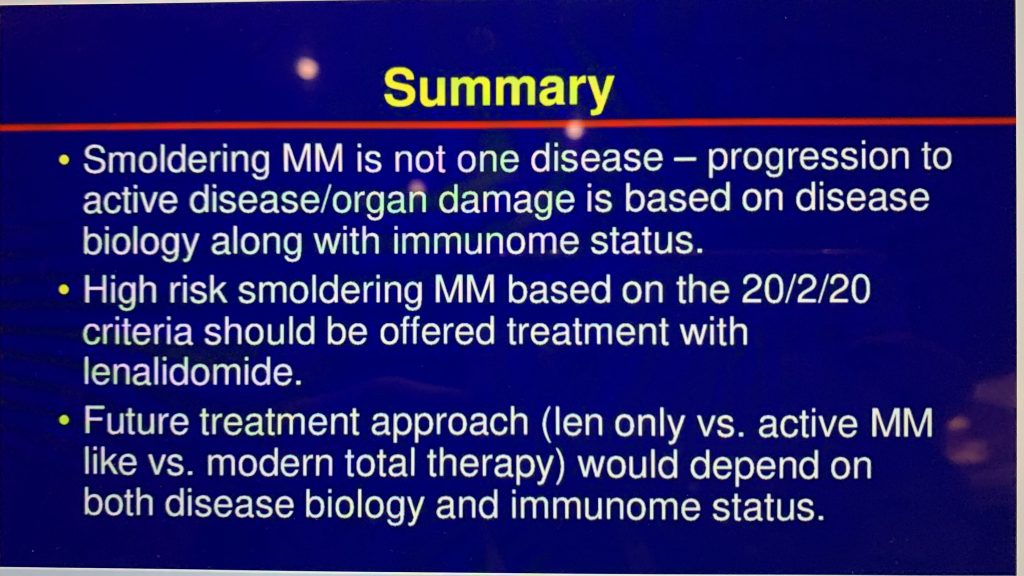 Dr. Fonseca made the case for not treating based on:
The need to eliminate Smoldering Myeloma as a category as it's on the continuum from

Monoclonal Gammopathy of Undetermined Significance to Active Myeloma
We have the ability to use serial evaluations to monitor each patient as an individual rather than basing individual treatment on this study
If you're going to treat, then the first treatment should be "full throttle" rather than a single drug
In a recent Blog Post, Dr. Durie also pointed out additional questions that need to be considered before recommending that Lenalidomide become Standard of Care for High Risk Smoldering Myeloma:
The criteria to be used for defining High Risk Smoldering
The toxicity and treatment details in the EA306 trial
The lack of longer-term outcomes information, including impact on overall survival
The availability of more than 50 trials globally to assess management of smoldering multiple myeloma
The debate will continue as the results of additional studies come in, and as the research continues to identify disease biology and bone marrow microenvironment factors to incorporate in Risk to Progression Models. Until then smoldering multiple myeloma patients are encouraged to see a Myeloma Specialist at least once if not ongoing for accurate diagnosis and monitoring, and access to clinical trials and to become knowledgeable about this disease in order to be their own best advocate.
Thank you to our Myeloma Coach ASH 2019 sponsors:
Written by: Myeloma Coach Bonnie Falbo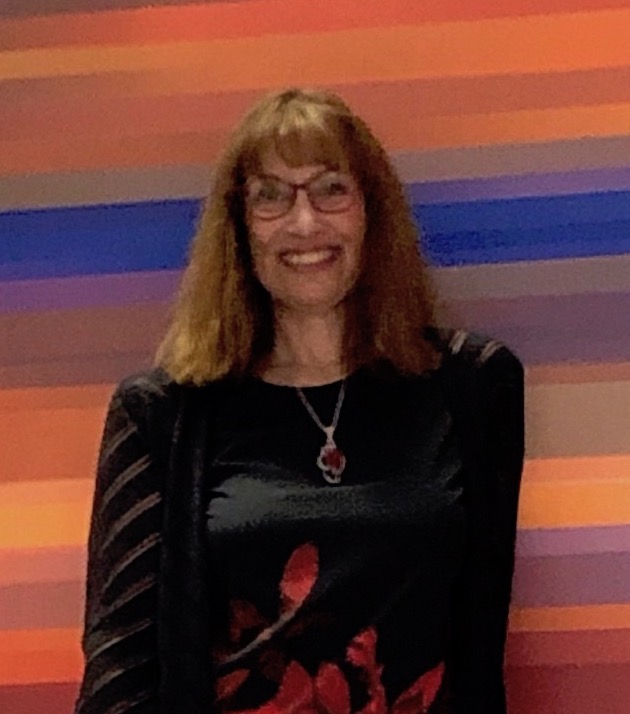 about the author
Bonnie Falbo
Bonnie is a Myeloma Coach and the caregiver for her husband with Multiple Myeloma. They live at the foot of the Blue Ridge Mountains in Afton, VA with their 2 dogs and 2 cats.
More on Life With Myeloma
Thanks to our HealthTree Community for Multiple Myeloma Sponsors: