The importance of the Bone Marrow Microenvironment as a key contributor to the disease process underlying Multiple Myeloma, starting from the early precursor stage of Monoclonal Gammopathy of Undetermined Significance (MGUS) to its active stage is increasingly being appreciated and studied. In a recent Plasma Cell Disorder Conference in Charlotte, NC, Dr. Ken Anderson said that looking at myeloma cells is only half the picture. We need to give greater focus to the bone marrow microenvironment.
At a Scientific Symposium several ASH presentations discussed the Microenvironment with a different emphasis and beneficial focus for the future.
To begin it is helpful to keep in mind 3 key functions of the microenvironment:
Maintaining the formation of new blood cells (hematopoiesis)
Maintaining immune cells
Providing nutrition to cells
In Dr. Samur's presentation on the "Molecular Landscape of Multiple Myeloma" he talked about driver mutations. These are mutations that give a selective advantage to a clone in its microenvironment through either increasing its survival or reproduction. He made the point that driver mutations are not always clonal and in order to understand what else is going on we need combined studies on mutations AND the bone marrow microenvironment.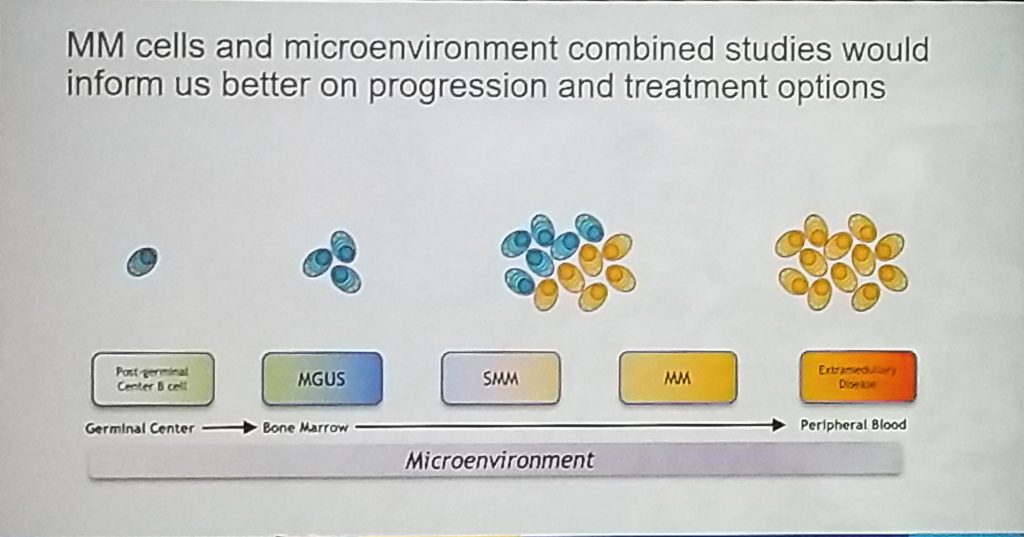 Dr. Roodman addressed "The Bone Marrow Microenvironment in Multiple Myeloma" from the perspective of persistent osteoblast suppression, even when patients are in remission. Osteoblasts are cells in the bone marrow that help stimulate bone growth. This is why lytic lesions don't heal and patients are still vulnerable to further bone damage.
Research has been done to understand how this suppression can persist even when myeloma cells have been successfully killed by treatment. This phenomenon suggests that there are epigenetic changes to genes like Runx2, which is a key factor needed for bone growth. Studies are in process to find ways of overcoming new bone growth suppression (like a p62-ZZ antagonist.
He finished by mentioning unpublished research on a bone targeted Notch (a signaling pathway) Inhibitor that decreases myeloma cell growth and bone destruction. As we do not currently have a bone building drugs, this is exciting news.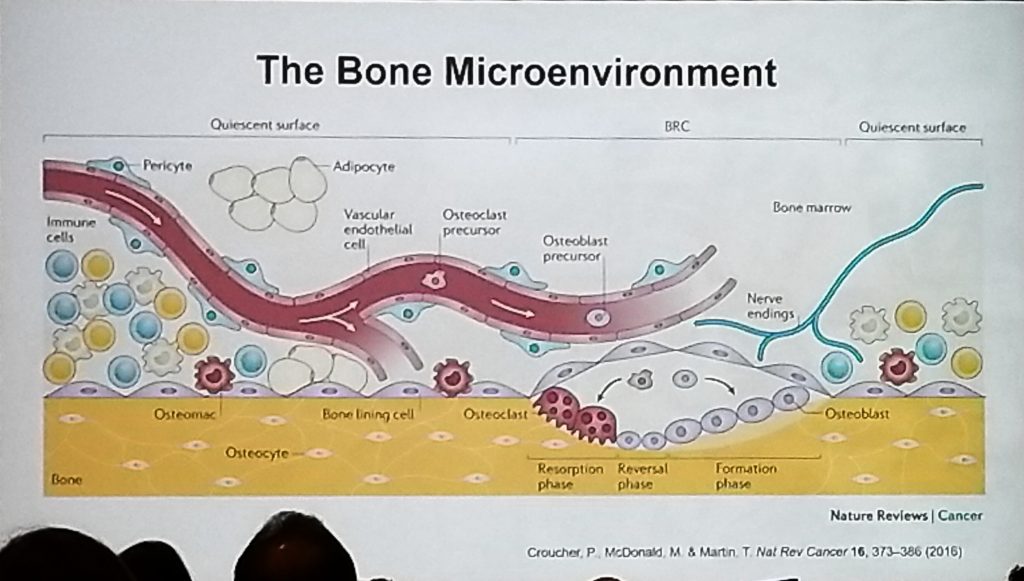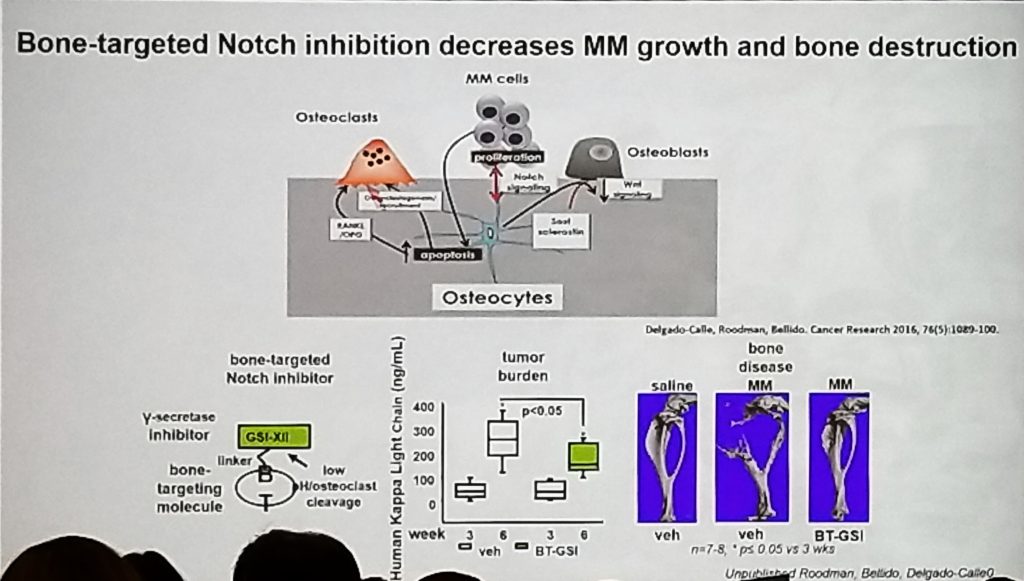 Dr. Dhodapkar presented "The Immune Microenvironment in Multiple Myeloma" sharing conclusions from his group's study on the Immune Microenvironment.
They concluded:
The microenvironment DOMINATES genetics in myeloma
Early alterations in both innate and adaptive immune function impacts risk of transformation of Monoclonal Gammopathy of Undetermined Significance to multiple myeloma.

The functional hierarchy of T cell exhaustion is established early in pre-malignancy
Attrition of memory T cells with stem-like and tissue-residence signatures in the tumor bed with disease progression may underlie loss of immune surveillance.
There are differences in the immune composition at diagnosis between early progressors and non-progressors.
The ability to identify T cell and Dendritic Cell Subsets at diagnosis could become another key marker in guiding the decision on which patients need early treatment.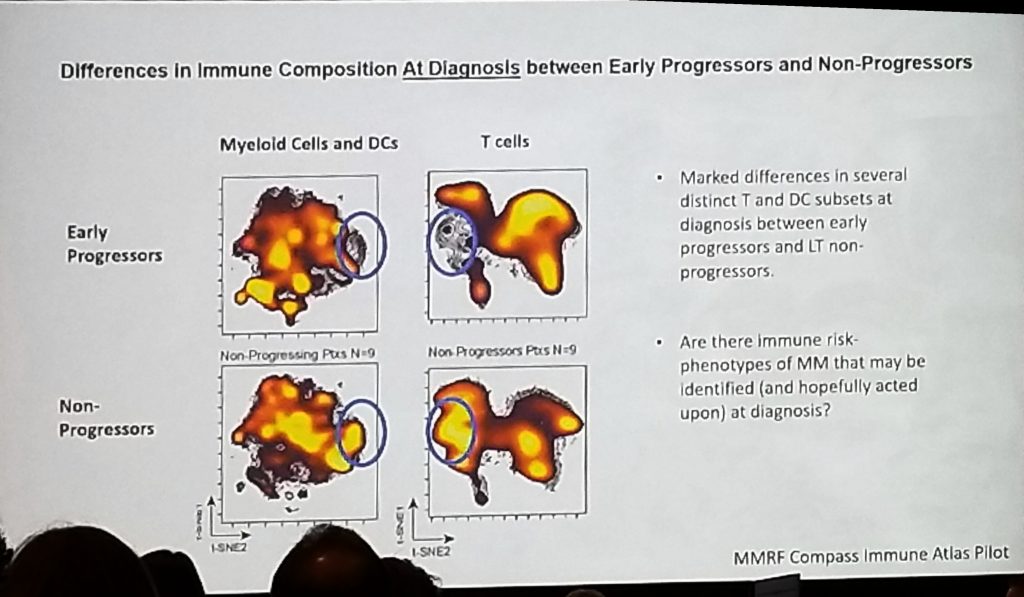 This research is a small sampling of what is being offered here at ASH and shows that we're making progress toward better understanding what it will take to control the collateral damage of Myeloma and hopefully to one day find a cure.
By: Myeloma Coach, Bonnie Falbo
Thanks to our Myeloma Coach ASH 2019 sponsors: