ASH 2019: Better Ways of Treating and Testing Myeloma Including a Better Imaging/PET Technique
A session preceding the 61st ASH annual meeting, entitled "Optimizing Clinical Outcomes In Blood Cancers Through Groundbreaking Translational Research" was held where Ola Landgen, MD, PhD, Chief of the Myeloma service at Memorial Sloan Kettering Cancer Center in New York was especially relevant for the myeloma community.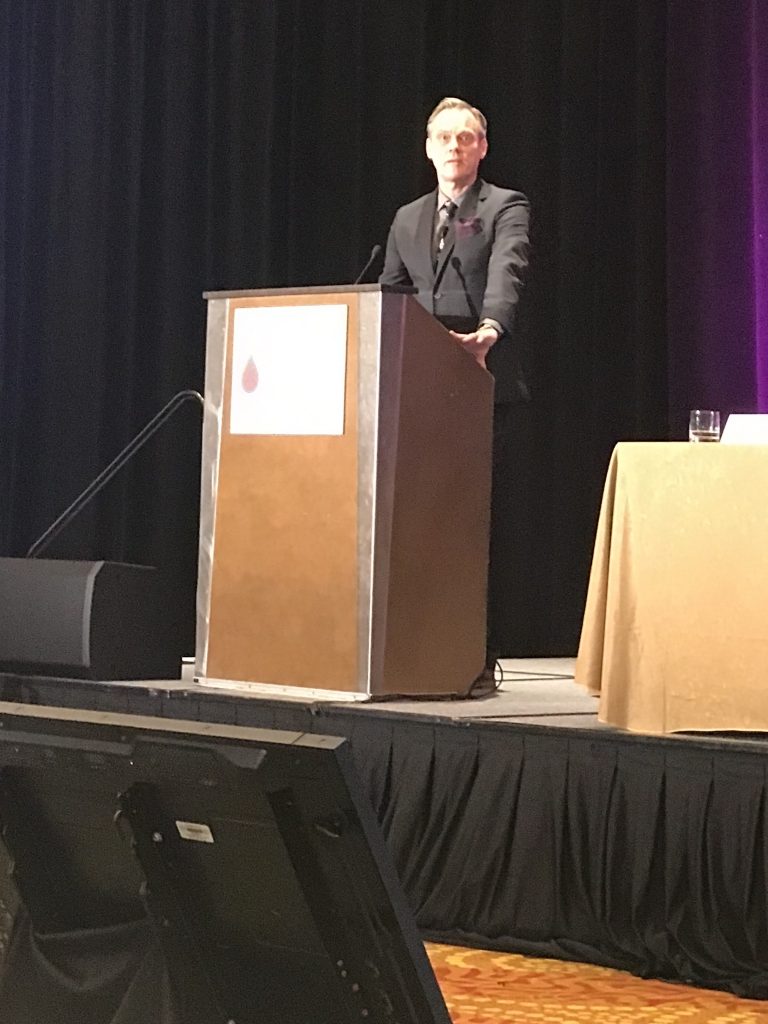 According to Dr. Landgren, recently, there have been exciting, new advancements and insights in the field of myeloma. Specifically, he highlighted the following:
Although fluorescence in situ hybridization (FISH) provides helpful information, a newer genetic technique, next generation sequencing, captures the same information as FISH but provides more detailed characterization of the myeloma, For this reason, Dr. Landgren recommends replacing fluorescence in situ hybridization (FISH) with next generation sequencing.

He also recommends using four-drug combinations in the upfront setting when a patient is initially diagnosed and focusing on reducing long-term toxicities. According to Dr. Landgren, several important studies on four-drug combination treatment have been conducted including his study, which resulted in 80% of patients becoming minimal residual disease negative after eight cycles with the medium time being after six cycles. (more on this here with a video by Dr. Landgren)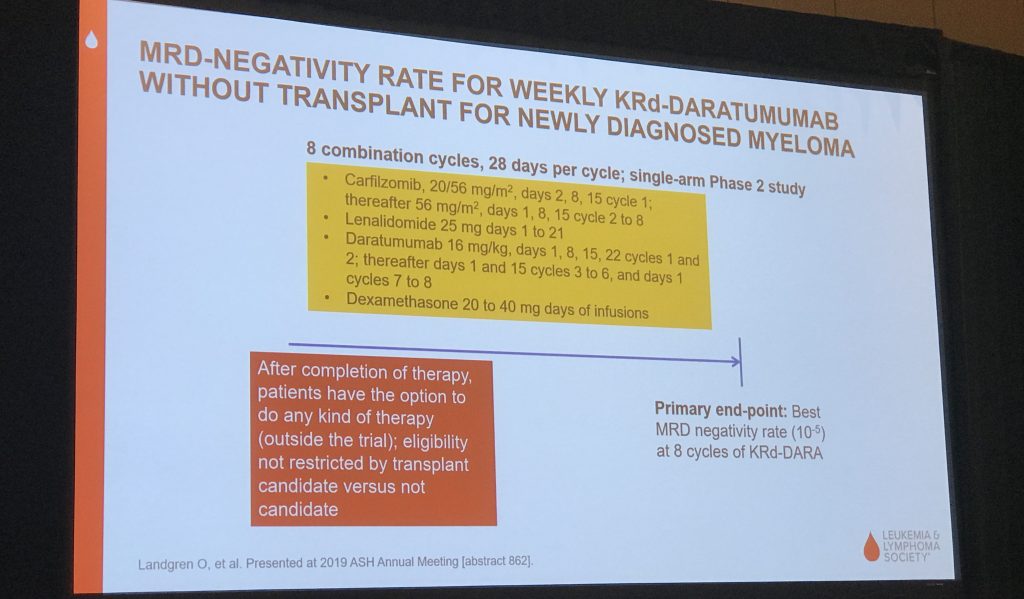 Continued research needs to be done on the use of blood-based tests versus bone marrow biopsies. Unfortunately, in a recent study, minimal residual disease (MRD) results of circulating tumor DNA in peripheral blood did not correlate with minimal residual disease (MRD) results obtained from the bone marrow, prompting the need for further research in this area.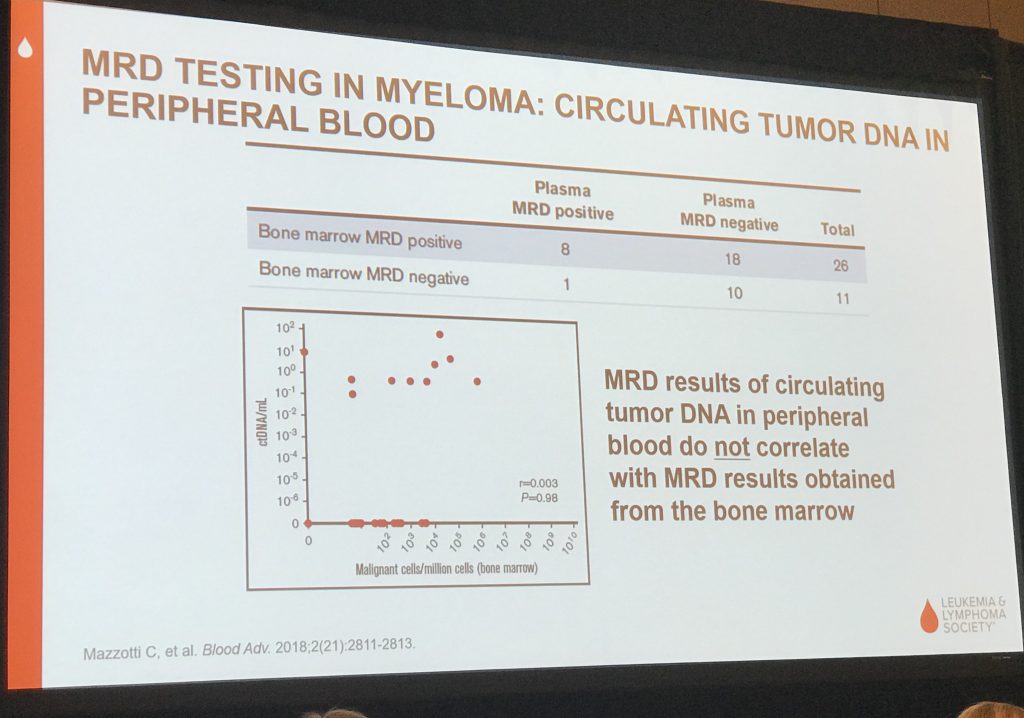 More new ways need to be discovered to identify and characterize residual disease. For example, an exciting, new test, which focuses on the detection of focal lesions in myeloma patients using 89 Zr-DARA Immuno-PET, also known as 89 Zr-DARA Immuno- Positron Emission Tomography, was done for the first time in a human subject. Although the positron emission tomography scan (the PET scan) was negative for disease in this patient, the 89 Zr-DARA Immuno-Positron Emission Tomography (the 89 Zr-DARA Immuno-PET) diagnostic test found the signature of persistent disease. Clearly, the 89 Zr-DARA Immuno-Positron Emission Tomography (89Zr-DARA Immuno-PET) shows great promise for monitoring a myeloma patient's response to treatment.
In conclusion, Dr. Landgren recognized the importance of providing excellent clinical care for myeloma patients. Specifically, he recommended implementing next generation sequencing-based profiling in clinics, conducting more clinical studies designed to test hypotheses focusing on treatment of multiple myeloma, and providing easy access for patients to sensitive, reliable minimal residual disease assessment in the clinical setting. Hopefully, the results of further research and their implementation in the clinical setting will have a positive impact on the care provided to myeloma patients.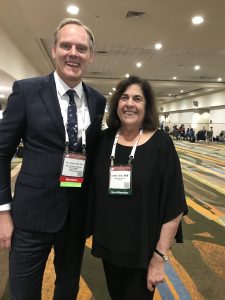 Thank you to our Myeloma Coach ASH 2019 sponsors:
By Louise Lavin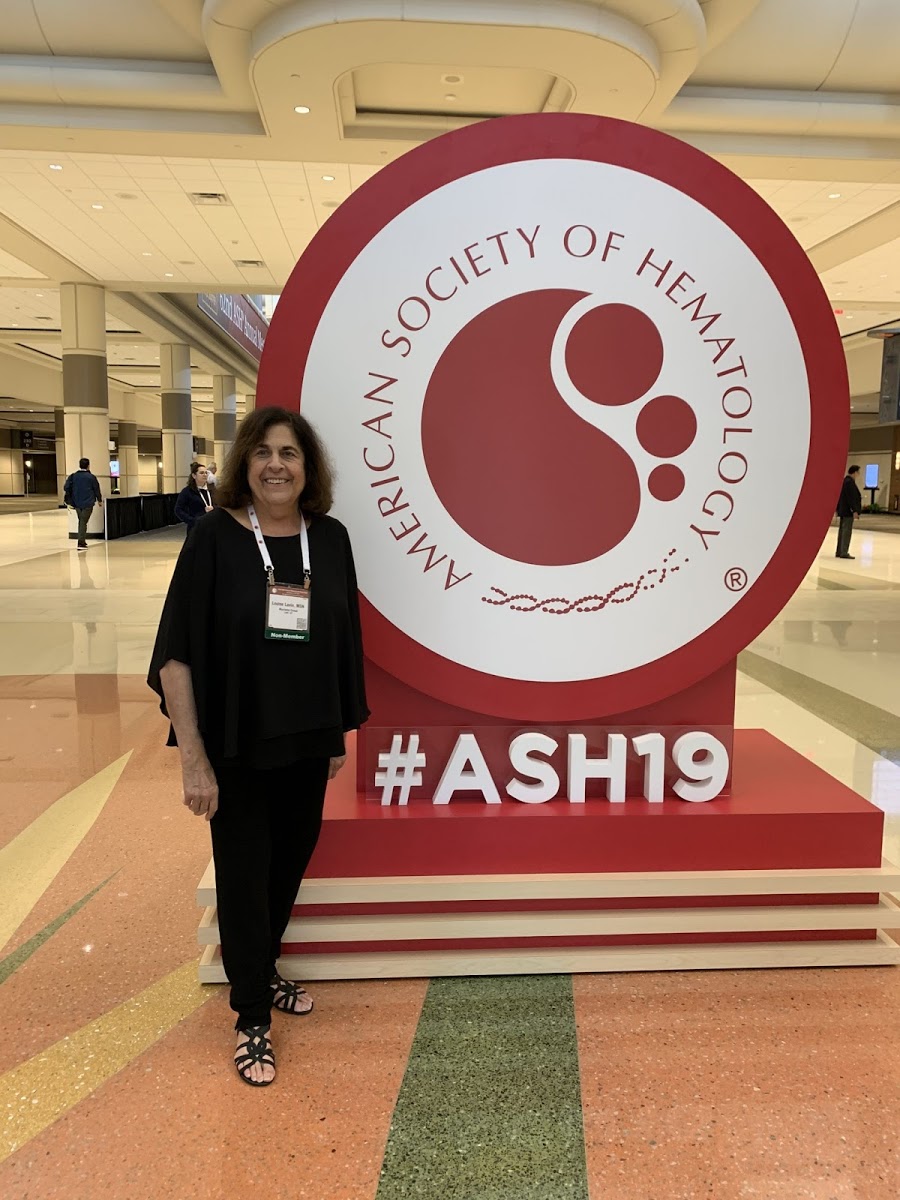 about the author
Louise Lavin
Myeloma Coach, Patient, and Advocate.
More on Life With Myeloma
Thanks to our HealthTree Community for Multiple Myeloma Sponsors: