ASH 2018: MRD Testing and Myeloma Treatment Choices by Dr. Ola Landgren
Dr. Landgren spoke at ASH about ways we can maximize the treatment response of patients newly diagnosed with multiple myeloma by what is chosen as induction therapy, stem cell transplant for appropriate patients and using minimal residual disease (MRD) testing to guide treatment.
What is minimal residual disease testing? MRD testing tries to evaluate how many myeloma cells can be found in a sample of a million cells. If you can't find any at that level of detection, it could be a new way to choose when and how new treatments are given.
Choices for induction therapy may vary depending on where an individual lives, as access to drugs varies across regions. In the US, newer combinations are reimbursed, but this is not always the case in Asia, South America, Australia or Europe. This may dictate the treatment an individual receives in these areas.
Triple combination therapies continue to be the standard for healthy patients and even those with renal failure. Ongoing trials are using four drug combinations, and are seeing increasing rates of MRD negativity with these combinations.
Currently, newly diagnosed patients are separated into two categories: transplant or non-transplant eligible candidates. Those who are able to receive a transplant undergo induction, consolidation and then maintenance therapy. Non-transplant eligible patients receive induction followed by maintenance.
Can your MRD level determine when to stop treatment? Or what treatment to get next? Maybe.
Dr. Landgren said that in the future, they could provide induction therapy, followed by MRD testing. If a patient is MRD positive they will move on to transplant, or if MRD negative they would collect stem cells for a delayed transplant and go on maintenance therapy.
The Determination Trial (IFM 2009) with newly diagnosed multiple myeloma compared patient groups treated with Velcade/Revlimid/Dexamethasone (VRD) with and without transplant and found that patients treated with the triple combination, transplant and maintenance achieved MRD negativity in 30% of patients, versus 20% of patients reaching MRD negativity with just VRD alone. But progression free survival was the same for MRD negative patients on both arms of the study.
Patients with high risk cytogenetics who achieved MRD negativity had significantly better PFS than standard risk patients who were MRD positive. If you are MRD negative (whether you are standard risk or high-risk), you will have longer remission times.
In summary, Dr. Landgren sees MRD testing driving therapy in the future with the possibility of new MRD tests being available, that are not only bone marrow based, but using peripheral blood or the use of Immuno-PET for MRD testing. Easy access to high quality MRD tests would allow for MRD-guided treatment to become the standard of care.
To get to this point we need more clinical studies linking the impact of MRD status with real-world outcomes to evaluate how MRD testing can be used to design future care.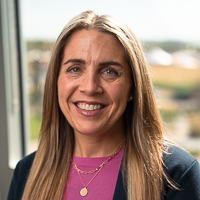 about the author
Rozalynn Hite
Rozalynn Hite is the HealthTree Coach Director and wife of myeloma patient Richard Hite. Rozalynn is an occupational therapist and mother of three beautiful children. She is passionate about providing support, education, and resources to help others live full and active lives.
Thanks to our HealthTree Community for Multiple Myeloma Sponsors: