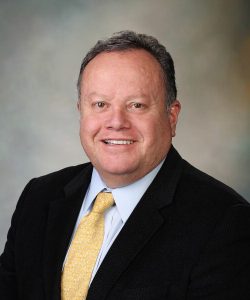 Dr. Fonseca of Mayo Clinic, Phoenix is a world leader in myeloma research and treatment. Dr. Fonseca has chosen his 5 Best of the Best myeloma abstracts of the 828 myeloma abstracts presented.
Dr. Fonseca is the Getz Family Professor of Cancer and Professor of Medicine, Mayo Clinic College of Medicine. He is the Chair of the Department of Internal Medicine. He is a Hematologist and Oncologist, and Chair of the Department of Internal Medicine at Mayo Clinic in Arizona. He is also a Mayo Clinic Distinguished Investigator. He completed medical school at Anahuac University, followed by a residency at the University of Miami. Dr. Fonseca completed a fellowship at the Mayo Graduate School of Medicine in Clinical Hematology and Medical Oncology. His research focuses on understanding the disease biology and genetic characteristics of plasma cell disorders. He is also interested in myeloma clinical trials, developing novel therapies and biomarkers for myeloma bone disease. He has a special interest in targeting reactive oxygen metabolic pathways as a way to treat myeloma. Dr. Fonseca's research has helped guide the myeloma field in understanding patient risk markers and the progression of the disease.
Dr. Fonseca is an outstanding myeloma specialist and humanitarian. DR. FONSECA BELIEVES THAT SOCIETY CAN'T AFFORD NOT TO PROVIDE PATIENTS WITH MULTIPLE MYELOMA ACCESS TO THE BEST CARE POSSIBLE. With this as his commitment to the myeloma patient community, he in conjunction with the Myeloma Crowd have developed HealthTree. HeathTree is designed to provide myeloma patients and local hematologist-oncologist with a data-driven system with the best treatment plan based on the best available real-world data. This will be based on other patients with the same type of myeloma, stage of the disease and progression.
Dr. Fonseca's ASH 2018 Best of the Best Myeloma Abstracts followed by his in-depth explanation as to why he has chosen this abstract is listed below.
1) Abstract LBA-2 - Phase 3 Randomized Study of Daratumumab Plus Lenalidomide and Dexamethasone (D-Rd) Versus Lenalidomide and Dexamethasone (Rd) in Patients with Newly Diagnosed Multiple Myeloma (NDMM) Ineligible for Transplant (MAIA).
MAIA: This work is practice-changing. The results for the duration of disease control (PFS) are quite spectacular. The ability of the three-drug combination to give durable remissions to patients who are not transplant candidates is unprecedented. While at this moment we cannot make comparisons between this regimen and ones that contains bortezomib, all indications are that the combination with daratumumab is just as good (if not better), and with the added benefit of not producing peripheral neuropathy. There is a higher cost for this combination, but I anticipate this will become mainstream in a short period. The only question that remains is what to recommend to patients that have high-risk disease? There is only a small subset in the elderly by some estimates they are closer to 10-15% of patients in this age category. As of now, these patients are treated in general with proteasome inhibitors.
2) Abstract 1010 - Treatment with AMG 420, an Anti-B-Cell Maturation Antigen (BCMA) Bispecific T-Cell Engager (BiTE®) Antibody Construct, Induces Minimal Residual Disease (MRD) Negative Complete Responses in Relapsed and/or Refractory (R/R) Multiple Myeloma (MM) Patients: Results of a First-in-Human (FIH) Phase I Dose Escalation Study.
AMG420: This study was very exciting because is the first time that a bi-specific antibody works in multiple myeloma. It is very exciting that they were able to see responses at 400 and 800 mcg/kg. Nevertheless, they found dose-limiting toxicities and will now be using 400 mcg is the recommended Phase 2 dose. The presentation, however, showed that this drug could be toxic. Two things stood out for me. First, there is a significant number of infections that occurred these patients. It could very well be that the drug is so effective that it has a profound effect on the immune system. These infections were unusual and included agent-causing aspergillosis and adenovirus infections. The second thing that was somewhat concerning was that two patient developed what appears to be serious peripheral neuropathy but that it could be reversible. One thing that it is possible as that somehow BCMA is expressed in the nerve structures and that leads to the neuropathy.
3) Abstract 301 - Maintenance Therapy with the Oral Proteasome Inhibitor (PI) Ixazomib Significantly Prolongs Progression-Free Survival (PFS) Following Autologous Stem Cell Transplantation (ASCT) in Patients with Newly Diagnosed Multiple Myeloma (NDMM): Phase 3 Tourmaline-MM3 Trial.
TOURMALINE-MM3: This is an important study because it did show the contribution of single-agent ixazomib in the long-term control of multiple myeloma. Unfortunately, most myeloma experts were underwhelmed by the amount time the disease was controlled with ixazomib versus placebo. Nevertheless, most people feel that this drug could be used in the setting of post-transplant maintenance, particularly those patients that have high-risk disease. Probably the limited progression free survival gain seen with ixazomib indicates that it should be used in combination with lenalidomide, in high-risk patients, just as we are doing now.
4) Abstract 121 - Carfilzomib-Lenalidomide-Dexamethasone (KRd) Induction-Autologous Transplant (ASCT)-Krd Consolidation Vs Krd 12 Cycles Vs Carfilzomib-Cyclophosphamide-Dexamethasone (KCd) Induction-ASCT-Kcd Consolidation: Analysis of the Randomized Forte Trial in Newly Diagnosed Multiple Myeloma (NDMM)
KRD-SCT-KRD, vs. KRD12 vs. KCD-SCT-KCD: This is a very important study in that it showed that optimal induction and consolidation with KRD could result in very deep levels of responses, including MRD negativity seen in 58% of patients (10-5). The results of this study, along with the results from the studies from the IFM as well as the MMRC clinical trial, strongly support the idea of choosing regimens that can produce a very deep response in patients who have newly diagnosed multiple myeloma. The second aspect of the study is that, once more, the results speaks against the inclusion of cyclophosphamide in regimens used in the front-line treatment combinations for myeloma. Lastly, the rates of MRD negativity were similar in patients who received 12 cycles of KRD versus patients that went through the transplant. We will have to wait for the long-term outcomes of this study to be reported but is, nevertheless, very exciting.
5) Abstract 598 - Results of the Pivotal STORM Study (Part 2) in Penta-Refractory Multiple Myeloma (MM): Deep and Durable Responses with Oral Selinexor Plus Low Dose Dexamethasone in Patients with Penta Exposed and Triple Class-Refractory MM
STORM: This study is important in that it shows "proof of principle" for the use of Selinexor as a new drug in multiple myeloma. The rates of response seen in this multiple treated populations of patients are similar to what has been reported with other agents that are now used in routine clinical practice. The drug can be difficult to tolerate and has significant clinical toxicity to be considered, but the company is working on a schedule to make it more tolerable. One change is that it is now given on a weekly dose at 100 mg. I can imagine that lower doses may be better tolerated. In short, it is a drug that seems difficult to tolerate but hopefully, the experience will help it be better managed and would be part of other combinations strategies in the treatment of myeloma.
Thank you Dr. Fonseca for this exceptional list, for all you do for the myeloma patient community, and all you will do in the future with HealthTree. Eight percent of patients can be helped by this effort, for they are the ones who currently do not obtain the care or treatment plan from a myeloma specialists. This 80% die too soon and HeathTree can and will extend their life!