I believe this might be the best kept secret at ASH 2018.
As can be seen from the following graph, Median Overall survival had not been reached at 24 months.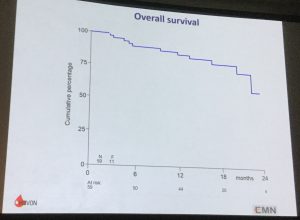 The results of this trial are listed below with the end points being reached, at a overall response rate ORR of 87%, and Median progression free survival PFS of 18 months.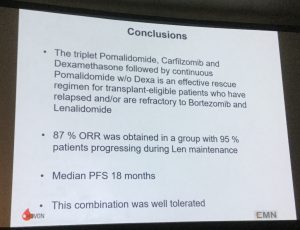 Why might this be the best kept secret? Well, if I look at overall response rates on other myeloma relapsed/refractory studies, 87% is a class leader.
I am aware it is frowned on to look at data between studies, however many people do (and I will), but only as a means to identify trends. I conducted a search of salvage therapies for relapsed/refractory myeloma and the following is a sample of the overall response rate in a small sample of them. But what can be seen is the PKd regimen with a ORR of 87% is directionally exceptional! Here are some of the other studies:
Phase I Trial of Anti-CS1 Monoclonal Antibody Elotuzumab in Combination With Bortezomib in the Treatment of Relapsed/Refractory Multiple Myeloma - ORR of 48%
Pomalidomide alone or in combination with low-dose dexamethasone in relapsed and refractory multiple myeloma: a randomized phase 2 study - ORR of 33%
Daratumumab monotherapy in patients with treatment-refractory multiple myeloma (SIRIUS): an open-label, randomised, phase 2 trial - ORR of 29.2%
Combination of bendamustine, lenalidomide, and dexamethasone (BLD) in patients with relapsed or refractory multiple myeloma is feasible and highly effective: results of phase I/II open-label, dose escalation study - ORR of 52%
PANORAMA 2: panobinostat in combination with bortezomib and dexamethasone in patients with relapsed and bortezomib-refractory myeloma - ORR of 34%
Upcoming immunotherapies such as CAR T, bITEs and others are seeing response rates in the 80-90% but for these classes of drugs, this study is showing exceptional results.