The upcoming American Society of Hematology meeting is the largest meeting of experts in the world for blood cancers. I asked some of the world's best myeloma specialists what they considered to be their favorites from ASH 2017. I am so pleased to provide the myeloma patient population the "Best of the Best ASH 2017 Myeloma Abstracts".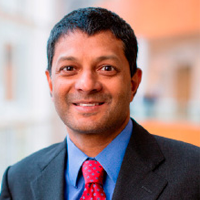 Dr. Vincent Rajkumar is a professor of medicine at the Mayo Clinic in Rochester, Minnesota. His research focuses on clinical, epidemiological, and laboratory research for myeloma and related disorders. Dr. Rajkumar has a great resume, list of accomplishments, and honors that are second to none in the myeloma specialist community. You can view his bio if your click here. Dr. Rajkumar has chosen Abstract 903 as one of his favorites. Abstract 903 - Tackling Early Morbidity and Mortality in Myeloma (TEAMM): Assessing the Benefit of Antibiotic Prophylaxis and Its Effect on Healthcare Associated Infections in 977 Patients
Dr. Rajumar states, "Here's why this abstract is important: Early deaths now with effective therapy for multiple myeloma are mainly due to infections. Drayson and his colleagues show that levofloxacin can save lives."
From observation at my IMF support group and research, pneumonia and infection are the primary reason for premature death in multiple myeloma. I personally have been to the emergency room three times due to infection, and once went septic and was as close to death as you can get. It was at this point where I wrote a blog post, "Multiple Myeloma - Stay Alive, Act Went Your Temperature is 100.5 F!!!" This abstract shows the benefit you obtain with just 12 weeks of treatment with levofloxacin, however it is important to understand that your immune system has been compromised for the long term, and you may not show a temperature until you have a very high disease burden. Always to be SAFE rather than SORRY. Results and Conclusions Results: The primary endpoint showed a significant benefit for the use of levofloxacin with 134 of 488 patients (27%) on placebo reporting infection events versus 95 of 489 patients (19%) on levofloxacin After 52 weeks there was no survival benefit between arms. Of the 586 total infections, there were 329 infections from 214 patients on the placebo arm and 257 infections from 189 patients on the Levofloxacin arm with differences emerging after 4 weeks. Conclusion: Use of 12 weeks of levofloxacin for patients undergoing treatment for active myeloma significantly reduces fever episodes (defined as an oral temperature of ≥100.4 F or 38.0 C treated with anti-infectives) and deaths without increasing healthcare associated infections. The value of adding SMZ-TMP (antibiotics: sulfamethoxazole and trimethoprim) to levofloxacin and for periods greater than 12 weeks needs to be explored in future trials. You can read the original abstract if you click here, but for further detail all eyes will be on the oral presentation. If the number one reason for myeloma death is infection, why would you not be defensive and take prophylactic antibiotics to prevent death? During my first several weeks of treatment, I was on an antibiotic, anti viral, and anti fungal prophylactic protocol. After that I have been a firm believer. Because my immune system will forever be compromised, I will forever "Act whenever my temperature is 100.5 degrees"! Thank You Dr. Rajkumar for such an outstanding favorite abstract and for all you and the Mayo team do for the myeloma patient community.