This IS Living With Multiple Myeloma
Editor's Note:
June is National Cancer Survivor Month. Survivorship focuses on the health and well being of individuals with cancer, including the physical, mental, emotional, social and financial effects of cancer. This is the second in a series of articles that will be published throughout the month of June sharing stories and wisdom from myeloma survivors.
The Early Years: Initial Diagnosis and Treatment
I was diagnosed with multiple myeloma fifteen years ago, in June 2007 at age 50. My doctor said he was confident he could get me 15 years. He now claims he said "at least 15" and I tell him I'm irritated that he didn't give me at least 25. But at the time, Dr. Google said 3—so I've done well.
Sometimes I think the early years were the easiest, though I would not have said that then.
With pain radiating down my arm, an orthopedist looked at an office x-ray and ominously asked, 'When did you fracture your neck?' It was not to be for me to suffer through delayed or mistaken diagnoses. My new hematologist nailed the DX immediately.
I was tossed unceremoniously into the hospital and awoke with a titanium fusion in my neck from C-4 to C-7. This was immediately followed by radiation for the inoperable remaining plasmacytoma. Only then could we step back and treat the disease itself. I was an early adopter of Revlimid/dexamethasone as frontline therapy (no triplet therapies in 2007, and lots of dex!!).
Here I was, a single mom to boys aged 18 (heading off to college) and 13, needing to work full time, with a terminal disease. Have I mentioned, no caregiver?
And my reward, after the next very rough 18 months? Some time for myself? Sure! In late 2008, I spent 17 days in the hospital for my stem cell transplant.
Those were the early years. They were rough. So why would I say that the early years were the easiest? Many cancer survivors are cured. We're not. Survivorship is long and hard. Being a survivor can be even more difficult than living in the whirlwind of initial diagnosis and treatment.
Waiting for Relapse, But I Don't Look Sick!
Next came years of Revlimid maintenance. I was initially stable, but it was followed by a very slow biochemical relapse, but no clinical relapse. (meaning my numbers were rising, but they weren't harming my body with additional organ damage.)
In my spare time I lost my gall bladder—not a great idea with the gastrointestinal impact of Revlimid. Then there was the day I thought I had bronchitis but ended up in the hospital with a pulmonary embolism.
Depressed immune system? After a cat bite that the doctor called a "limb-threatening injury," I went back to the hospital. Later, I had a month of radiation to a tumor in my leg. Of course, there's a long list of less debilitating but perpetual side effects.
Suddenly, my numbers were rising faster with the "rate of rise" increasing. In early 2020, I started Darzalex/Velcade/dex, followed by Darzalex plus dex maintenance. Spoiler alert: on the next treatment, we're skipping the dex. Again, I wait for relapse.
I have never achieved a zero level of disease, and being MRD negative is a mere dream. I hear speakers refer to patients who can only be bullied back into a smoldering myeloma sort of status where they can remain for years. Apparently, that's me.
In 15 years, I've never been off treatment. But to the outsider, I don't look sick! My claim of a terminal disease lacks credibility. My aches and pains, my fatigue, the cognitive impact, the gastrointestinal impacts, are not obvious. Few see that I constantly interrupt my work week with lab tests, treatments, doctor visits, consults, scans. My income has never recovered from before my diagnosis.
I was in a bad place in 2017, anxiously watching and waiting for an official relapse. At a lengthy and emotional appointment, my nurse practitioner recommended I seek a psychiatrist who works with cancer patients, which I did. That was a turning point.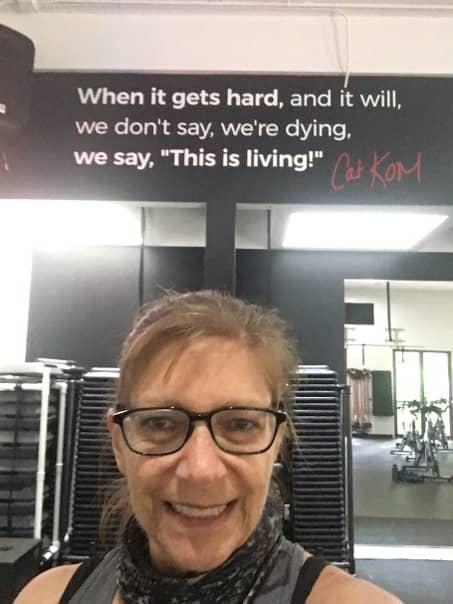 My favorite sign at my spinning gym in San Diego, CA.
Survivorship is All About Living
Survivorship takes a lot of time and research and requires that I be my own advocate. I've improved my physical activity. I lift weights, which has increased my bone density even though I have a bone degenerating disease. I adopted a little rescue dog and love to walk her. I changed my diet, dabble with mindfulness and yoga, and strive for better quality sleep. My psychiatrist helps me to identify and effectively use meds that help with the cognitive, focus, and mood challenges. I'm an educated patient. When the next relapse comes, I'll know my options.
And those boys who were 18 and 13 at my diagnosis? I hoped to make it to their respective college and high school graduations. Been there, done that, long ago. They are now almost 33 (Joel) and 28 (Daniel). I danced at Joel's wedding last November, and gained a lovely daughter, Alex. Someday, I'll be called "Granny." Daniel has recently moved back home not just as a son, but as a friend and a lively roommate with his own dog. I relish the throbbing bass downstairs, as he composes music late into the night.
Living as a survivor is not like when I wore a neck brace for 6 months or was unable to talk and in hideous pain from radiation; or when I lost my hair. It's living the longest, best life I can, surrounded by people I love, doing the things I love.
And as I learned at my gym: When it gets hard, and it will, I don't say, I'm dying. I say, THIS IS LIVING.
______________________
About the Author:
Eloise Hock Feinstein has lived her life in Southern California: born in Los Angeles, and slowly heading south until settling in the San Diego area in 1998. A lawyer since 1982, she now has a small solo Estate Planning law practice, though retirement is on the horizon. She enjoys reading historical fiction and line dancing. Eloise is a 15-year multiple myeloma survivor as of June 2022. As a coach, she especially enjoys sharing what it means to plan your estate and why it's important.
Eloise volunteers her time as a Myeloma Coach sharing her deep wisdom and experience with myeloma with others. The Myeloma Coach program is a free service open to all myeloma patients and caregivers. If you are living with myeloma and have a desire to give back, consider becoming a Myeloma Coach. Your experience and knowledge can help many!
find or become a myeloma coach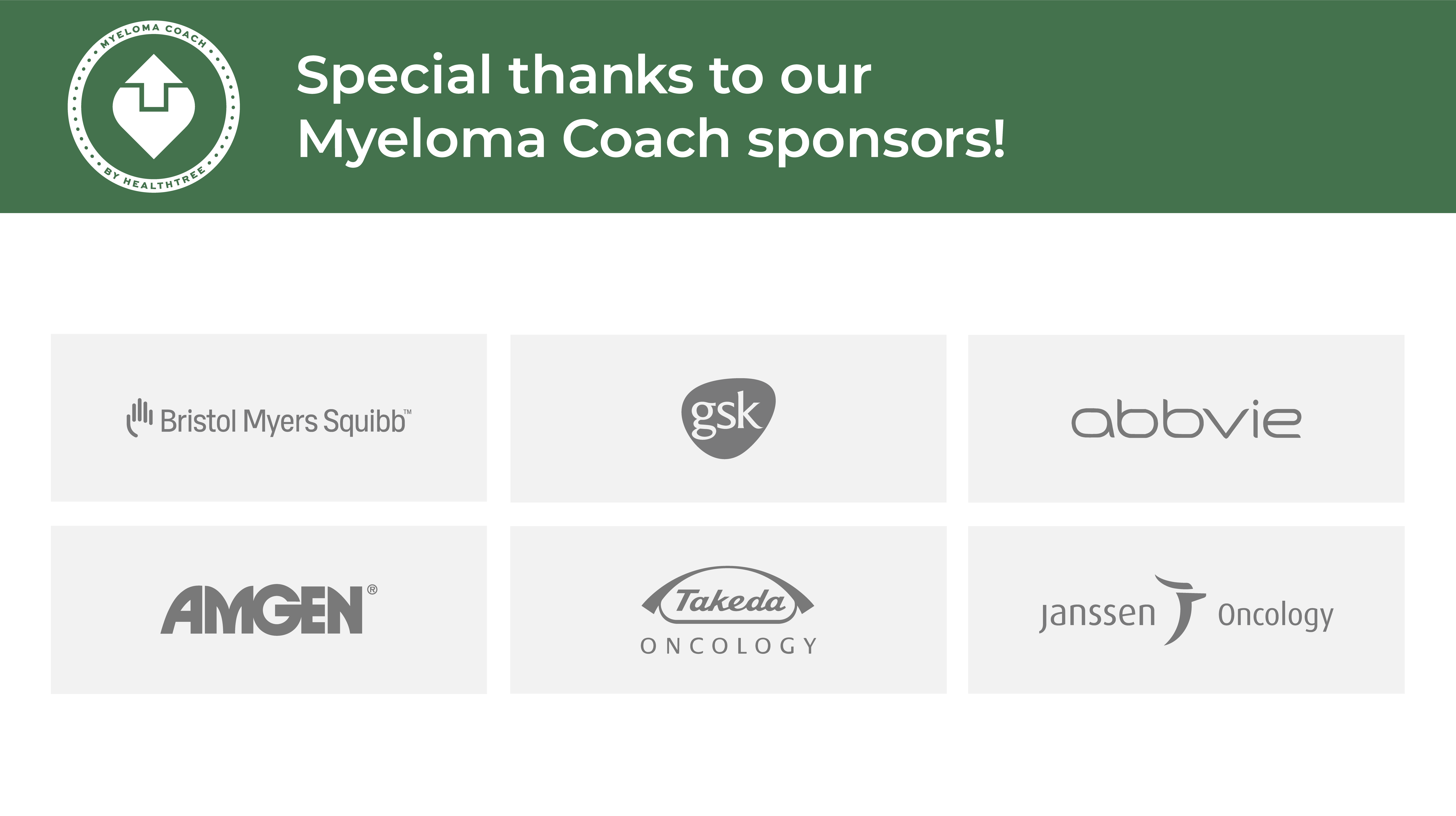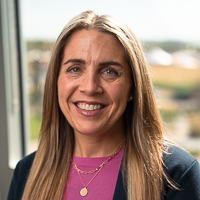 about the author
Rozalynn Hite
Rozalynn Hite is the HealthTree Coach Director and wife of myeloma patient Richard Hite. Rozalynn is an occupational therapist and mother of three beautiful children. She is passionate about providing support, education, and resources to help others live full and active lives.
More on Life With Myeloma
Thanks to our HealthTree Community for Multiple Myeloma Sponsors: