ASH 2021: AML: So Many Options, So Little Time Q&A Session
The landscape of advances in AML therapy has rapidly expanded over the last few years, and there is definitely a lot to talk about in terms of medication use this year at ASH. We attended a Q&A session with Dr. Felicitas Thol, Dr. Christian Thiede and Dr. Margaret Kasner as they took questions from the audience about how they approach the use of various AML medications and MRD testing.
Question: If you don't have a mutation to target, what do you do for maintenance therapy?
Answer: Oral azacitidine (Onureg) is the current standard for maintenance treatment in high risk AML patients. This drug does improve survival, but still about 50% of patients eventually relapse. We have to work harder on this to develop drugs that more significantly prolong patient's lives.
Question: When a patient responds to an IDH inhibitor, do you keep them on the drug indefinitely?
Answer: Like all therapies, unless the patient is going to transplant and they continue to respond, the drug should be continued indefinitely. However, if a patient has a complication such as differentiation syndrome, you might want to consider stopping the medication. The goal is to continue as long as you can as long as the patient is responding and not developing any significant side effects. All three panelists agreed on this approach.
Question: What is the current thought about how often MRD testing should take place in order to detect molecular relapse before a clinical relapse?
Answer: Recent guidelines were published by the ELN MRD working party. These guidelines state that in first two years where the majority of relapse often occurs, you should monitor at least every 3 months via a bone marrow biopsy. This is especially true for certain cytogenetics such as t8;21 where recurrence can be very rapid. If a patient is considered high risk, frequent MRD testing is imperative to allow detection early enough to start treatment quickly.
Question: What is the standard of care for newly diagnosed FLT3 positive patients who cannot do intensive induction chemotherapy?
Answer: Currently there is not a FLT3 inhibitor that is approved to be used alone in newly diagnosed patients. Midostaurin is approved to be used in combination with intensive chemotherapy in newly diagnosed patients, and gilteritinib is approved for use in the relapsed/refractory setting. The panel agrees that this type of patient would be starting on a combination of azacitidine and venetoclax. If they become unresponsive to this therapy, then gilteritinib can be given as a secondary option. Dr. Eunice Wang, an AML specialist from Roswell Park will discuss her study at ASH on Monday on the comparison of azacitidine with gilteritinib vs azacitidine alone in newly diagnosed AML. Additionally, there is a study looking at the triple combination of azacitidine, venetoclax and gilteritinib and the panelists mention these results have not been officially published but they look promising. The panelists agree that their first choice for this patient would be a clinical trial followed by azacitidine and venetoclax followed by gilteritinib at the time of relapse.
Question: How many cycles of azacitidine + venetoclax do you give before you declare that a patient is not responding?
Answer: The data from VIALE-A trial showed that if the patient hasn't responded after 6 cycles, they likely will not respond at all. About 40% of patients respond after the first cycle. Each cycle lasts 1 month, so if a patient has not responded after 6 months then other therapies should be attempted.
Question: Would you give azacitidine + venetoclax over intensive chemotherapy to a patient who is able to tolerate intensive chemotherapy?
Answer: We need a phase 3 study that compares intensive chemotherapy with azacitidine + venetoclax in newly diagnosed patients in order to answer this question. A retrospective study showed that patients who were older with RUNX1 mutations and adverse cytogenetics were more likely to do better with azacitidine + venetoclax over intensive chemotherapy. Normal cytogenetic patients favored intensive chemotherapy. Certain subgroups like NPM1 mutations respond really well to azacitidine + venetoclax. if you can frequently monitor MRD status, this could be taken into consideration if there are certain downsides to the patient doing intensive chemotherapy. There are 4 abstracts being presented this year comparing the use of azacitidine + venetoclax to intensive chemotherapy but there are flaws in this current body of research that warrant further investigation.
Question: Are there strategies to eliminate MRD positivity prior to transplant?
Answer: We don't have data on how to decrease MRD burden, but we do have data showing that patients who go into transplant with a high MRD burden are doing worse. Some doctors may increase the intensity of conditioning in younger patients in order to try and achieve a negative MRD status. Using gilteritinib in FLT3 positive patients will help to bridge these patients to transplant.
It's also important to find the right donor for these patients. There is some data showing that a matched unrelated donor might be a better option for MRD positive patients. This trial is ongoing.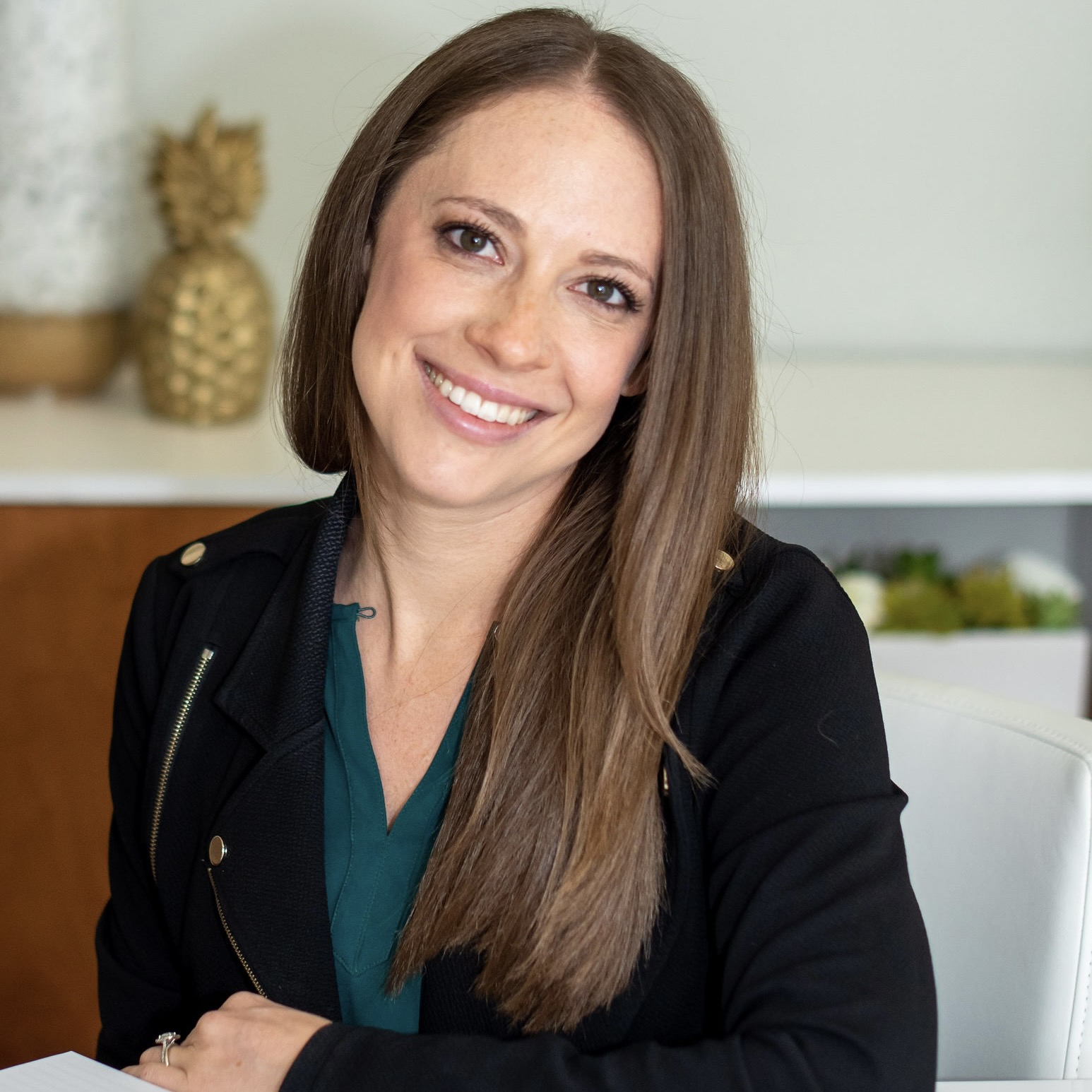 about the author
Katie Braswell
Katie joined HealthTree as the Community Director for AML in 2021. She is a registered dietitian who previously worked at the VA hospital in Dallas, Texas where she coached veterans with blood cancer on how to use nutrition to improve their treatment outcomes and minimize cancer-related side effects. Katie is passionate about health education and patient empowerment. In her spare time, she loves to experiment with new recipes in the kitchen, spend time running outdoors and travel to new places.
Thanks to our HealthTree Community for Acute Myeloid Leukemia Sponsors: