Full Adult AML Chapter Event: Long Term Survivorship after Stem Cell Transplant with Ilana Massi
Ilana Massi, AML survivor and patient advocate, joined the Adult AML Chapter on 2/23/22 to share her journey of physical and emotional healing after receiving her stem cell transplant in 2015. She provides a variety of valuable tips to help you thorugh the process. Watch her presentation here!
Ilana's AML Story
Everyone has a different experience but Ilana's is a bit unique in that she is a 7 year survivor and states that she is still very sick but with graft-vs-host-disease (GVHD).
Before she was diagnosed, she had a very challenging career. She did a lot of traveling for her work in the area of research for multiple sclerosis leveraging her background as a nurse. She was a bit of healthnut. She was a runner, did weight lifting and was always very conscious of her diet. She never smoked and very rarely drank. She tried to keep up with her regular health screenings. She was only taking 1 prescription medication prior to her diagnosis.
One day she was out of town for a leadership conference and started to develop an unusual dry cough. She started to feel so sick that she couldn't attend the meeting and flew home early. At home she started to feel better, but then a few days later she spiked a fever of 103 and went to the emergency room. The nurse took her oxygen saturation level which was low at 84%. The nurse questioned how she was still walking around. The medical team started with an x-ray and blood work because they initially assumed it was pneumonia. The x ray looked okay but her white blood cell count was 107,000 (normal is (4,000 to 10,000). With her nursing background, she knew right then that she had leukemia. She was admitted and the oncologist visited her the next morning. During the night she didn't get much sleep but was praying that it wasn't AML due to it being the most aggressive leukemia to have. The oncologist visited and said he didn't need to do a bone marrow biopsy because she had so many circulating white blood cells in her bloodstream. She found out she had a pretty common mutation called a FLT3 mutation which makes leukemia even more aggressive.
She was immediately started on 7+3 chemotherapy which did not put her in remission. She was then transferred to City of Hope in LA County which is a facility that sees 90% blood cancer patients. They have two floors of patients waiting for stem cell transplant which is what Ilana needed to do but first she needed to get in remission. It took 7 different courses of chemotherapy for her to get into remission which then opened the door for her to be able to do the transplant. None of her siblings were a match. The Be The Match registry gave her 7 matches. The first person that answered was an anesthesiologist in Florida who was not a perfect match. She moved forward and received an unrelated mismatched transplant because this was the best she could get. Because of this, her oncologist said that it's not a matter of if she gets GVHD, it's a matter of when and how bad it will be.
Ilana had a good two years post transplant. She went home after 5.5 months in the hospital. At home she felt great but dealt with anxiety about the cancer potentially returning. About 6 months after going home, she experienced a brief flare up of acute GVHD that affected her skin. Her skin started to scar and harden. There was a point where she couldn't raise her arms above her shoulders. In order to combat that, her immune system needed to be suppressed through various medications. Ilana has had GVHD for 5 years now. She has never gotten off steroids, and has been very immunosuppressed for a long time.
Here are the tips that Ilana shared with the group:
Make Sure You Are at The Right Facility
One of your first jobs as a patient is to make sure you are in the right place. Usually a community hospital center is not the right place to manage AML because it is such a rare cancer. Even community oncologists who see a lot of breast, colon and prostate cancer which are much more common don't see a lot of AML. There are so many new drugs and new treatments coming out that can improve long term survivorship so you really need to go to a center of excellence.
If you're not at a place where there are AML experts, you may not get all the treatments that are available now. Ilana cannot emphasize enough to be treated by an AML expert. It makes such a difference in being able to manage serious complications. You can find an AML expert by visiting HealthTree's AML Specialists Directory
Become Educated About the Signs of GVHD
As you get further out from your transplant and even if your GVHD is mild or more severe, become aware and educated on what signs of GVHD to look out for. Ilana's GVHD has affected her skin, eyes, and gastrointestinal tract. It's important to understand what GVHD is, what your new limitations are and what doctors can best treat you.
Utilize Patient Portals
Ilana has over 20 specialists now. She uses a patient portal at each of the hospitals she is seen at. Signing up for these patient portals allows you to see doctors reports and your lab work. It's important to watch your medical records to ensure nothing is falling through the cracks. If a lab appears abnormally low or high, bring it to your doctor's attention at your next visit or message them through the portal. Use the portal to graph your lab results over time to assess the trend instead of worrying about one lab at one point in time.
Figure Out What Kind of Patient You Are
Define what kind of relationship you want to have with your doctor. What do you need as a patient from your team? Verbalize that to your specialist. Ilana is a high-information patient. She wants to know everything, good, bad or if it doesn't mean anything. There is always frustration in navigating through the healthcare system. If you're not comfortable advocating or asking questions, find a caregiver who is to take on that role for you and be an extra set of ears. Write things down and ask doctors to give you clear instructions. Come to the office with questions and concerns. If something doesn't feel right to you in your own body, bring it up. Remember, you are the person that goes home with the disease, not the doctor.
Understand That Things Can Get Missed.
Even at the best institution things fall through the cracks. That's why you need to be an advocate for yourself. If you feel something is not right, be persistent. Don't let it get brushed off. It's you going home with this disease, not the doctor.
Don't be Shy to Meet with Nurse Practitioners or Other Allied Health Medical Professionals
Advanced practice professionals can spend more time with you during your visits and are often better trained in providing patient education. They have the ability to deeply listen and really figure out what's going on.
Be Cautious About Where You Get Your Online Information From
When you're researching about AML, patient blogs can really get you off track. If something is recommended to you, always tell your doctor before trying it. Supplements can interfere with the metabolism or lower the absorption of your cancer drugs. When you're looking online, make sure information has been reviewed by physicians for accuracy. The Mayo Clinic and Cleveland Clinic have reputable patient education materials. If someone is advertising you to buy something or join something, be skeptical. Attend reputable informational sessions. The Leukemia and Lymphoma Society has released a new age appropriate survivorship workbook which you can find here.
Seek Non-Medical Support
Ilana spent 3 months speaking with a grief counselor. Going through transplant causes you to lose parts of the life you once knew. You're giving up things you used to love which are big losses for yourself. Acknowledge this and talk to someone to help you feel better. Establish helpful tools for yourself in order to deal with emotions and anxiety. Neer overlook your emotional health.
Get Regular Cancer Screenings
As you get farther out from transplant, remember that chemotherapy and radiation ages your body by about a decade. If you are immunosuppressed for a long period of time, other cancers can come up like skin cancer. Make sure you are having regular (or more frequent) cancer screenings and following up as your specialist recommends.
To Summarize
In this event Ilana has shared what you can do to help yourself. She recommends getting to the right doctor, figuring out the kind of patient you are, being an advocate for yourself, asking questions, being persistent, doing your research, staying well and taking steps towards happiness.
Join the Adult AML Chapter
To attend future events within our Adutl AML chapter,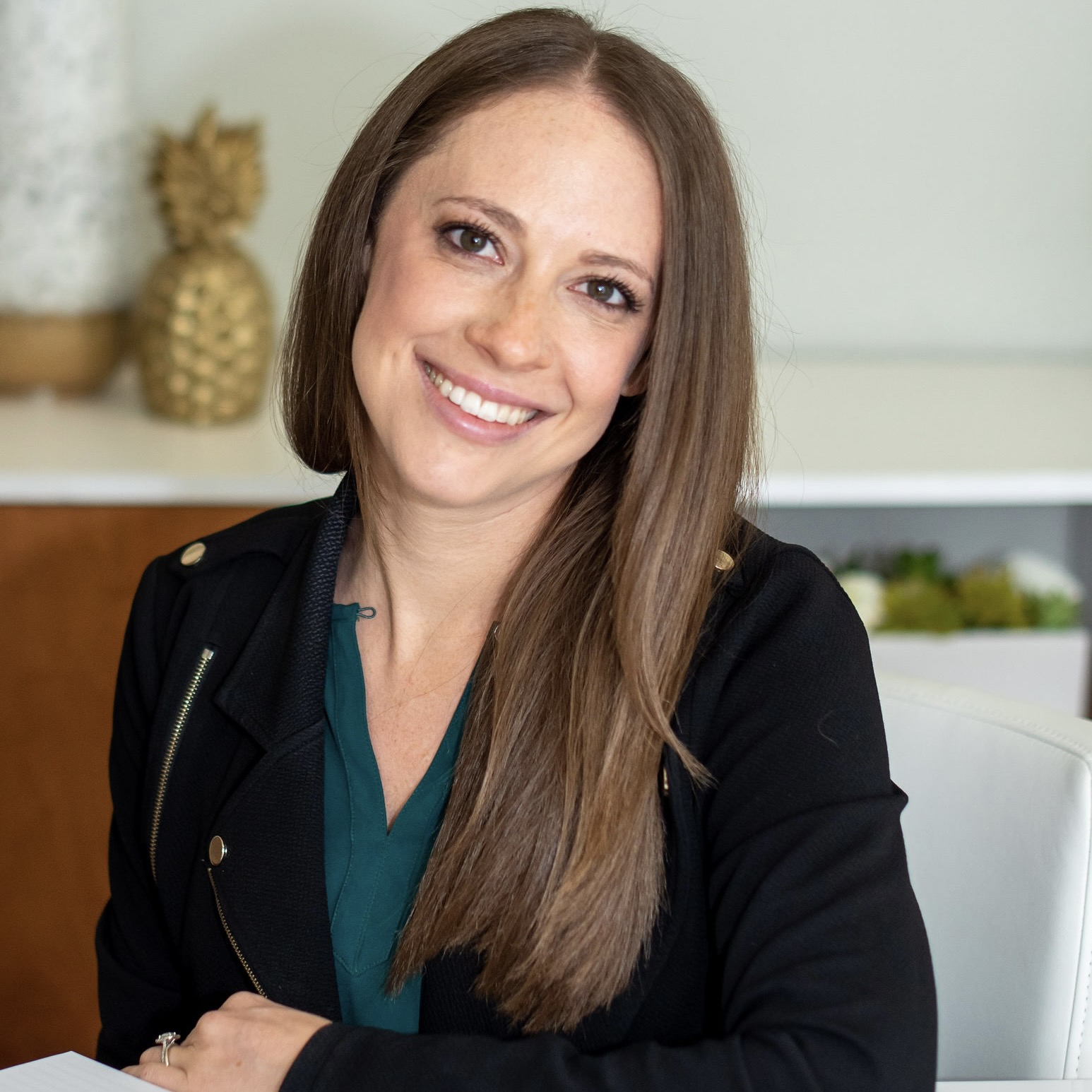 about the author
Katie Braswell
Katie joined HealthTree as the Community Director for AML in 2021. She is a registered dietitian who previously worked at the VA hospital in Dallas, Texas where she coached veterans with blood cancer on how to use nutrition to improve their treatment outcomes and minimize cancer-related side effects. Katie is passionate about health education and patient empowerment. In her spare time, she loves to experiment with new recipes in the kitchen, spend time running outdoors and travel to new places.
Thanks to our HealthTree Community for Acute Myeloid Leukemia Sponsors: