At the annual European Hematology Association Congress in Vienna, Austria this year, we met with Dr. Harry Erba, an AML expert from Duke Cancer Institute in Durham, North Carolina, who provided an update on his clinical trial evaluating the use of a new FLT3 inhibitor called quizartinib.
The QuANTUM First trial is an international randomized placebo controlled phase 3 study looking at a more potent and more selective type 2 FLT3 inhibitor called quizartinib in combination with standard induction and consolidation chemotherapy followed by up to three years of continued treatment with quizartinib.
The study includes AML patients between the ages of 18 and 75 with FLT3-ITD mutated AML who were treated with standard 7+3 induction therapy followed by up to four cycles of high dose cytarabine. Patients could continue quizartinib for up to three years, even after receiving a stem cell transplant.
Patients were randomly assigned to receive quizartinib as a single daily dose days 8 through 21 of each of the induction and consolidation cycles, and then continued thereafter as a maintenance treatment. The primary endpoint of the study was overall survival. The QuANTUM First trial achieved that endpoint by showing an improvement in median overall survival.
Summary of Results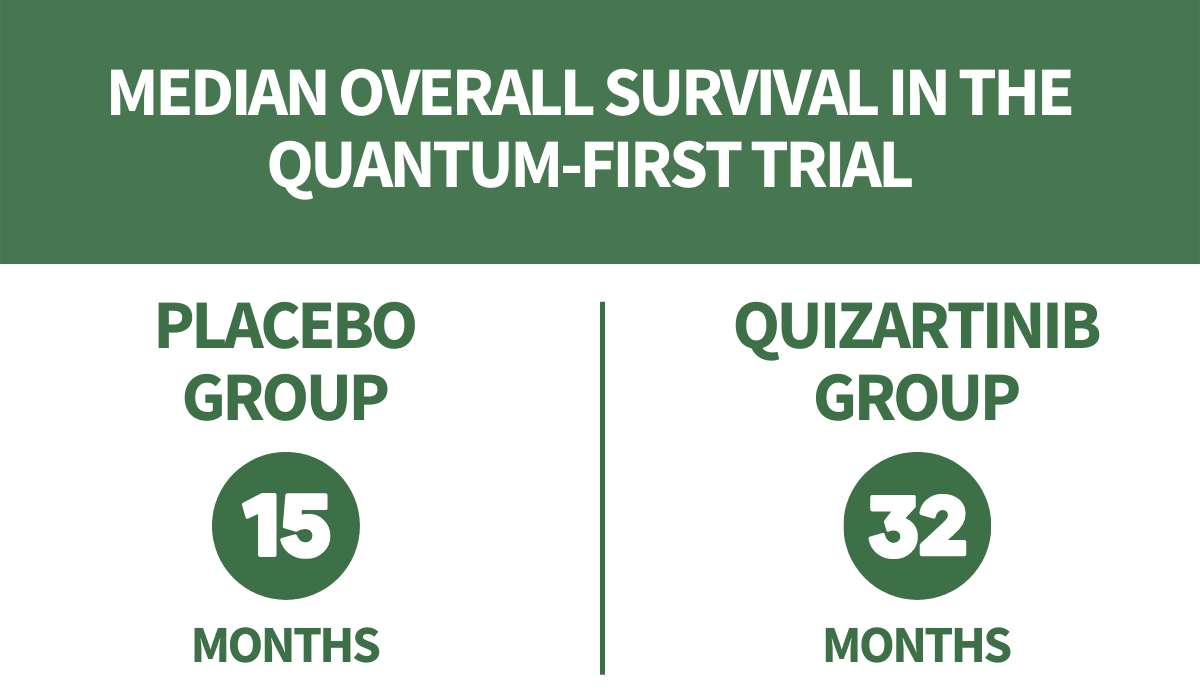 Quizartinib showed a significant survival benefit compared to placebo. The safety profile of quizartinib in combination with chemotherapy was consistent with prior reports and appeared to be similar to what is expected with intensive chemotherapy.
Dr. Erba states he is hopeful that this data will lead to the approval of another FLT3 inhibitor for the treatment of patients with FLT3-ITD mutated acute myeloid leukemia.