AML Round Table: What's Next if You Relapse?
This HealthTree Round Table for AML took place on September 17th, 2022.
Topic: Decision Making in AML: What's Next After Relapse?
Experts: Dr. Eunice Wang and Dr. Amanda Przespolewski from Roswell Park Cancer Center in Buffalo, NY, Dr. Lourdes Mendez from Yale Cancer Center and Dr. Jane Liesveld from Rochester University in Rochester, NY
DR. EUNICE WANG: MRD STATUS: HOW IT AFFECTS YOUR CHANCES OF RELAPSE
Important Notes from Dr. Wang's Presentation:
Acute Myeloid Leukemia (AML)
— Disease of older adults
— Biologically diverse
— Clinically aggressive
It is important to know your specific type of AML.
Pathway to a cure: Intensive chemotherapy
Diagnosis — [INDUCTION] — Complete response (CR) — [CONSOLIDATION] — CR— [MAINTENANCE/TRANSPLANT] — Cure
What is MRD? This means minimal residual disease. It is residual leukemia not detected by morphology (<5% blasts)
How is MRD detected?
Real-time PCR: Lower levels of disease are detectable by PCR. It takes longer, normal marrow expression.
Multiparameter flow cytometry: More immediately available.
Next generation sequencing: Multiple mutaitons can be analyzed in 1 single sample. Detects all mutations. Only used in clinical trials.
When should we test for MRD? Whenever you get a treatment change.
Some insights regarding MRD:
If you are MRD negative, your overall survival is much improved.
Measurement of MRD has the potential to replace morphologic complete response as criteria of response to AML therapy
Provides independent prognostic information: survival, relapse, outcomes
Marker of resistance to therapy
The goal is to better tailor therapy for curative intent.
Some Q&A with Dr Wang:
(14:42) When people look for a specialist, should they be looking for someone that does MRD testing?
(15:35) What medications are used during stem cell transplant to reduce MRD?
(16:42) If MRD testing starts to rise, at what level should practitioners start thinking that they may have a relapse?
DR. AMANDA PRZESPOLEWSKI - WHAT IF I RELAPSE AFTER TRANSPLANT?
Important Notes from Dr. Przespolewski's Presentation:
The amount of disease burden prior to transplant is measured by your MRD status.
MRD needs to be measured prior to and after bone marrow transplantation.
Being MRD positive is related to post-transplant relapse
There is a study going on for prevention of post-transplant relapse. The SORMAIN study is evaluating "sorafenib" which is a FLT3 inhibitor
Other options to prevent relapse currently being tested in clinical trials are:
FLT3 inhibitor: CRENOLANIB
IDH1 inhibitor: IVOSIDENIB
BCL2 inhibitor: VENETOCLAX
AML vaccine and cellular therapy
Treatment of post-transplant relapse:
Goals: quality of life and good psychosocial situation
Take uncontrollable factors into account such as: age, comorbidities and performance status
Clinical trials are very important: www.clinicaltrials.gov
Donor lymphocyte infusion: with azacitidine therapy between each infusion. This is modestly effective with a 60% 2 year overall survival (in MRD positive patients post-transplant).
In patients who are not eligible for clinical trials: azacitidine + venetoclax post-transplant is a good combination of drugs. Overall response rates are 38%.
Intensive or aggresive salvage chemotherapy are for very specific patients: very fit, >1 year post-transplant. Examples include CLAG + M (cladribine, cytarabine, G-CSF), FLAG + IDA (fludarabine, cytarabine and filgrastim), MEC (mitoxantrone, etoposide, cytarabine)
Second allogenic stem cell transplant: for very fit patients who are MRD negative, patients with availability of alternative donor, with no ongoing graft-versus-host disease
DR. JANE LIESVELD- CLINICAL TRIALS IN RELAPSED/REFRACTORY AML
Important Notes from Dr. Liesveld's Presentation:
There are approximately 258 studies listed for relapsed/refractory AML
Phases of clinical trials:
PHASE 1: Is it safe?
PHASE 2: Does it seem to work?
PHASE 3: Does it work better than what is already out there?
PHASE 4: After drug approval to learn more
There are different kinds of trials:
Trials that involve treatment
Trials that don't involve treatment
Studies just to observe patients
Is there something influencing the decision to participate?
Motivation is very personal and private
Benefits obtained from enrolling
Altruism — research is the BEST way to help science!
Vulnerability in elderly or frail patients, or patients with comorbidities
Some questions to ask yourself:
How long will I be on trial?
What is the goal of the trial?
What are some side effects?
Where will I have to go to participate?
Are there any alternatives?
Who is the sponsor and will this have any financial implications for me?
Barriers for patients:
Testing and office visits are more often, this may be uncomfortable
Concerns about safety
Distance to facility can be too long for some patients
Fear of being a "guinea pig"
Fear about not receiving treatment; there is confusion about the term "placebo-controlled"
The likelihood a drug would pass all phases of clinical testing and get FDA approval was 7% for AML. Right now this number is a little bit higher.
COVID: There are no contraindications to COVID-19 vaccination while on trials
DR LOURDES MENDEZ - HOW TO MANAGE THE FEAR OF POTENTIAL RELAPSE
Important Notes from Dr. Mendez's Presentation:
The fear of recurrence or progression (FCR) is a common concern, and it can potentially affect quality of life. This interferes with medical care.
People who are especially vulnerable to FCR include:
Young adults
Patients with pre-existing mental health conditions
Patients with history of trauma
Wellness is key in this pathology, this is tied to interwoven elements of life. This is individual:
EMOTIONAL — INTELLECTUAL — PHYSICAL — SPIRITUAL
Matching care and FCR depends on its intensity:
MILD FCR: Self-help
MODERATE FCR: Peer support
SEVERE FCR: Pharmacotherapy and psychological counseling
Peer support includes:
Online communities
Mentoring and coaching programs
There are diverse links you can access provided by Dr. Mendez
One-on-one support: mentoring
*Imerman Angels is a cancer support community for this.
One-on-one support: Counseling
Psychological care is recommended — cognitive therapy and counseling are part of the treatment.
Therapy types:
Cognitive behavioral therapy: challenging the validity of negative thoughts.
Acceptance and commitment therapy: coping and processing negative thoughts, focusing on patient's values and life aims
Metacognitive therapy: focus on controlling beliefs and responses that perpetuate emotional distress
SUMMARY & GUIDING POINTS
Prioritize wellness
Communicate questions and concerns.
Reach out for professional support if required
Be kind to yourself and be positive!
Q&A SESSION
1.- (0:34) Are there any existing data or clinical trials for MRD regarding the RUNX1 mutation?
2.- (2:50) What are the four MRD testing options?
3.- (6:00) Does MRD show up before relapse, what about post-transplant?
4.- (6:45) How often should you test MRD if you are in remission?
5.- (8:17) Do you have any tips for people undergoing clinical trials? How can you make that process a little bit easier?
6.- (10:00) Do you have any information on CAR-T cell therapy for AML?
7.- (11:30) If someone relapses after transplant, even with maintenance, with certain genetics, what is your advice?
8.- (14:12) What about the use of marijuana to deal with pain and anxiety?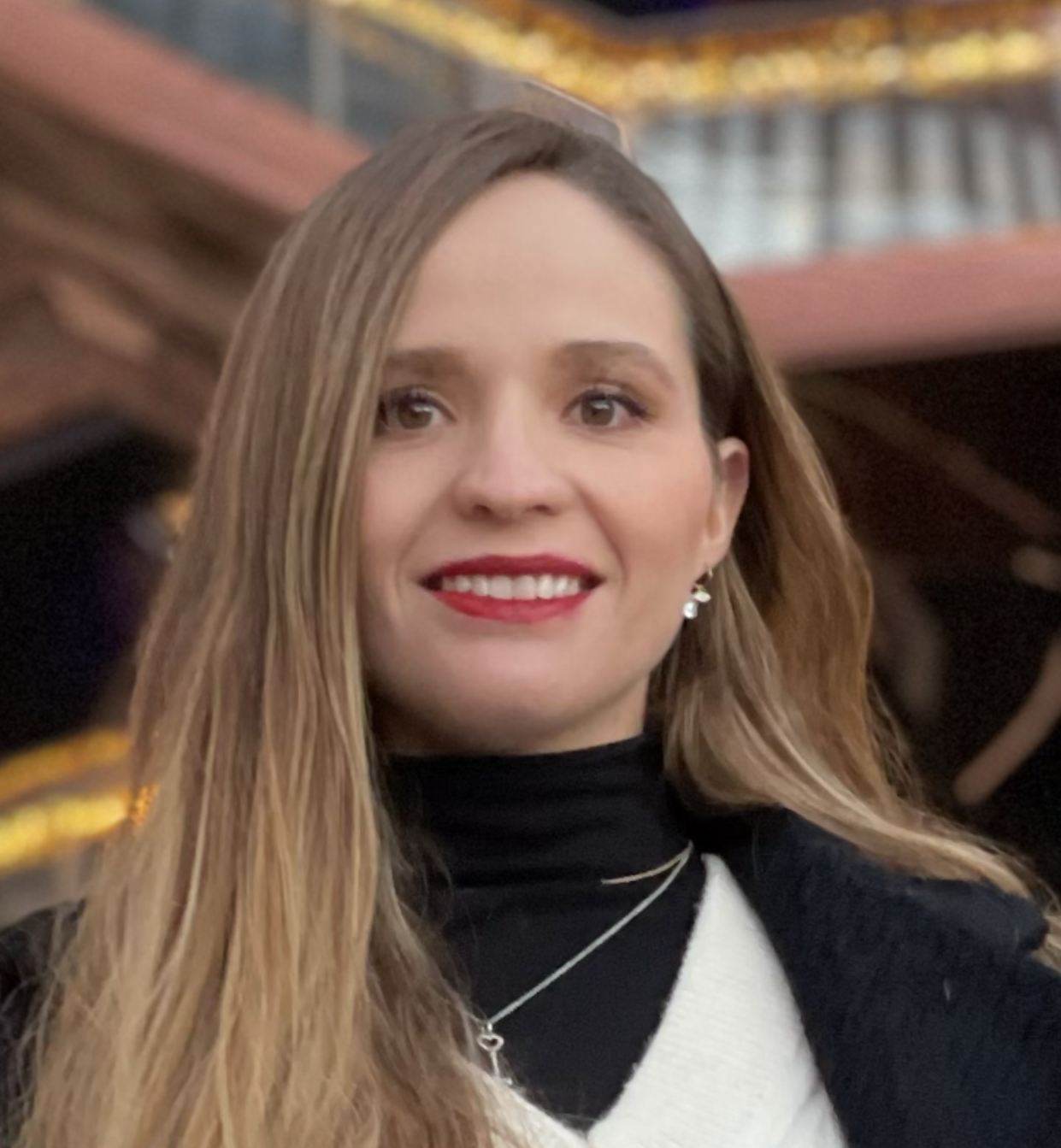 about the author
Andrea Robles
Andrea Robles is an International Medical Graduate, part of Healthtree's patient navigator staff. She is committed to patient's global wellness and finding a cure through research. She's also a wife and mom of 3.
Thanks to our HealthTree Community for Acute Myeloid Leukemia Sponsors: