CLL stands for chronic lymphocytic leukemia.
Chronic means it is a slower progressing disease
Lymphocytic stands for it affects an immune system cell (in this case B-cells)
Leukemia means CLL cells may be found in the blood and bone marrow.
Part of the cell's instructions (found in the B-cell's chromosomes) are deleted or changed, which may cause the cell to be unable to work well and avoid cell death. This allows the ineffective cell to keep multiplying. In most CLL cases, the replication of the mutated B-cell happens slowly.
Reasons the B-cell's chromosome instructions may become damaged to turn into CLL are believed to be from either a virus (and the body's immune system was too weak to destroy the virus-infected B-cell allowing it to multiply), from high and chronic amounts of oxidative stress, or the patient may have inherited damaged DNA. To see current, non-chemo treatment options that help limit the progression of CLL cells see here - Non-chemo Treatment Options for CLL Patients.
CLL cells are located mainly in the bone marrow and bloodstream. Some CLL cells may also be located in the lymph system.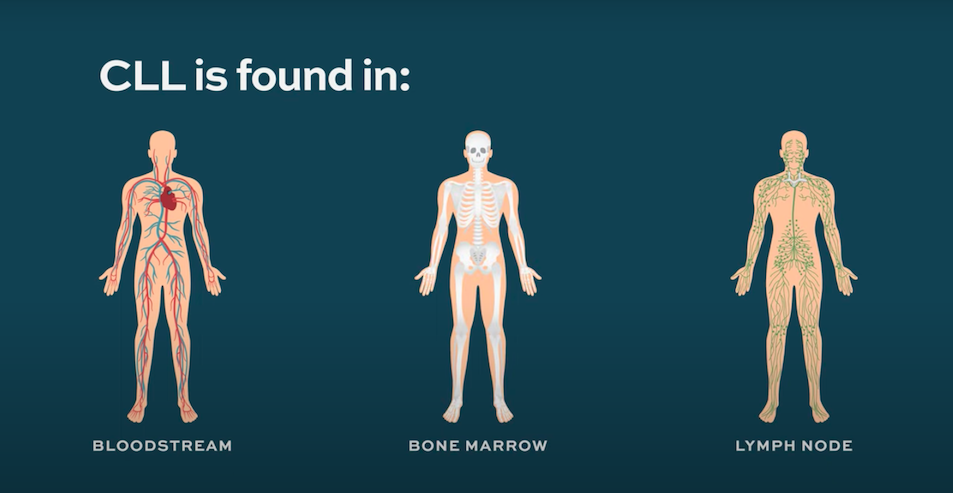 Each CLL case varies person to person which influences how treatment is handled. Differences among patients can include:
The location of CLL cells

Some patients may have more CLL cells in the bloodstream, others may have more in the bone marrow, and some may have more in the lymph nodes

Stage of the disease

Typically 1/3 of CLL patients need treatment at the time of diagnosis, 1/3 may need treatment at some point later on after diagnosis, and some patients may never need treatment because of the slow progression of the disease (see here for Staging Process of CLL)

Chromosome mutation variations

CLL patients may have gene mutations that predict high-risk or lower-risk CLL. For more information about these gene mutations, see here - Variations Within CLL
Have a CLL Specialist on your Team
To ensure patients are getting the best treatment for their individual situations, they should create a care plan with a CLL specialist. Need help finding a specialist? Check out HealthTree's CLL Specialist Directory.