Protect your Mental Health While Living with CLL
You deserve to better your quality of life as able. With difficult diagnoses such as CLL cancer, mental health can take a negative turn for a variety of reasons. Be proactive in being mindful of how you are feeling to take action over what is in your control. See below for symptoms typical of mental health concerns such as depression and anxiety. Talk with your care team to evaluate the best course of action to support you.
Depression can appear as extended or heightened symptoms of any of the following:
Persistent sad, anxious, or "empty" mood
Feelings of hopelessness or pessimism
Irritability
Feelings of guilt, worthlessness, or helplessness
Loss of interest or pleasure in hobbies and activities
Decreased energy or fatigue
Moving or talking more slowly
Difficulty concentrating, remembering, or making decisions
Difficulty sleeping, early-morning awakening, or oversleeping
Appetite and/or weight changes
Thoughts of death, suicide, or suicide attempts
Anxiety:
Feeling restless, wound-up, or on-edge
Being easily fatigued
Having difficulty concentrating; mind going blank
Having frequent racing thoughts
Being irritable
Having muscle tension
Difficulty controlling feelings of worry
Having sleep problems, such as difficulty falling or staying asleep, restlessness, or unsatisfying sleep
It is important to share your symptoms with your CLL care team (CLL specialist, nurse practitioner, nurse, social worker, and therapist). Do not be afraid to speak up. Some of these symptoms may be side effects of treatment which can make it difficult to manage on your own. Discussing these concerns and their disruption in your daily life with your care team can help you determine if additional support is needed. If so, they can refer you to a specialist who can provide essential treatment, resources, and support. You do not have to do it alone.
Caregivers and family members of CLL patients are also strongly encouraged to monitor their own mental health and seek professional support if needed to stay healthy.
Apart from strategies your care team may suggest, you are also welcome to check out HealthTree's Side Effect Solutions page contributed to by other blood cancer patients and HealthTree's journaling tool. Journaling has been clinically proven to reduce stress and anxiety, improve mood, and increase emotional regulation. The journaling feature allows patients and caregivers to capture stories in video, audio, text, and share journal entries by email or social media. Click HERE to start journaling!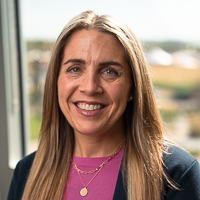 about the author
Rozalynn Hite
Rozalynn is the HealthTree Coach Director and wife of blood cancer patient Richard Hite. Rozalynn is an occupational therapist and mother of three beautiful children.
Thanks to our HealthTree Community for Chronic Lymphocytic Leukemia Sponsors: