ASH 2022: A New Venetoclax Combination Therapy for Untreated AML and High-Risk MDS
This phase 2 clinical trial, presented at the annual meeting of the American Society of Hematology (ASH 2022) by Patrick K. Reville, MD, MPH, an expert on AML, demonstrated encouraging results and suggests that venetoclax in combination with cladribine, ara-C, and idarubicin may be a promising treatment option for patients with acute myeloid leukemia (AML) or high-risk myelodysplastic syndrome (MDS).
Venetoclax is a BCL-2 inhibitor, meaning it blocks the action of the BCL-2 protein that helps cancer cells survive and grow. Currently, venetoclax is FDA-approved for use in combination with azacitidine, decitabine, or low-dose cytarabine for the treatment of newly diagnosed AML in adults 75 years of age or older, or who have comorbidities that make them ineligible for intensive induction chemotherapy.
However, further research is needed to determine the optimal dose and length of treatment with venetoclax in combination with other drugs and to better understand how it works to treat AML, MDS and what other potential uses it may have, as Dr. Reveille's study does.
How was this study conducted?
This study looked at 67 patients, aged 65 years or younger, with newly diagnosed AML or high-risk MDS.
The treatment plan included up to two cycles of induction and five cycles of consolidation until progression or unacceptable toxicity (for more information, see table 1 below).
FLT3 inhibitors were allowed for patients with FLT3 mutations.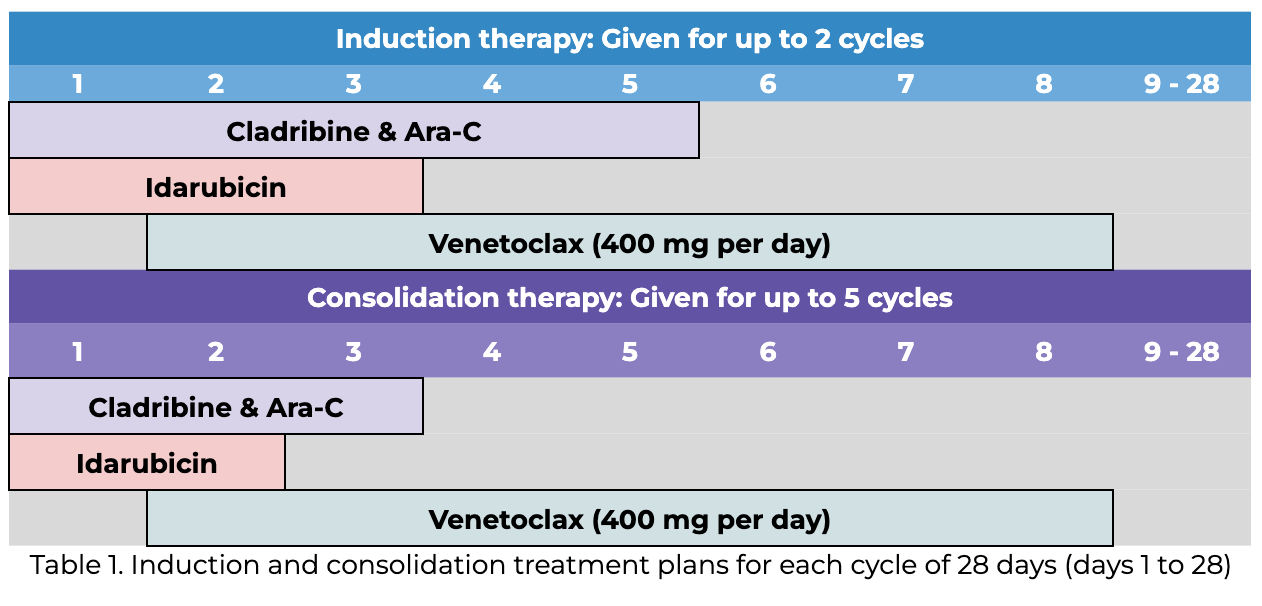 Characteristics of the Patients Included

Side effects
The most common side effects of the treatment were a low number of fever related white blood cells (febrile neutropenia, experienced by 57 patients) and high levels of liver enzymes (alanine transaminase increase, experienced by 11 patients). Other common side effects were infections, high levels of an enzyme made by the liver called aspartate transferase, and diarrhea. No cases of tumor lysis syndrome were seen.
Study Results
All 67 patients were checked to see how well they responded to treatment: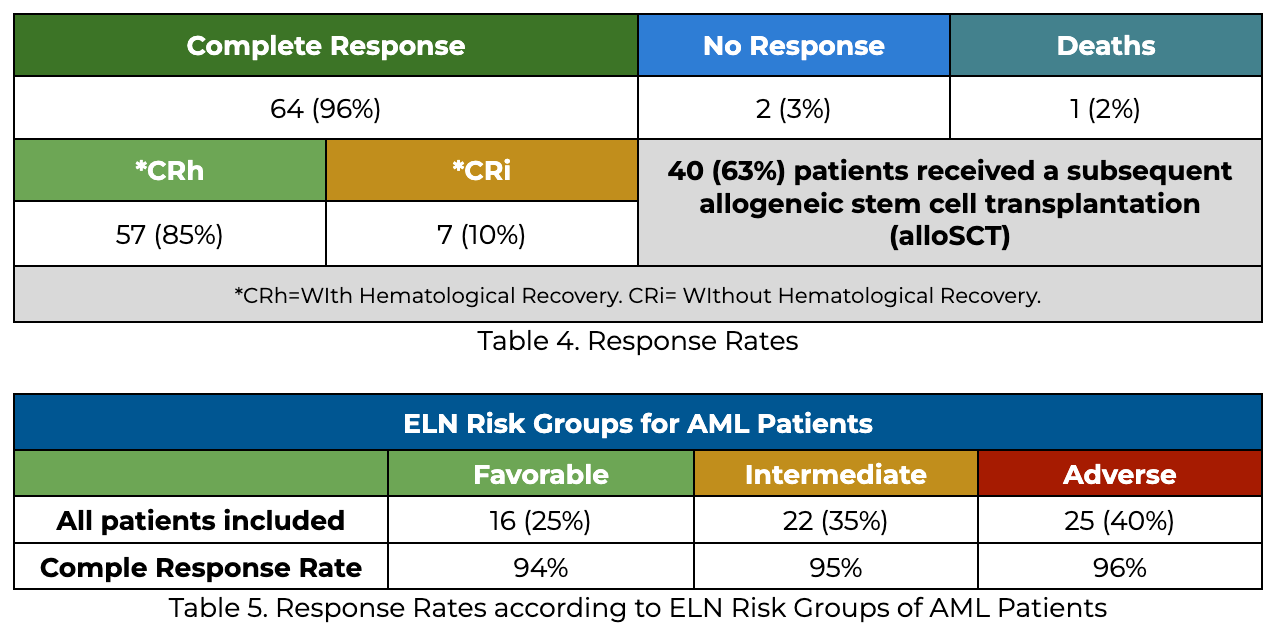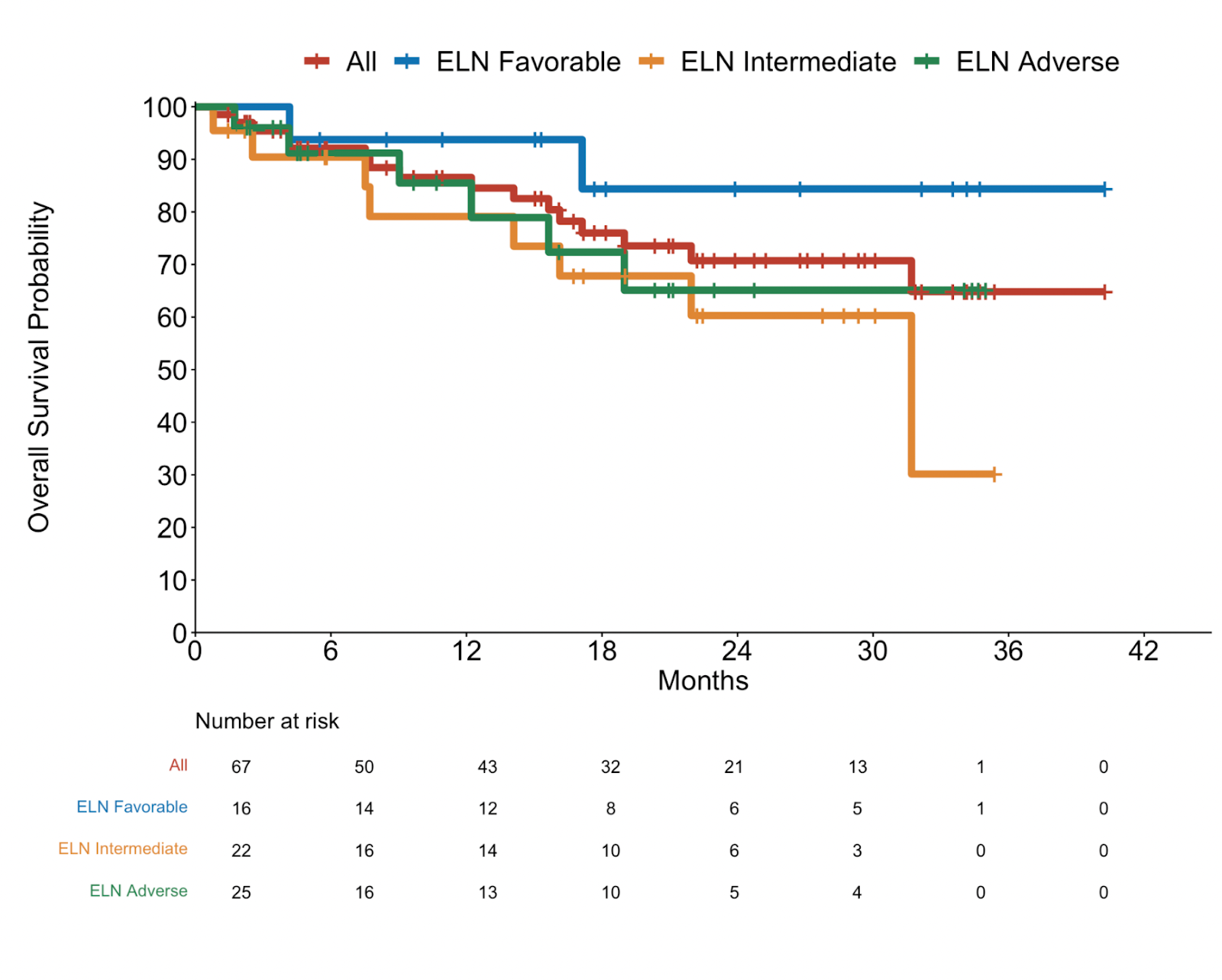 Graph 1. Response Rates of all patients, and according to ELN Risk Groups of AML Patients
The complete response rates were similar across the 3 AML risk groups AML Patients, as seen in Table 5 and Graph 1, above. All patients with MDS or MPAL had a complete or partial response.

90% of the patients that responded to the treatment were minimal residual disease (MRD) negative by flow cytometry.
The median response measurement time has not been reached, the current median follow-up time for the patients was 22.5 months. The following results show the measurements of the response at 12 and 24 months:

Take Away Points
Treatment with venetoclax and CLIA resulted in a high percentage of patients achieving complete remission (96%) and MRD-negative remission (90%).

This was seen in patients across all risk groups, and allowed a higher percentage of patients to receive a potentially curative stem cell transplant (alloSCT).
The rates of event-free survival and overall survival were encouraging and suggest that this treatment strategy may be a safe and effective option for patients with <65 years patients with newly diagnosed AML or high-risk MDS.
For more information about this ongoing clinical trial, click here.
HOW WE CAN HELP
If you need assistance finding or joining clinical trials, please contact our Patient Navigator support team at 1-800-930-5159 or at support@healthtree.org.
about the author
Arturo Hurtado
Arturo Hurtado is an International Medical Graduate who joined HealthTree in 2020 as part of the Patient Experience team. He helps patients understand their disease panorama and navigate their AML through the tools and resources that HealthTree provides. He is an enthusiastic photographer, tech nerd, and aspiring food explorer who loves to travel and find new exciting experiences.
Thanks to our HealthTree Community for Myelodysplastic Syndromes Sponsors: