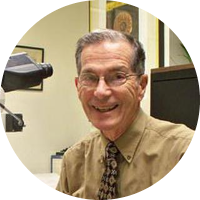 John Bennett, MD
About
Dr. Bennett is Professor Emeritus of Medicine, Pathology and Laboratory Medicine at the University of Rochester Medical Center, in Rochester, New York. He received his undergraduate degree from Harvard University and his medical degree from Boston University. Postgraduate training included an internship at Massachusetts Memorial Hospital, a residency in medicine at Beth Israel Hospital, a fellowship in hematology at Boston City Hospital and Tufts University.

From 1963-1966 he was head of the hematology laboratories at the Beth Israel Hospital in Boston. He served in the USPHS as Head of the diagnostic bone marrow laboratories in the NIH/Clinical Center from 1966-1968. Director of the Cancer center in 1974. A position he held until 1995. During this period he was the principal investigator of the University of Rochester ECOG membership.

He served as chair of the ASCO Public Relations Committee in the early 1980's as well as chair of the Education Committee for ASH. He was a founding member of the International Society for Geriatric Oncology.

He is a member of numerous professional societies, including the American Medical Association, American Association for the Advancement of Science, American Association for Cancer research, American Society for Clinical Oncology, American Society of Hematology and the International Society of Hematology, and was the first chair of The Myelodysplastic Syndromes Foundation from 1997-2010. Dr. Bennett has contributed over 560 publications to the medical literature as well as several books and was the Editor-in-Chief of the Leukemia Research Journal for 20 years from 1993 - 2013.
Location
University Of Rochester Medical Center: 601 Elmwood Ave, Rochester, NY 14642, USA
Thanks to our HealthTree Community for Myelodysplastic Syndromes Sponsors: