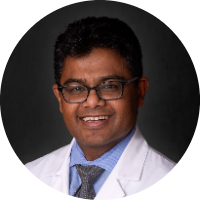 Syed Abutalib, MD
Associate Medical Director, Hematologic Malignancies and Stem Cell Transplant Program, CTCA Chicago
Clinical Expertise
Hematologic Malignancies
Stem Cell Transplant
About
Dr. Syed Abutalib, who joined Cancer Treatment Centers of America (CTCA), Chicago, in 2008, places the care for his patients and their families first and foremost. He believes in creating an atmosphere that facilitates open, honest, three-way patient, caregiver and doctor communication, which is why he is always accessible to his patients and their families. Dr. Abutalib's care reaches far beyond the walls of our Chicago-area hospital, as he routinely provides patients and family members with his cellphone number to call should they ever need to consult with him. The board-certified hematologic oncologist devotes ample time to each of his patients, empowering them to take an active role in their treatment plan.
Dr. Abutalib earned a medical degree from Dow Medical College in Karachi, Pakistan. He completed an internal medicine residency with an emphasis in hematologic malignancies at Cook County Hospital in Chicago. He completed a fellowship in hematology/oncology at the University of Illinois at Chicago (UIC), with an emphasis on blood and bone marrow transplantation. During the same period of time, he was granted permission to pursue his interest in research at Robert H. Lurie Comprehensive Cancer Center of Northwestern University, working with Martin S. Tallman, and at The University of Chicago Medicine Comprehensive Cancer Center, working with Dr. Wendy Stock. While working on his fellowship, Dr. Abutalib voluntarily spearheaded the Thrombosis and Homeostasis conference at UIC, in addition to a variety of other educational projects.
Dr. Abutalib has co-edited many hematology and bone marrow transplant books and has been published in a number of medical journals and textbooks. Dr. Abutalib is the associate editor for the American Society of Clinical Oncology (ASCO) magazine, The ASCO Post. He is also the reviewer for the journal Blood Reviews and the update editor for one of the leading textbooks, Hematology, Basic Principles and Practice (7th edition) by Hoffman. Additionally, he has presented at clinical conferences and meetings on a variety of topics related to hematologic disease, including the Chicago Lymphoma Society.
Dr. Abutalib is an associate professor at Rosalind Franklin University of Medicine and Science, where he is involved in educating and mentoring medical students, and is an active member of the American Society of Hematology (ASH), ASCO and the American Society of Blood and Marrow Transplant (ASBMT™). He also serves on the Executive Committee for Education for American Society of Transplantation & Cellular Therapy and is the Vice Chair on the Steering Committee for the International Initiative on Thrombosis and Cancer-Continuing Medical Education (ITAC-CME), and he continues to collaborate with other experts in the area of hematology/oncology to explore new medical breakthroughs and treatment options in order to better educate, treat and care for his patients.
Location
City Of Hope Comprehensive Cancer Center: 1500 E Duarte Rd, Duarte, CA 91010, USA