Recipes for CLL Patients: Cinnamon Apple Bread
Recipes that include cinnamon can benefit CLL patients by providing anti-inflammatory, anti-bacterial, and antiviral support. This can help boost a CLL patient's immune system as patients are often immunocompromised.
Cinnamon Apple Bread
Total time: 1 hr 20 min (prep time: 10 min, cook time: 1 hr 10 min)
Yield: 12 servings
Ingredients
Apples
2 large apples (Granny Smith or Red Delicious) peel left on and shredded (should equal 1 ½ cups)
½ cup organic cane sugar (can substitute with ¼ cup honey)
½ Tbsp molasses
⅛ tsp salt
1 Tbsp ground cinnamon
¾ tsp ground nutmeg
¼ tsp ground cloves
2 tsp lemon juice
Bread Dough
2 large eggs
½ cup plain Greek Yogurt (0% or 2%)
½ cup organic cane sugar (can substitute with ¼ cup honey)
6 tablespoons avocado oil
2 ½ cups whole grain white wheat flour
½ teaspoon salt
1 teaspoon baking powder
Directions
Preheat the oven to 350 degrees Fahrenheit and grease a loaf baking pan with non-stick cooking spray or avocado oil.
In a medium-size mixing bowl, stir together the shredded apples, organic cane sugar, molasses, ⅛ teaspoon salt, ground cinnamon, nutmeg, cloves, and lemon juice until combined. Set aside for 5 minutes, or until dark brown and juicy.
In a large mixing bowl, whisk together the eggs, Greek yogurt, granulated sugar, and avocado oil until smooth and pale yellow.
Add the flour, remaining ½ teaspoon salt, and baking powder to the egg mixture. Whisk until most of the flour is incorporated and the batter is thick. Note: it will seem abnormally thick during this stage, and that is ok! The next step will thin the batter up.
Add the shredded apples to the bread dough. Stir with a silicone spatula or wooden spoon until a smooth batter forms and no remaining clumps of thick dough remain.
Pour the batter into the prepared baking pan. Bake for 1 hour and 10-20 minutes, or until a toothpick inserted into the center of the apple loaf comes out clean.
Cool the bread in the pan on a cooling rack for 5 minutes. Turn the bread out onto the cooling rack and cool until room temperature. Enjoy!
Notes
Apples do not need to be peeled for this recipe,
Leftovers store covered in an airtight container at room temperature for 3-4 days. They are best consumed within the first 36 hours, however. Leftover apple bread can also be frozen in a freezer-safe container for up to 3 months. For easiest defrosting, store the bread sliced with small pieces of parchment paper in between the slices (so you can just pop out individual pieces of bread and go!)
Nutrition Information per Serving
Calories 260, Fat 8 grams, Carbohydrates 43 grams, Protein 5 grams
Serving size 1 piece (1/12 of the loaf)
Source: Mae's Menu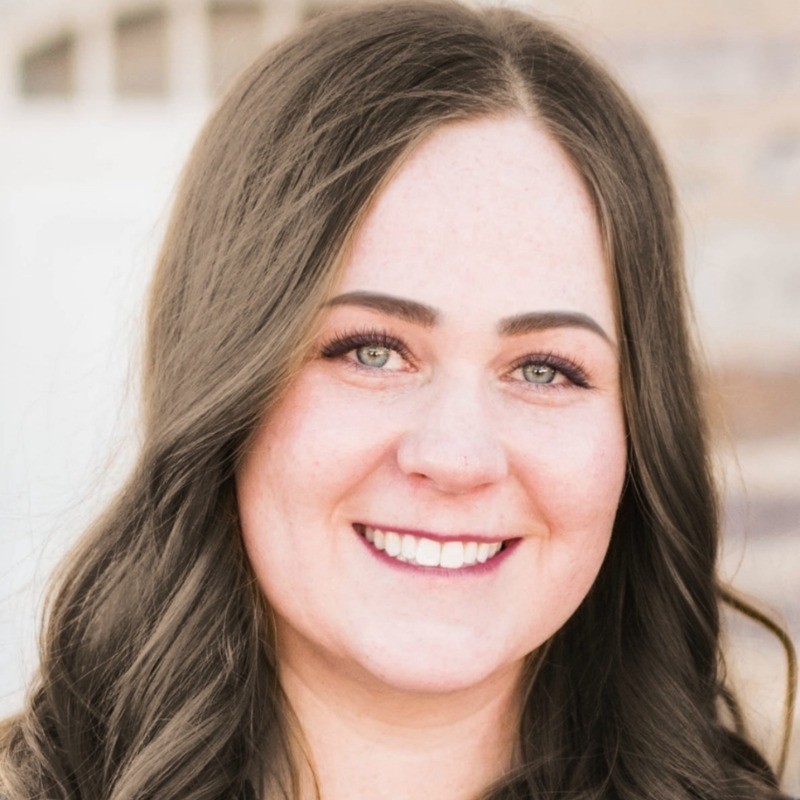 about the author
Megan Heaps
Megan joined HealthTree as a Community Coordinator for CLL in 2022. She is the daughter of a blood cancer patient and has found a passion for helping support patients and caregivers to advance research for their cure and improve their quality of life. In her spare time, she loves to be around family, sew, and cook.
Thanks to our HealthTree Community for Chronic Lymphocytic Leukemia Sponsors: